Continued from the previous page...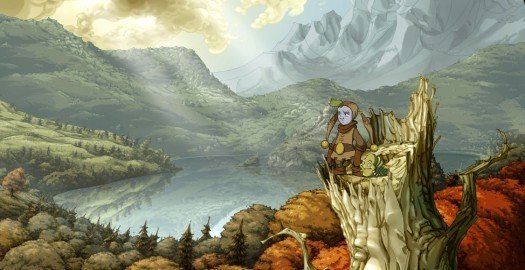 Best Graphic Design: The Whispered World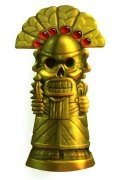 As soon as the first screenshot was displayed, years before the game's actual release, every adventurer was drooling over the gorgeous hand-drawn graphic design of The Whispered World. Thankfully, Marco Hüllen and the artists at Daedalic ensured that the end result looked just as good in action, making Silentia the perfect backdrop for this melancholic adventure. Luxuriant autumn forests, blue skies filled with milky clouds that resemble frothy waves, underground caves enlightened by emerald rivers, nights so gloomy they appear to be taken straight from a Gothic novel, tumbledown buildings of impossibly curved shapes, opulent interiors that resemble a Victorian dream... Wow.
But it's not just the scenery that looks great. The strange, bizarre, and sometimes downright scary creatures that inhabit the world make the joy of exploration so much more rewarding. From the adorable shape-shifting caterpillar Spot to a crystallized, many-eyed anglerfish monstrosity to the jester-garbed, blue-faced protagonist clown himself, Silentia is populated not by elves and dwarves and orcs, but by its own distinct, memorably original inhabitants. All told, with its bright colours, vivid lighting, curious buildings and breathtaking landscapes, The Whispered World is a visual pleasure that will make you feel like you've stepped into a painting come to life. For that it's earned our Best Graphic Design award, beating out the stunningly realistic Heavy Rain by the slimmest of margins.
Runners-Up: Heavy Rain, Ghost Pirates of Vooju Island, Kaptain Brawe: A Brawe New World

 
---

Readers' Choice: The Whispered World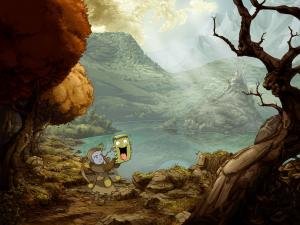 If a picture is worth a thousand words, are words really necessary with a screenshot to the side? Seeing is obviously believing, as we weren't the only ones smitten by The Whispered World's gorgeous art design. The rich colours, painstaking attention to detail, whimsically stylized architecture and magical inhabitants all come together in what is surely one of the best-looking adventures ever made.
Runners-Up: Heavy Rain, Lost Horizon

 
---
Next up: Best Animation... the envelope, please!
Continued on the next page...
KEEP ME UP TO DATE ON

Heavy Rain
Subscribe to our newsletter and we'll keep you up to date!



» Check your e-mail to finalize registration!