Continued from the previous page...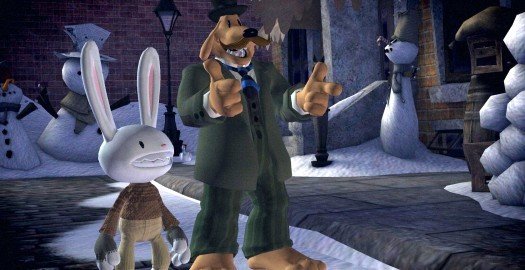 Best Writing – Comedy:

Sam & Max:

The Devil's Playhouse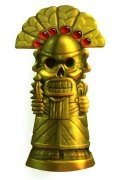 However the creative process works at Telltale HQ, the end result is a genuinely surreal mix of concepts that rarely fails to tickle the funny bone, at least where Sam & Max are concerned. Lovecraft meets Godzilla plus a giant corn dog? Why not! And that's not even mentioning purple alien apes, man-sized talking cockroaches, an army of naked, mindless Samulacra (doggelgangers!), a chestful of psychically-infused children's toys, and a 1950s-style B movie narrator that could give Rod Serling pointers on weirdness. Okay, maybe that is mentioing them, but some things are just too memorable to leave out.
But lunacy alone doesn't succeed – cramming off-the-wall scenarios and random words into a blender does not equal funny. But whether it's Max irreverently skewering pop culture icons or Sam deadpanning film noir narrations, The Devil's Playhouse is a triumph because Telltale has once again shown a deft touch, a knack for comic timing and the conviction to see their bizarre ideas through to a sort-of-logical conclusion. Great one liners, epic plots that span time and space (and even life and death), and everything from outright slapstick to surprisingly subtle visual gags make the third season of Sam & Max our runaway Aggie winner for top comedy writing.
Runners-Up: Kaptain Brawe: A Brawe New World, Hector: Badge of Carnage, Scarlett and the Spark of Life

 
---

Readers' Choice:

Sam & Max:

The Devil's Playhouse
The Freelance Police take no prisoners, and that was never more true than the best comic writing category. Sam & Max: The Devil's Playhouse rumbled over the opposition like a giant mutant rabbity thing romping through New York. And no wonder, as the quips, gags, and general manic hilarity started early and never let up through the entire third episodic season.
Runners-Up: Jolly Rover, Ghost Pirates of Vooju Island, Kaptain Brawe: A Brawe New World

 
---
Next up: Best Writing – Drama... the envelope, please!
Continued on the next page...
KEEP ME UP TO DATE ON

Heavy Rain
Subscribe to our newsletter and we'll keep you up to date!



» Check your e-mail to finalize registration!