2010 Aggie Awards
page 14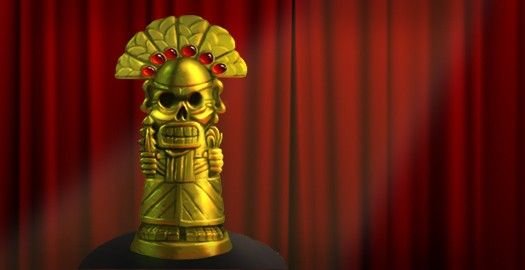 Continued from the previous page...

Honorary Aggies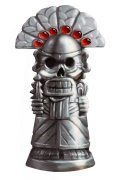 Not all achievements fit neatly into a "Best of" category, nor can they all be fought on a level playing field. Some games stand out for doing one thing particularly well in a narrow field of competitors, or for doing everything well but no one thing in particular, possibly falling under the radar in the process. This year we've decided to recognize a few extra games that fell short of regular award status but still deserve attention for their noteworthy accomplishments. We first considered such possibilities as Best Puzzle and Most Memorable Moment, but getting adventure gamers to agree on anything is a challenge, let alone something that subjective. Then someone suggested "Best Use of Innovation" and we laughed ourselves silly. But finally we came up the list you'll see below, as we celebrate their positive contributions to the genre in 2010.
Lost Horizon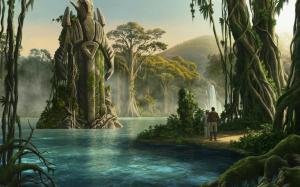 Ever wonder how the person who finishes fourth in the Olympics must feel? Oh so close… yet oh so far. That's probably how Animation Arts feels right now. Modeled after the popular movie serials of the '30s and '40s, Lost Horizon was one of the more enjoyable games of the year, offering an epic plot full of high adventure and derring-do in a variety of exotic locations, seamlessly weaving together subtle humour, physical danger, and even romantic tension between its two bickering leads. There were car chases, fist fights, plane battles, and dastardly Nazi villains to overcome. Indiana Jones would have been proud. Not only that, but the game looked good, sounded great, and delivered plenty of good old-fashioned fun. And yet, it didn't win anything. (Spoiler alert! Oh, sorry.) This year, there were always a few other games a little bit ahead in one category after another, leaving Lost Horizon perpetually juuuust off the podium. But it's too good to fade into fourth-place obscurity, so we're pleased to award it our "Best of the Rest" honorary Aggie distinction.
Kaptain Brawe: A Brawe New World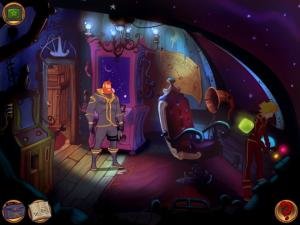 If you'd like a delightful blend of old school comic adventure sensibilities and modern day accessibility, look no further than Petar Ivancek's Kaptain Brawe: A Brawe New World. Its beautiful 2D cartoon graphics should trigger fond memories of the days of Curse of Monkey Island, and its challenging inventory puzzles (even to the point of straining logic at times) will remind everyone of the pre-walkthrough days of yore. Yet there's no need for hint hotlines here, as this game is extremely user-friendly, with two difficulty settings, intuitive point-and-click interface, and a built-in hint system. So why aren't more people talking about it? Maybe because the characters themselves don't talk. Oh, there's plenty of witty dialogue exchanged between amusingly-exaggerated characters, but there's no voice acting at all, which is a big hindrance for some. Add in the fact that it's available only as a download, and perhaps that's enough to drive many people away. But it shouldn't. There's a charming, often entertaining adventure to be found in our "Best Game No One Has Played", so do yourself a favour and change that.
Drawn: Dark Flight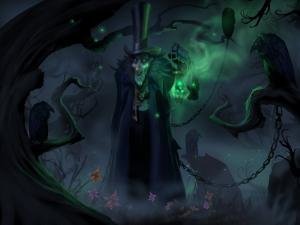 Many games have tried to bridge the gap between full-fledged adventures and casual design, but few truly succeed. Most simply end up being an uneasy compromise between two styles of gameplay, alternating between elements in a forced and unnatural way. Drawn: The Painted Tower was one of the first to genuinely feel like a cohesive "casual adventure", and its sequel was arguably even better. Far from a standard hidden object game, Big Fish's Dark Flight was a fascinating journey through a whimsically gothic world filled with imaginative obstacles and creative puzzles that put most adventures to shame, all wonderfully supported with beautiful 2D fantasy imagery and an impressive orchestral soundtrack. Its fairly streamlined nature and light plot focus are the only things that separate this from any award-winning adventure, and as our honorary "Best Casual Game" winner, it remains the gold standard that every gamer owes it to themselves to try.
Jolly Rover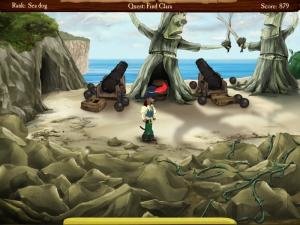 Who the heck is Brawsome? A year ago, no one knew. Well, Andrew Goulding knew, as the indie Australian developer was hard at work on his debut adventure. And what an impressive first foray into the genre that became, offering up a lighthearted swashbuckling romp unlike any other. Perhaps somewhat overlooked in the deluge of recent pirate games, Jolly Rover managed to distinguish itself nevertheless with its pleasing 2D graphics, humourous dialogue, user-friendly interface, and abundance of things to see and do and collect, many of them purely optional. Well, that and the fact that everyone's an anthropomorphic dog. While most first-time developers make plenty of rookie mistakes, Goulding clearly did his homework along the way, as this game hits just about all the right notes. For giving new meaning to the term "fetch quest" (in an entirely good way), this scurvy sea dog's tale earned our award for "Most Promising Debut" in 2010, and here's hoping that this is only the start of good things to come from Brawsome.
DARKSTAR: The Interactive Movie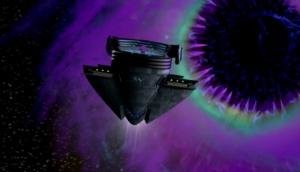 Everything about Parallax Studio's DARKSTAR: The Interactive Movie simply oozes nostalgia. Of course, maybe that's because this futuristic space opera is so darn OLD. This massive indie production was ten years in the making, so it's really no surprise that it clings tightly to old school design principles that weren't nearly so dated a decade ago. Not all of them hold up well in today's adventure landscape, like instant deaths and even the occasional dead end, but the most important one does. This "interactive movie" is true to its name, delivering more than thirteen hours(!!) of live-action FMV video, which it proudly boasts as being "more cinematic footage than any video game ever released". As Captain John O'Neil, players awaken from cryo sleep aboard the damaged Westwick spaceship in the year 2499, but in many ways you'll feel like you've stepped back in time to the mid-'90s, when FMV was all the rage. For being every bit as much a blast from the past as an epic space odyssey through the future, this game claims the honour of "Most Nostalgic Adventure" of the past year.

---
Next up: Best Independent Adventure... the envelope, please!
Continued on the next page...
Referenced Adventure Games
feature
Other articles you might enjoy