The Aggie Awards - The Best Adventure Games of 2014
page 14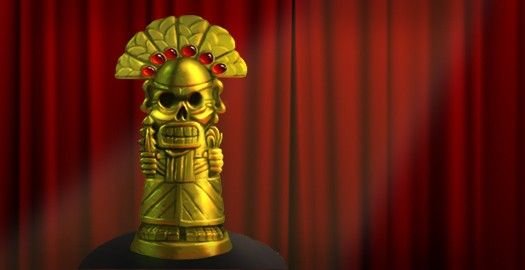 Continued from the previous page...

The Silver Aggies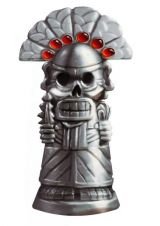 Back by popular demand (or at least, what we assumed would be popular had anyone actually demanded it) are the Silver Aggies! These are the honourable mentions – awards that don't fit neatly into the main event, having a narrower focus and/or a shallower pool to choose from. There may be slightly less prestige involved, but the games merit a little extra attention nonetheless. Don't think of it like a second-place finish at the Adventure Gaming Olympics, but rather a first-place finish in the demonstration sports!

---

Best of the Rest – Detective Grimoire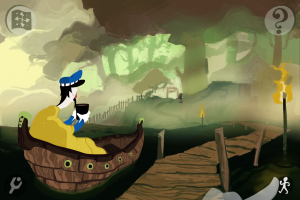 This is the award dedicated to the game that consistently rated well in our regular categories, yet never managed to win a golden Aggie. (Too-late spoiler alert!) Topping our list of honourable mentions this year is Detective Grimoire, SFB Games' lite mystery romp through Boggy's Bog, a wacky theme park haunted by a mythical swamp monster.
When the park owner is discovered dead, the monster is serendipitously fingered as the likely perpetrator. Enter Detective Grimoire, who confronts a slew of quirky suspects using an interrogation system that allows the expertly voiced characters to gossip freely and facetiously about one another. Challenges include matching clues, suspects, and sentence fragments, plus minigames that require the correct patterning of various elements. Such tasks suit the game's lighthearted hand-painted environments and vivid cartoon-like characters. It's far from the deepest or longest of adventures, but Detective Grimoire oozes charm and makes for an enjoyable diversion. If you've overlooked it until now, put those sleuthing skills to work, track down a copy and see for yourself.
Best Update/Remake – J.U.L.I.A. Among the Stars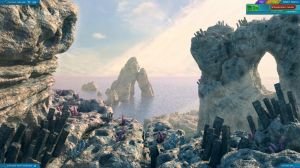 To understand this award, let's be clear about our criterion. This is not an acknowledgement of the "best game that got updated" but rather the "game that got the best update". That's an important distinction, or Gabriel Knight would have mopped the floor with the competition, despite their stellar quality. But while Jane Jensen's remade classic had plenty of fans on staff (as did several others), the game that benefited most from its update was CBE's sci-fi adventure J.U.L.I.A. Among the Stars.
We were already supportive of the experimental, indie-to-the-point-of-being-avant-garde 2012 original, but a successful crowdfunding campaign allowed developers Jan Kavan and Lukáš Medek to revisit the game and implement a host of impressive new features, including a significant high-definition graphical overhaul, new cinematics and character models, a more intuitive interface, both new and revised backstory details, and redesigned puzzles. In many ways it feels like an all-new game built upon the same basic premise, while still retaining enough of its predecessor's indie sensibilities to make the game stand out from the competition. This is a remake done right.
Best Game No One Has Played – Hadean Lands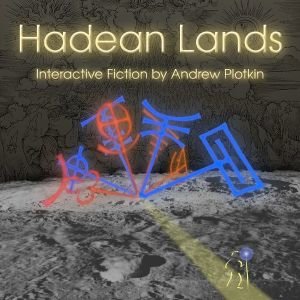 This is the award a developer least wants their game to win, but may be happiest that it did. For a variety of reasons, some high quality adventures inevitably slip through the cracks of mainstream attention. This year that distinction goes to Andrew Plotkin's Hadean Lands in particular, a text adventure that squarely places it in a niche-within-a-niche. The Interactive Fiction community is still alive and well, but for all those who think that text games disappeared with Infocom, this clever sci-fi offering likely didn't even register on their radar. But it deserves to, for this is very much a modern-day IF classic – and no, that is not a contradiction in terms.
First seeing the austere parser interface may trick you into thinking Hadean Lands a throwback to the 1980s, but it is actually very innovative, duly nodding to the past while making every effort to modernize and perfect the craft. Stranded on a damaged spaceship, players are left to tackle a fantastically complex puzzle system of alchemic formulas and piece together a story fragmented by fractures in time. Combined with a massive, richly detailed map to explore and a wonderful playfulness in the prose that balances an otherwise eerie atmosphere, players will find themselves stranded in a thoroughly immersive, involving world for countless hours. If you like to read and enjoy solving challenging puzzles but have written off text adventures as a thing of the past, now's the time to reconsider. What the Hadean Lands have you got to lose?
Best Episode – The Dream Machine: Chapter 5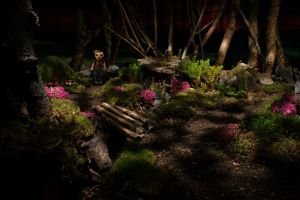 Ideally there would be no "episodes" up for individual Aggies, and in cases like Broken Age, Dreamfall Chapters, and Game of Thrones we've held off award eligibility until the games are complete. But not all episodes are created equal, so we've made concessions for series that will take YEARS to finish (if ever), and whose episodes feel more like actual sequels than mere serial installments. Still, as incomplete games they're at a competitive disadvantage, so it's only fitting that we acknowledge the best of an outstanding crop.
This year, proving that anything worth having is worth waiting for, the fifth episode of the under-appreciated Dream Machine series set a new standard of excellence. Once again hand-crafted entirely from clay and cardboard and filmed using stop-motion animation, the stunning locations take players into two surreal dream worlds, including a darkened, Escher-like cubist void and a scenic forest tormented by a thief stealing body organs. There you encounter a bevy of clever and challenging puzzles that refuse to hold your hand, ensuring a substantial 5-7 hours of compelling gameplay. It's very much the penultimate episode of a six-part series, so you can't jump straight in cold. But for those who invest in a thoroughly engaging series, this installment itself puts many standalone contemporaries to shame.
Best Surprise – The Fall: Episode One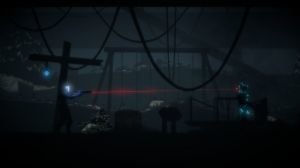 Don't you just love when you go into a game with zero expectations and are pleasantly surprised? Such was the case with Over the Moon's The Fall, a three-part sci-fi adventure that debuted in 2014. It's not that the first episode underwhelmed us prior to release, it simply fooled us. We mistakenly presumed it to be a Metroidvania-style side-scroller with a few adventure elements tacked on, so we were delighted to discover that it's really the other way around.
The Fall successfully mixes morose atmosphere, suspenseful setting, and a unique twist on its playable protagonist. Injured after a fall from orbit onto a seemingly abandoned planet, astronaut Josephs is near death and only kept alive by his space suit's life support system, an AI named A.R.I.D. With Josephs' recovery as its prime directive, A.R.I.D. takes over the suit's motor functions, and enters a dismantled droid repurposing facility that seems abandoned, but isn't quite. Through a thrilling blend of classic adventure puzzles and interaction with the facility's remaining automated systems that have been slowly sinking into a kind of computerized madness, players will gradually uncover the dark and startling events that took place so long ago... and what ancient ghosts still haunt these mechanical ruins to this day. If you've missed out so far, don't let this Fall slip right through the cracks.
Best "Almost" Adventure – 80 Days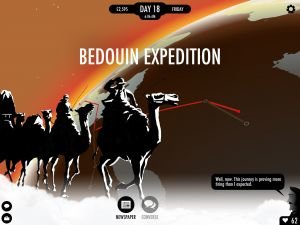 As everybody knows by now, genre barriers are being crossed at unprecedented rates these days. Nothing makes sense anymore. Platformers are full of puzzles, story games have no challenge… human sacrifice, dogs and cats living together... mass hysteria! To us, the best "almost" adventure (if not quite meeting even our liberal interpretation of the word) of the past year was 80 Days, in which author Meg Jayanth took Jules Verne's classic story and developed layers of interactive intrigue that invite continued exploration – all through the power of the written word (supported by an accessible, minimal graphic interface).
As a gamebook highlighting player choice, 80 Days deftly creates a real living, breathing world that continues to amuse and delight through multiple playthroughs. Not only does it provide a global playground for a whirlwind steampunk journey, each individual location introduces singular characters and compelling plots and intrigue to get caught up in. It might not be a classic adventure game, but it certainly provides all the elements of a classic adventure.
Best Crowdfunded Adventure – Broken Sword 5: The Serpent's Curse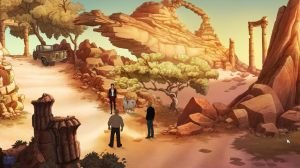 The Silver Aggies are meant to highlight games that wouldn't win an award otherwise, but in many ways, this may be the most intriguing head-to-head contest of all. Ever since Tim Schafer blew the lid off the Kickstarter craze, we've been treated to wave after wave of beloved design legends emerging from the woodwork to embrace the genre once again. Sadly, Schafer himself failed to cross the finish line in 2014, along with the Two Guys from Andromeda, the Quest for Glory Coles, and the clay wizards behind Armikrog, among others. But still… Jane Jensen, Charles Cecil, Chris Jones et al. back making adventures? Someone pinch us; we're still not convinced we aren't dreaming. (Ow! Okay, guess we aren't.) And that's not counting the little, lesser-known indies made possible only through crowd-sourcing.
It's already crystal clear which game our readers preferred, but which did we find gave the most bang for its publicly-funded buck? None other than Broken Sword 5. The series' enduring appeal is based on the charming, bantering, will-they-or-won't-they relationship of George and Nico, laid on top of a grandiose conspiracy theory and wrapped in beautiful, hand-drawn 2D graphics and one of Barrington Pheloung's lush orchestral scores. Many felt Revolution were starting to lose their way in recent years, but The Serpent's Curse is a roaring return to form for the series, celebrating everything that made the original so great. It would never have happened without public support, so take a bow, backers!

---
Next up: Best Console/Handheld Adventure... the envelope, please!
Continued on the next page...
Referenced Adventure Games
feature
Other articles you might enjoy