The Aggie Awards – The Best Adventure Games of 2018
page
Continued from the previous page...
Article updated Friday, February 22nd. Already read about Day One and Day Two? Skip straight ahead to the final day's presentation!

---
Adventure games are dying… Only 137 of them launched last year!
Okay, not only isn't the genre remotely dead (as always), there's more life in it than ever. We may not have the same number of AAA-budget, technology-pushing epics of the Golden Era, but bigger isn't always better, and it's amazing what small indie teams can do with a little ingenuity, freedom from publisher constraints, and of course some elbow grease and a willingness to work practically for free.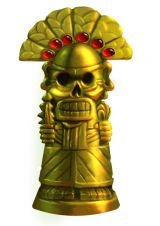 The result of so many titles being released these days is that it's hard to know which ones are the best, and that's where the Aggie Awards come in! Yes, it's time once again to acknowledge the top games of the past calendar year, as decided by both the AG staff and Patreon supporters and our readers. (You DID vote in the reader poll, right?)
With so many accomplished games to choose from, there may be some disappointment as well as elation, but really this isn't a competition so much as a celebration of gaming goodness all around! Congrats to every developer eligible, for making our choices far harder than they had any right to be.
The three-part Aggie event will run daily from Wednesday through Friday, so stay tuned each day to see who will take home the coveted hardware. Remember this is all in good fun, so enjoy the show! And we do mean "show" this time, as for the first time ever, along with our complete written presentation we are pleased to introduce our first-ever video unveiling of the winners, hosted by the talented Ivy Dupler (Lamplight City, Unavowed) and produced by Gamewalker.
And now, the 2018 Aggie Awards...
Day One

Day Two

Day Three
---

Table of Contents

Day One
Page 1: You are here
Page 2: Best Story
Page 3: Best Writing – Comedy
Page 4: Best Writing – Drama
Page 5: Best Character
Page 6: Best Gameplay
Page 7: Best Concept
Day Two
Day Three
Page 14: The Silver Aggies
Page 15: Best Non-Traditional Adventure
Page 16: Best Traditional Adventure
Page 17: Best Adventure of 2018
Page 18: Final Notes

---
First up: Best Story... the envelope, please!

Continued on the next page...

feature
Other articles you might enjoy