The Aggie Awards – The Best Adventure Games of 2018
page 5
Continued from the previous page...
Best Character:

Chuchel (CHUCHEL)
Maybe he's a sentient piece of discarded pocket lint? A stray speck of dust perhaps? Or possibly the resurrected furball of an old cat? In truth we have no idea what the titular character of Amanita Design's CHUCHEL is, but if nothing else is certain, he IS determined. Great resolve is needed to acquire the succulent cherries he craves in such a bizarre world, and in this he is unrivaled. Whether by contesting a superior alter-ego at a snail race, wrestling a set of giant dentures, or suddenly revealing the ability to summon laser swords, cannons and dinosaurs to ward off an alien invasion, nothing gets in the way of Chuchel and the object of his desire.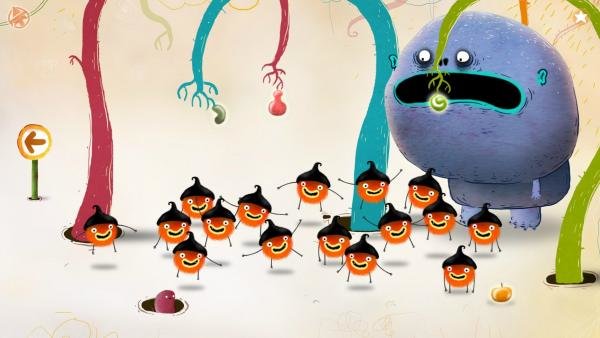 Yes, when the giant monkey-like hand of fate knocks you down, locks you in a glass jar, and uses drugs to transform you into a cyclopean blob, you've just got to get back up and push forward. It helps that our hero is so remarkably resilient: he can be stomped on, shot at, blown up, and swallowed whole, but Chuchel always bounces right back into form – or at least a form, because he can be molded into all shapes and sizes: squares, llama, fish, and even become downright Pac-Man-esque. And he does it all so expressively for someone with only a mouth, two bulging eyes, stick arms and legs, and no intelligible language, conveying more with every over-the-top gesture and gibberish exclamation than most characters say with reams of dialogue at their disposal. Whether black or orange (perhaps you've heard about the decision to change Chuchel's colour recently), we applaud the loveable, hot-tempered fuzz-wad for reminding us to never give up. And we trust that our 2018 Aggie Award for Best Character is just the cherry on top.
Runners-Up:

Eli and Logan – tie (Unavowed)
Detective Gallo (Detective Gallo)
Anne (Forgotton Anne)
Nairi (NAIRI: Tower of Shirin)
 
---


Readers' Choice:

Leisure Suit Larry (Wet Dreams Don't Dry)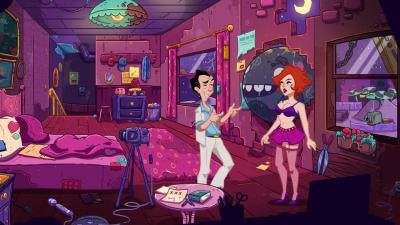 Larry Laffer is a brazen womanizer and shallow, self-absorbed, dim-witted loser. But boy do we love him for it (although you folks a bit more than AG staff, apparently). For all his egregious character (and physical) flaws, Larry is an endearing protagonist (from this side of the screen), partly because he's usually the butt of all the jokes. But he's also very much a man of his time, which makes his sudden leap into present day a particularly interesting one. And yet who better to serve as a mirror to today's social and technological advancements than a man encountering them for the first time, while still horny as ever and hoping to score. For making such a successfully entertaining leap into the modern era, Larry takes home his second reader Aggie. Maybe that will help boost his Timber profile.
Runners-Up:
Eli Beckett (Unavowed)
Detective Gallo (Detective Gallo)
Chuchel (CHUCHEL)
Miles Fordham (Lamplight City)
 
---
Next up: Best Gameplay... the envelope, please!
Continued on the next page...