The Aggie Awards – The Best Adventure Games of 2018
page 2
Continued from the previous page...
Best Story:

Unavowed
It all begins with you – a man or woman, your choice – being struck by lightning to exorcise the demon possessing you. There's no slow burn here, as Wadjet Eye Games' Unavowed plunges right into its narrative about supernatural creatures and paranormal powers. Set against the backdrop of modern day New York City, this urban fantasy explores the mysteries behind visitors from the netherworlds coexisting with us in our own. When your self-named character is freed by a half-Jinn and fire mage, you're recruited into the titular Unavowed, a secret mystical police force. There you get to decide how to approach your investigations, with a choice of three different background professions dictating the path available to you.
Following in the tragedy-laden footsteps of the one who possessed you in order to unravel their evil deeds isn't all this stellar point-and-click title has to offer. Along the way you'll help recruit more people into your small supernaturally-endowed team. Each of them has their own backstory, and this game takes advantage of its interactive medium to allow you to explore these tales to whatever extent you want without detracting from the main storyline. Throw in a choice of teammates to share in your missions, multiple playable backstories for your own character, and an excellent plot twist along the way that makes you reevaluate everything you thought you knew, it's no wonder why Unavowed spirited away this year's Aggie Award for Best Story.
Runners-Up:

Forgotton Anne
11-11: Memories Retold
Unforeseen Incidents
Detective Pikachu
(Note: As an adapted work, Ken Follett's The Pillars of the Earth was ineligible)
 
---


Readers' Choice:

Unavowed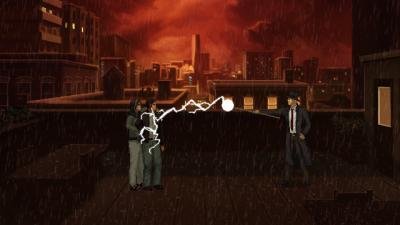 The first reader award was a close, hotly-contested battle… for second place. Yes, despite a strong showing by many promising challengers, really the runaway winner was never in doubt. Like us, you were smitten by Unavowed's skillful blend of supernatural thrills and often very touching human drama – and even non-human at times. Balancing such seemingly disparate elements is a significant accomplishment made all the more impressive by having alternate playable characters that bring their own unique dynamics to the team. For delivering such a thoughtful, well-rounded narrative experience, Wadjet Eye sweeps the first round of Aggies.
Runners-Up:
Unforeseen Incidents
Lamplight City
Forgotton Anne
Detroit: Become Human
 
---
Next up: Best Writing – Comedy... the envelope, please!
Continued on the next page...