The Aggie Awards – The Best Adventure Games of 2018
page 3
Continued from the previous page...
Best Writing – Comedy:

Detective Gallo
The premise of Footprint Games' Detective Gallo is so ridiculous, you know you're in for a thoroughly offbeat adventure before you even start. The main character is a hard-boiled private eye rooster, tasked with investigating "fowl play" of epic proportions: the murder of a millionaire's prized plants. (Maybe not so epic, then, but who's going to trust Gallo with a really important case?) While he sleuths with the utmost seriousness, Gallo's sardonic wit is the source of much humour. He promises to act with "the speed of the law: slow and unrelenting" and thrives on dishing out wisecracks to anyone he meets. When his doting admirer begs him to sample her sickly sweet wares, Gallo acknowledges that his job requires him to swallow some bitter things, but even that's a step too far. He even has a seemingly never-ending list of rules for the job, which swing between earnest and outlandish illogicality with ease.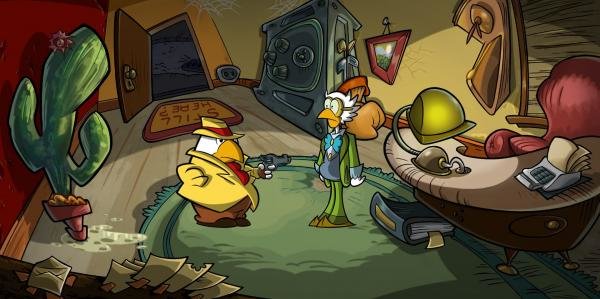 It's not just the feathered lead who provides the laughs, however. Everyone you meet has a bit of an edge, which makes for amusing back-and-forth banter with the titular star. There's a time and a place for comedy – in this case, it's all the time and everywhere. You're never far from a silly joke, pun or downright absurdity. There's an undercover cactus convinced that the ladies love him, an intergalactic cult that is only allowed to think if their leader allows it, and a gun-wielding criminal who rediscovers himself as a meditative soul. Not all the gags land, but more than enough of them do to keep a grin on your face throughout. So with that in mind, we've arrived at our own Rule #2018: When awarding our Aggie for Best Comedy Writing, give it to the chicken with an attitude and six-shooter that's permanently cocked and loaded.
Runners-Up:

Leisure Suit Larry: Wet Dreams Don't Dry
Hero-U: Rogue to Redemption
Detective Case and Clown Bot in The Express Killer
Snail Trek
 
---


Readers' Choice:

Leisure Suit Larry: Wet Dreams Don't Dry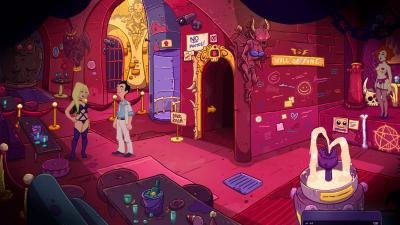 Leisure Suit Larry has been a comedy staple in the genre for over 30 years, but for the longest time it seemed like the iconic franchise's best days were behind it. Then along came a bunch of young German(!) upstarts, most of whom who were still in diapers when Larry first started hitting on women (and being soundly rejected), thinking they could resurrect the brand – and without series creator Al Lowe, no less. Then they had the audacity to bring Larry's oh-so-eighties sexist mindset to modern day. How could that possibly work? Turns out, pretty darn well! From the opening gag-filled age verification test to the anything-but-subtle sexual innuendo; from a White House spoof to a skewering of today's social media technology, there were more than enough laughs to go around. Even with such pun-loving competitors nipping at its heels, Wet Dreams Don't Dry takes home the reader award for most amusing yuks.
Runners-Up:
Detective Gallo
Hero-U: Rogue to Redemption
Unforeseen Incidents
Detective Case and Clown Bot in The Express Killer
 
---
Next up: Best Writing – Drama... the envelope, please!
Continued on the next page...