The Aggie Awards – The Best Adventure Games of 2019
page 5
Continued from the previous page...


Best Character:

Jenny LeClue, Jenny LeClue – Detectivú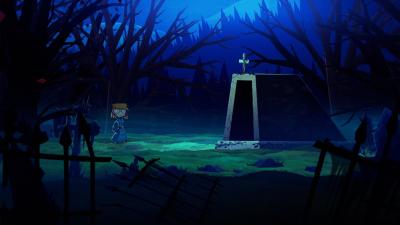 Whether it's the off-putting personality of Sherlock Holmes or the fastidiousness of Hercule Poirot, the great detectives have a tendency to alienate those around them. Young detective Jenny LeClue seems headed down that same road: brilliant but condescending, observant yet standoffish. Throughout her first big case, however, Jenny is forced to realize she can't do everything on her own and her grudging acceptance of help from others opens the door for true character growth. Which is especially impressive since she's really a fictional character in a book. And yet she's so much more, taking on a life of her own and becoming a real person whose isolating walls you'll want to see come down so she can connect with those around her. A flawed hero, her struggles and personality quirks make her all the more relatable, and for that reason, who but the eponymous star of Mografi's debut adventure could walk away with our shiny golden statuette for Best Character?
Runners-Up:
Sean and Daniel (tie), Life Is Strange 2
Chowder Man, Hypnospace Outlaw
Kim Kitsuragi, Disco Elysium
Kitteh, Gibbous: A Cthulhu Adventure
Frog Detective, Frog Detective 2: The Case of the Invisible Wizard
 
---


Readers' Choice:

Kitteh, Gibbous: A Cthulhu Adventure
So would you say you're more of a cat person? A huge number of voters certainly are! If you've ever wondered what a cat is really thinking, be careful what you wish for. Protagonist Buzz Kerwan finds out in Gibbous when he inadvertently grants his pet Kitteh the power of speech. While remaining in cat form (a fact you'll be reminded of as Kitteh stretches and even licks herself ungraciously during idle moments), she is ever quick with the quip (usually sardonic – she is a feline, after all) and can occasionally be used to help out in a pinch to go where humans cannot. The real star of a game isn't necessarily the STAR of a game, and in winning this reader award, Kitteh joins a distinguished list of beloved adventure game sidekicks.
Runners-Up:
Kim Kitsuragi, Disco Elysium
Vera Englund, Whispers of a Machine
Jenny LeClue, Jenny LeClue – Detectivú
Tondbert Ruffskin, Guard Duty
 
---
Next up: Best Gameplay... the envelope, please!
Continued on the next page...