The Aggie Awards – The Best Adventure Games of 2019
page 14
Continued from the previous page...

The Silver Aggies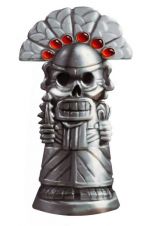 Every year there are some excellent games that fall just a little short of reaching the podium for various awards, either finishing as a runner-up or barely missing the finals entirely. With so many awesome titles to choose from, it's easy for these near-misses to fall through the cracks, and that would be a shame. So while our Silver Aggies may not have precisely the same lustre as our golden statuettes, these bonus categories are another chance to hand out some much-deserved hardware – impressive new releases, all, that are no less worthy of any adventure gamer's attention.
 
---

Best VR Adventure: Ghost Giant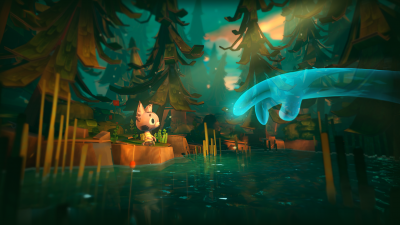 Edging out Groundhog Day: Like Father Like Son as our top VR adventure of the year, Zoink's charming Ghost Giant not only provides a musical dollhouse world of imaginative beauty to explore, it also has the courage to tackle serious themes like depression and mental illness tastefully without taking away from the childlike playfulness of the gameplay experience itself. Players control the titular massive spectre by manipulating the environment directly, but the only one who can see you is a feline boy named Louis. As you begin to earn his trust, your young companion grows to be more than just a sidekick but a true friend you'll want to help and protect on his journey, giving the game a heartwarming Pixar feel that is sure to stick with you long after you're done.
Best Defection: Irony Curtain: From Matryoshka with Love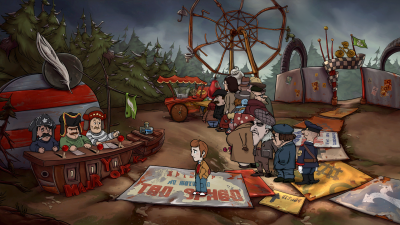 Before 2019, Artifex Mundi was best known for its prolific catalogue of hidden object casual titles. But with Irony Curtain: From Matryoshka with Love, the Polish developer crossed over into full-fledged adventure territory, and did so in style. Set in 1951, this satirical romp is a classic point-and-click triumph. The protagonist is a young American named Evan who slips from starry-eyed beliefs to jolting doses of reality when he visits the eponymous communist party-controlled country. An irreverent story arc is brought to life by vivid cartoon-like graphics, impressive ambient animation, and tongue-in-cheek situations. Excellent voice-over work and Slavic music create a sometimes surprising, but always entertaining soundscape. Crazy fetch quests, Bronx-cheer-inducing item combinations, and hit-or-miss "official" procedures highlight an engaging gameplay experience achieved via layers of red tape, and watching Evan's gradual grasp of the obvious (as well as a few well-hidden) truths is amusing and wildly endearing. Who knew life in a tyrannical dictatorship could really be this much fun!
Most Original Adaptation: Elsinore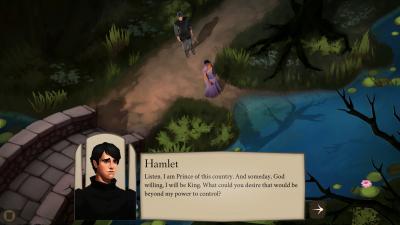 "Though this be madness, yet there is method in't." When you first begin Elsinore, you'll think you know what it is: a simulation of Hamlet shown from the point of view of one of its lesser characters, Ophelia. By the fifth time you restart Elsinore, it becomes apparent that much more is going on here than the Bard intended – and by the fiftieth time, you just might have a handle on what this game is truly about. Named after the royal Danish castle around which it's set, this is a clever reimagining that detonates a time bomb underneath Shakespeare's famous play and tasks you with picking up and making sense of the scattered pieces. With a time-looping structure, a woman of color protagonist, unexpected plot twists, and a huge amount of story to uncover, indie developer Golden Glitch Studios takes Elsinore well beyond its source material to secure a Silver Aggie for 2019's most original adaptation.
Not to be Lost in Translation: Heaven's Vault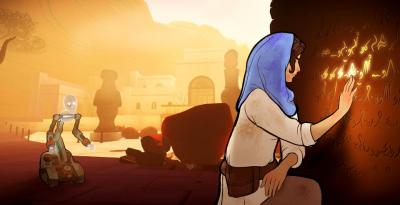 The "Guitar Hero of languages" is how one developer from inkle described Heaven's Vault, and while you aren't hastily trying to crack translations in front of a baying audience, the comparison definitely rings true. Playing as feisty archaeologist Aliya Elasra, you're joined by your robotic companion Six in a hunt across an alternate universe called the Nebula for a roboticist who's gone missing under very suspicious circumstances. Your interplanetary adventures take you to cluttered markets, arid deserts, gleaming paddy fields and the ruins of temples with questionable ancient traditions. The dialogue is beautifully written and the diverse landscapes equally lovely to explore, but to delve deeper into the fascinating lore you have to learn to translate the pictorial glyphs left scattered on the trinkets and pages you discover in your travels. The game features a vocabulary entirely made-up from scratch that must be decoded using guesswork and similarities to other previously translated words to figure it all out, creating a wonderful pursuit of that "rockstar" feeling of nailing the correct translation that's every bit as satisfying as perfecting the most difficult guitar riff.
Not to be Lost in the Shuffle: Pilgrims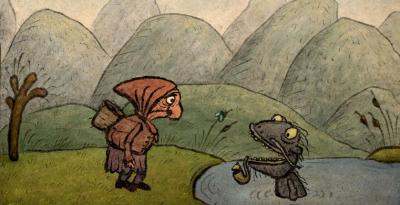 Amanita Design surprised us out of the blue with Pilgrims, a slightly different style of game than the likes of Machinarium and CHUCHEL, and yet the acclaimed Czech studio's telltale trademarks are all here. Slapstick humour? Check. Funny gibberish for dialogue? Yep. Surreal music and beautiful hand-drawn graphics? Definitely. Better yet, this romp through a dark fairy tale kingdom of beasts and princesses is packed full of inventive twists. Similar to the minigame introduced in Samorost 3, gameplay sees you building a card deck of objects and characters as your inventory to combine and use with scenes around you as your creative mind sees fit. Naturally, flinging the devil character card at a priest has interesting consequences, but what would happen if you'd used the beer card to get our crusty cleric a little bit tipsy first? It's a short game but there's loads of replay value here, with 45 achievements to unlock as you traverse the ever-expanding map, dancing with bears and cooking up magic mushrooms as you go along. And as with the best of Amanita's games, there is plenty of reason to get things wrong in the most spectacular and hilarious ways possible.
Most Intelligent Adventure: Observation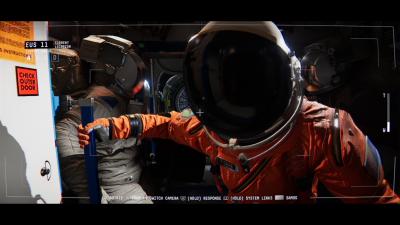 Don't mistake No Code's sci-fi adventure for just another lone-astronaut-in-a-derelict-space-station tale. Observation takes the unique approach of making players not the human survivor, but the AI unit named SAM (System Administration and Maintenance) who must get its charge to safety amidst a series of escalating crises along the way. Sharing an increasingly close relationship with your human companion, you will make use of inventive gameplay techniques to succeed, connecting to various laptops, cameras, diagnostic equipment and more, eventually even becoming mobile as you navigate zero gravity environments within your Low Orbital Space Station. Presented through top-notch graphics and voice acting, the plot begins innocently enough but soon becomes quite sinister, raising questions about your own involvement in the disaster that's transpired. An intelligent adventure indeed – an artificially intelligent one!
Best Head-Scratchers: Myha: Return to the Lost Island, The Sojourn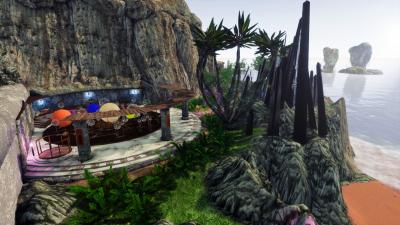 Myst fans lament the dearth of puzzle-centric experiences in these times of ever-easier adventures, making Simon Mesnard's Myha: Return to the Lost Island such a welcome breath of fresh air for puzzle lovers. Originally a small freeware game jam submission before being radically overhauled for commercial re-release, Myha's locales are enticing, idiosyncratic, and strewn with puzzle clues. It's a paradise for those who love multi-stepped conundrums. The surroundings can be distracting, so you'll need to gaze past their surface beauty for crucial details overlooked, whether jigsaw-like symbols in an outdoor classroom or mechanical birds emitting musical notes. Keep searching to find carvings, torn pages, or drawings in drawers, and fiddle with any laptop computers, control panels, levers, and colorful spheres you encounter. And what to make of the stranded rocket ship, a mysterious tower, and secret hidden passages? For the careful observer, answers will gradually start to emerge, but it won't be easy. This is a great game, but only for those who relish the fun and frustration (funstration?) of a significant challenge.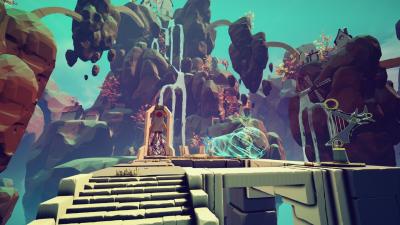 With over sixty 3D levels of navigation-based obstacles to overcome, Shifting Tides' The Sojourn provides plenty of brain-straining enjoyment as well. Utilizing teleporting totems, bridge-building harps, and ancient archways to travel back and forth between a shadowy alternate dimension, among other key gameplay elements, players must wend their way through a plethora of increasingly tricky environments to progress past massive cathedral towers, rocky paths and flowing waterfalls, lush foliage, snow-covered peaks and a dark sandy desert. These challenges provide a deep sense of satisfaction when they finally yield to clear thinking and a bit of experimentation. Wrap all this up in a stylish presentation of impressive sights and sounds, then throw in even more difficult bonus "golden scroll" objectives to boot, and you've got one splendid puzzler on your hands.
Best Animal Adventures:  Frog Detective 2: The Case of the Invisible Wizard, A Short Hike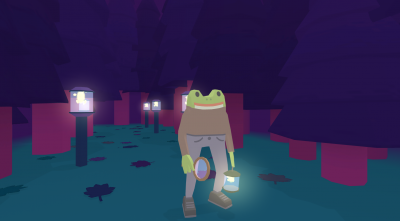 Sometimes people suck, and what this world needs to brighten it is a little frog with a magnifying glass trying to talk some sense into a rhino named Mary who's singing at 3am. Frog Detective 2 expands on its predecessor's deadpan wit and charm with an even wider cast of weird characters to interrogate. Playing as the titular amphibian P.I., this time you're faced with the important matter of finding out who trashed the parade decorations for Warlock Woods' newest guest. Once again you must speak to a veritable zoo's worth of anthropomorphic animals to find out what's really gone on – even an eye-patch-wearing lion called Ralph – but now you get a snazzy notebook to record your findings, which you can jazz up with stickers of smiling eggs and whatnot. It's a short game but a delightful little ray of silly sunshine that developer Grace Bruxner has filled with warmth and hilarity.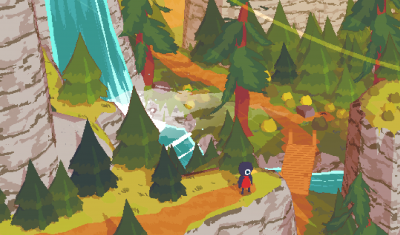 When not on the job, it's always nice to get out for A Short Hike. It's easy to fall in love with the beautiful landscapes and cute animal visitors in indie developer Adam Robinson-Yu's mountain getaway adventure. Playing as a young bird with limited abilities at first, in no time at all you'll find yourself high up in the sky over Hawk Peak Provincial Park, soaring past forests and waterfalls and sandy beaches. Exploring the lush outdoors is the focus of the experience, inviting players to freely run, climb, swim or glide while indulging in light-hearted conversations with quirky strangers, a variety of treasure hunts, and even some friendly athletic competitions if you're up to the challenge. Like any great vacation, it's over all too soon, but while it lasts this game perfectly captures the essence of adventure and wonder that is not to be missed.
Creepiest Adventures: The Dark Pictures Anthology: Man of Medan, Moons of Madness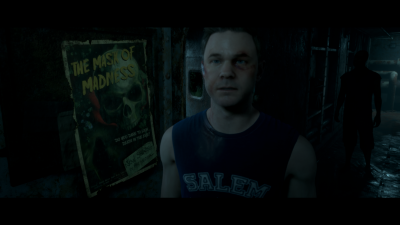 Supermassive Games is no stranger to the horror genre, first rising to prominence with 2015's Until Dawn. The debut installment of their Dark Pictures Anthology hits many of the same notes, and unlike its predecessors, thankfully Man of Medan is not a PS4 exclusive. To make the terror work, the developers chose a truly frightening setting: a derelict World War II freighter stranded at sea. A rusted-out ghost ship is more than a little eerie, with distant disembodied sounds echoing through the deathly silence, and that's before the nightmare creatures and haunting visions show up. The survival of all five young protagonists throughout the night is completely dependent on your choices and quick thinking, and for anyone willing to brave the experience, it's sure to be a white-knuckle thrill ride.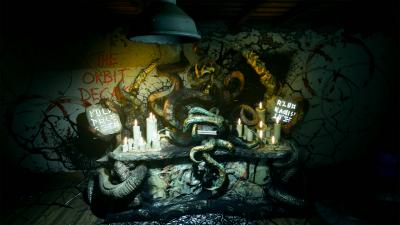 A little farther from home, the developers at Rock Pocket Games decided to dive into the Cthulhu mythos for their eldritch-themed space horror adventure, committing themselves to delivering a fright fest worthy of its Lovecraftian influence. Relying less on jump scares or overt danger, Moons of Madness opts to present an ever-increasing atmosphere of tension and dread, at times even styling itself in the famed author's literary voice, creating more than just the usual tenuous connections to his acclaimed body of work. For an intense walk along the razor's edge of sanity, with its own unique set pieces and a Mars setting far removed from the typical Lovecraft yarn, this is a must-play for anyone interested in slow-burn science fiction terror.
Best Whodunits: Detective Di: The Silk Rose Murders, Tangle Tower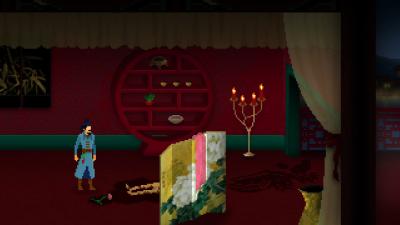 Solving crimes is a staple of adventure games, but usually it adheres to familiar Western influences. Not so for Nupixo Games' Detective Di: The Silk Rose Murders, with its decidedly Eastern setting during the reign of China's first and only female empress in AD 684. Based loosely on the real-world Chinese law officer Di Renjie, this is a mystery that ventures into seldom-explored locales and customs to tell a tale of a grisly serial killer, all against the backdrop of escalating political turmoil. With a wide range of tasks to perform – including scouring crime scenes, interviewing an array of interesting suspects, solving actual riddles, and cracking crimes on deduction boards – and simple but distinctive audio and visuals, Detective Di provides a wonderful breath of fresh air for armchair detectives everywhere.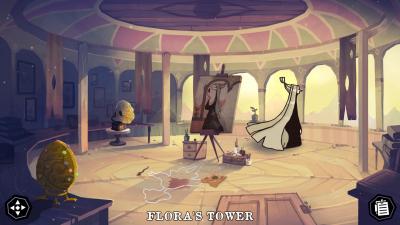 Back in the West, detectives in adventure games almost seem to be superheroes at times, able to deduce your entire life just from some crumbs on your coat. That makes it even more refreshing that the ever-amusing Detective Grimoire and Sally, stars of SFB Games' beautifully designed Tangle Tower, are just regular folk confronted by a most irregular murder. The pair are called to solve a crime in which it seems a painting is the culprit, a bizarre premise but the perfect opening for a game that sees players uncovering mysteries about two weird and wonderful rival families who all live in the same secluded island mansion. Of course you'll get to question suspects, uncover clues, and piece together evidence to try to determine who (or what!) the killer is, solving a variety of puzzles along the way. Good luck cracking it before the reveal, though. It's everything you'd want from a whodunit, with superb visuals and voice acting as the cherry on top. So if you're up for some laughs and a fun bit of offbeat investigating, grab that magnifying glass and head on over to Tangle Tower.
Best Retro-Styled Adventures: Feria d'Arles, Mage's Initiation: Reign of the Elements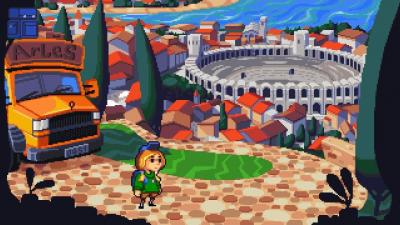 Like its diminutive protagonist, Feria d'Arles packs an incredible amount of wit, charm, and personality into a deceptively small package. Gorgeous pixel art, laugh-out-loud dialogue and a lively soundtrack combine to create an experience more than worthy of comparison to the classics of yesteryear. You won't spend more than an hour or two helping its young protagonist Molly to become France's greatest matador, but every moment in her company is a joy, full of cleverness, colour and character. (And animal lovers can rest easy knowing no bulls are ever harmed.) Games like Feria d'Arles are proof positive that sometimes they do still make 'em like they used to, and do it just as well.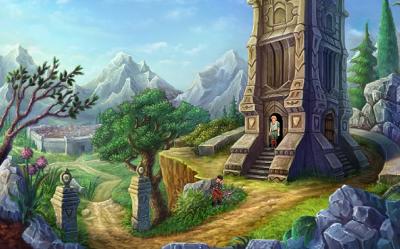 Another prime demonstration that the genre's nostalgic present is easily as enjoyable as its venerated past is Mage's Initiation: Reign of the Elements. Almost a full decade in the making, Himalaya Studios' second commercial endeavour proved to be worth every bit of the wait as one of the best retro-style experiences of 2019. With a healthy amount of both the childlike sincerity of the King's Quest fantasy adventure series and the dangerous combat and stat-building RPG elements of Quest for Glory, along with beautiful background pixel art, excellent writing, superb music and wonderful voice acting throughout its rather substantial play time, this game is both a love letter to the Golden Age of Sierra On-Line games and a modern day hybrid gem in its own right. 
Best Kept Secrets: Smile for Me, Sumatra: Fate of Yandi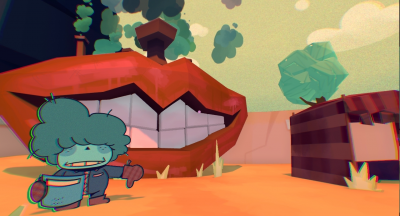 If you're going to call your game Smile for Me, you better make sure you deliver a feel-good experience, and LimboLane's debut adventure does just that. The game will captivate you from the start with a surreal art style that blends together flat paper-like characters, realistic props and 3D environments. But it becomes even more engaging the further you proceed thanks to its cutesy yet sinister world, charming ensemble of misfit characters, and intriguing mix of both old and new gameplay elements. Providing a welcome twist on the familiar point-and-click formula is the "Nod-n-Shake" dialogue feature for its mute protagonist, in which you answer simple questions by physically moving your mouse in a "yes" or "no" motion. All in all, this very bizarre, almost psychedelic adventure about making friends and helping people accept who they really are will surely put a grin on your face and is well worth playing.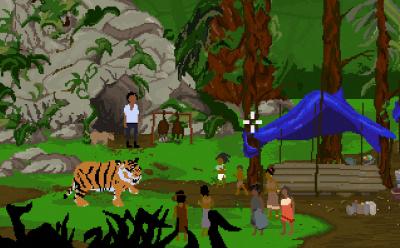 Looking like an '80s Sierra adventure but blissfully lacking the unexpected risk of death or dead ends, Sumatra: Fate of Yandi by Cloak and Dagger Games provides an entertaining glimpse into the titular tropical rainforest from the point of view of a simple logger just looking to get by. When business interests and industrial espionage intervene, Yandi is stranded in the wilds of the jungle and forced to use only his wits to survive if he's to return to civilization and his loved ones again. Along with its nostalgic retro look and feel, the game's greatest strengths are its strong characterizations and intriguing story, touching on themes of family, environmentalism, corruption, and more, giving it a surprising narrative weight that is seldom seen. It's a jungle out there, but one you'll want to delve deeply into for a fantastic adventure experience.
Best of the Rest: Argonus and the Gods of Stone, Draugen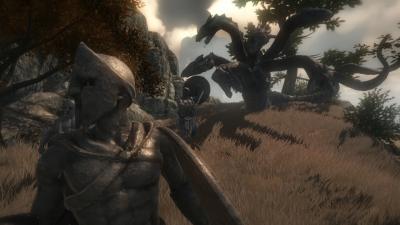 In the name of the mighty Zeus, the just Athena, and the industrious Hephaestus, hearken to our plea to honour Argonus, a simple mapmaker pressed into service by the gods to free the petrified souls of an island's inhabitants. In Argonus and the Gods of Stone, your encounters with various towering deities of Greek mythology are truly impressive, but the journey before you is a daunting one. Weaving together various elements of legend into an original story and pairing them with Ray Harryhausen-esque slick 3D visual design, Zojoi's real-time first-person adventure is a wonderful trip into a world of magic and monsters. Its award may not be fleece-coloured gold, but the Aggies simply wouldn't be complete without extolling its many virtues.
Ragnar Tørnquist and Red Thread Games may be better known for their sci-fi fantasy epic Dreamfall Chapters, but in Draugen they turned their sights to something a little more intimate. It's 1923 and Edward Harden and his chatty young ward Lissie have traveled to an isolated fishing village in Norway in search of Edward's sister. It quickly becomes apparent that something's not right, however, as the town of Graavik appears to be entirely deserted. The pair naturally begin to investigate, giving players the chance to soak in the eye-popping vistas of this lovely coastal region, and eventually you'll unveil the dark secrets concealed in this seemingly idyllic place. And with ever-increasing hints of something supernatural creeping in around the edges, Draugen presents a mysterious, melancholy mystery bristling with questions right to the finish.
Fondest Farewell: The Walking Dead: The Final Season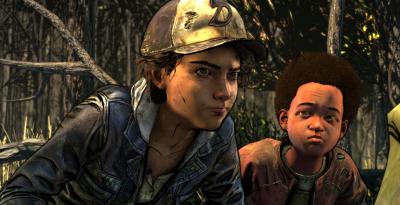 It was never going to be an easy goodbye to Clementine, a character we first met scared in a treehouse and who has grown up through unimaginable horrors right before our eyes. But little did we expect that the fictional drama of the young star's last outing would be echoed by the real-life crisis of developer Telltale Games being shut down midway through the season. Which makes it even more impressive that The Walking Dead: The Final Season is so good, filled with more punchy thrills and difficult choices after being brought back from the dead by Skybound Games. While there's ample violence, this series was never about the zombies but rather the human characters and their relationships that made it soar. Here we're treated to the wonderful dynamic of a motherly Clem and youthful AJ, perfectly mirroring the care that Lee gave all those years ago to his young charge when she was but a little girl. In its focus on the younger generation's perseverance and determination to survive, there are the usual gut-wrenching moments, of course, but also hope along the way. This is a bittersweet ending, yet a journey we're delighted to have taken.
 
---
Next up: Best Non-Traditional Adventure... the envelope, please!
Continued on the next page...