The Aggie Awards – The Best Adventure Games of 2019
page 8
Continued from the previous page...


Best Setting:

Eastshade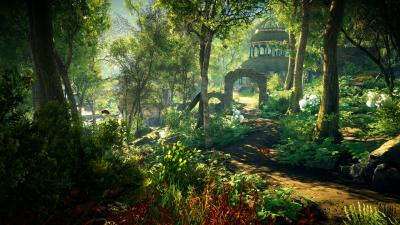 Some game locales are great places to visit but you sure wouldn't want to live there. Not so with Eastshade, a gorgeously fantastical world of craggy cliffs, mystical caverns, flower-strewn meadows, and rustic cottages that you'll love spending time in just basking in all the natural beauty. Fittingly, you are here to paint the domed towers and picturesque landscapes, but you will also use your skills as a craftsman and problem-solver while aiding the appealingly anthropomorphic creatures. Wherever you go, take time and soak in the scenery. Admire the snow-covered mountains and glaciers as you carefully navigate icy seas, tromp through terraced gardens, discover an ancient species in hidden caves, catch a thief at a remote island inn, and unite a family across reedy beaches and quaint harbors. And when daylight fades, be sure to watch the stars come out from a stone-molded lookout as night steals softly across resplendent woodlands. For so completely immersing us in its jaw-dropping land of artistry and style, Eastshade takes home the Best Setting Aggie for 2019.
Runners-Up:
Draugen
Detective Di: The Silk Rose Murders
Close to the Sun
The Sinking City
Sea of Solitude
 
---


Readers' Choice:

Gibbous: A Cthulhu Adventure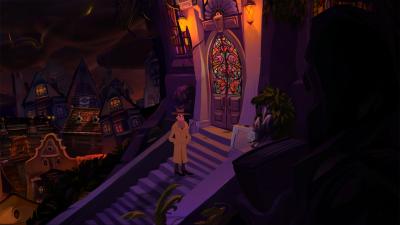 It's not every day you get to visit Transylvania, but it's one of several destinations that provide a perfectly fitting backdrop to the unsettling goings-on in Gibbous: A Cthulhu Adventure. From a rundown dock with its rusty boat and threatening purple clouds, to the repugnant plaza of the fish-people, to a looming castle perched high atop its mountain peak, these are places even the sun doesn't seem to want to shine. But where better to take the fabled Necronomicon to reverse an ancient curse, with weird cults and monsters breathing down your neck? There were plenty of great settings to choose from, but the striking environments of Stuck In Attic's comic cosmic horror stood slightly above the rest to claim another reader award.
Runners-Up:
Whispers of a Machine
Detective Di: The Silk Rose Murders
Eastshade
Disco Elysium
 
---
Next up: Best Graphic Design... the envelope, please!
Continued on the next page...