The Puppet of Tersa: A Curious Place
review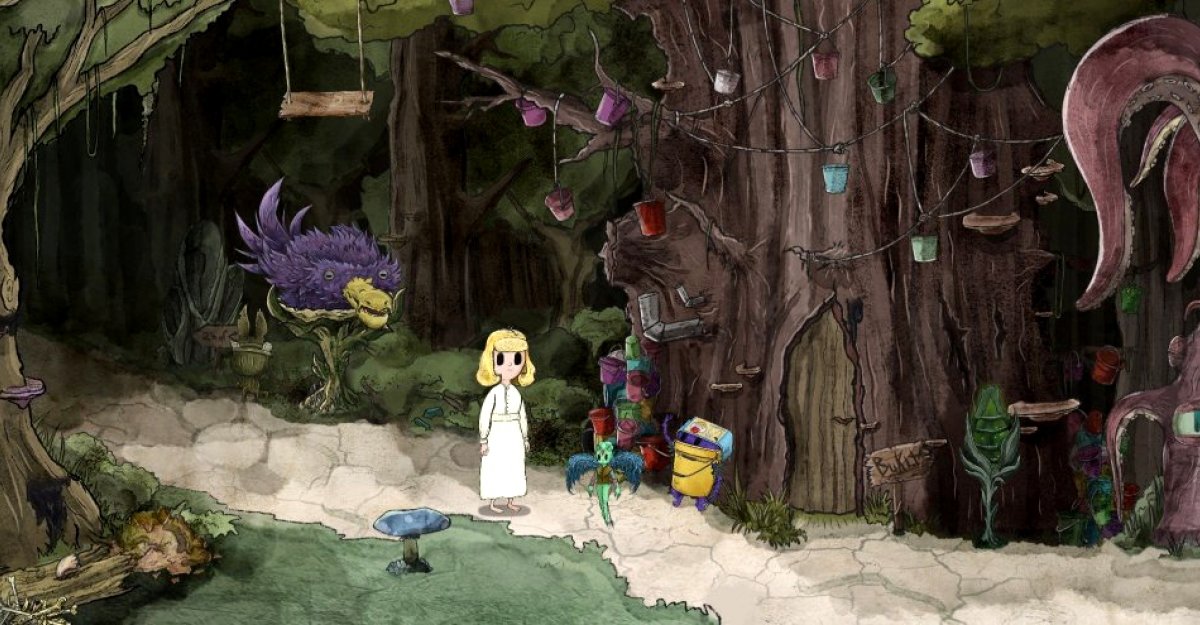 Game information
You might also like these adventure games
Advertisement
Adventure games by Madorium Interactive
BITMAP BOOKS
The basis behind Madorium Interactive's inaugural point-and-click adventure The Puppet of Tersa: A Curious Place seems heavily inspired by Alice's Adventures in Wonderland. Lewis Carroll's seminal masterwork sees its eponymous heroine pulled into a fantasy world through a literal rabbit hole, while the game presents a young girl named Cynthia who's pulled – along with her stuffed bunny – through a hole that's suddenly appeared under her bed one night into a similarly dark fairy tale world. Things go from bad to worse when Cynthia's plush toy Mr. Hops is stolen from her, setting her on a quest to retrieve the one magical object without which she can never return to her own world, paving the way for future installments that will follow this promising introductory episode.
Presented in a beautiful painterly art style, Tersa is an imaginative alien world in which Cynthia is the odd one out. Luckily for her, upon her arrival in a creepy forest she immediately meets a small winged creature named Tippo, who decides to help the girl find her way back to her own bedroom somehow. Tippo becomes Cynthia's de facto guide through Tersa, offering insight on its wondrous creatures and inhabitants that keeps her safe from unnecessary harm. Tippo even has her own icon within the inventory window, which objects can be dragged onto for some additional information straight from a Tersa native. Soon the pair encounter Bukit, a furry critter clad in a plastic pail with an ice cream tub for a helmet, who agrees to provide some assistance to get Cynthia back home – though not until the two have completed a few tasks for him, which become this first installment's main focus.
The on-screen cursor is contextual, allowing for easy navigation and interaction first with Cynthia's bedroom and later the world of Tersa, though combining inventory items with each other is slightly more obtuse than necessary. The process requires a suitable space to be found in-game to set the objects down before getting to work; thankfully this isn't needed often.
Tersa is a place that hides a new secret around every corner, but there aren't very many corners. The majority of time playing A Curious Place is spent in only a small handful of screens around the forest clearing where Cynthia begins her journey. Bukit's tasks hide within them several smaller objectives that require interacting with the local flora and fauna, including a many-eyed, many-tentacled tree that looks like something Lovecraft dreamed up; a house-sized cyclopic snail with a mouth full of needle-sharp teeth; and even some less frightening beings in order to obtain various needed items and ingredients to advance to the next stage of the plot.
It's by no means tedious – each step along the way requires a new leap of logic from the player – but it does speak to the game's generally limited scope when you continue to move back and forth through the same three screens for much of the game's runtime. Eventually, after traversing an infinite forest maze, Cynthia spends the remaining bit of time in a snowy village, again ping-ponging between a couple of screens to gather some suitable cold-weather equipment before the credits roll.
The lion's share of roadblocks revolve around a series of item uses to obtain something else. Catching a fish for Bukit incorporates several minor tasks: a fishing rod doesn't just appear out of thin air, not to mention a suitable lure to land the biggest catch possible. Advancing through the first puzzle gauntlet requires repeatedly talking to the forest dwellers you've encountered without being prompted to do so, as they periodically have new information and even needed items to share.
Other standard challenges are included as well, such as a rope puzzle that must be untangled, and a musical instrument that needs to be assembled. This latter task, unfortunately, is a bit cryptic in what it asks of players, and it is possible to go most of the way through the construction process without all the necessary parts to finish it, necessitating numerous needless restarts. Elsewhere, an annoying bug occasionally prevented a puzzle restart without first leaving and reentering the screen completely.
From a presentation standpoint, The Puppet of Tersa stands out favorably. There's a lot going on here, from the proliferation of fantastical wildlife to small touches like fishes darting underneath the water's surface and dust motes dancing in the air. Backgrounds appear to be painted with watercolors, while Cynthia and the supporting cast of characters are fully animated and always in motion. Merely the protagonist's overly large, pitch-black eyes gave me an uncomfortable pause here and there – all the other characters have these as well, but they look particularly out of place on Cynthia's human face. Care has been taken to keep things colorful yet muted to prevent the aesthetics from becoming too Disney-fied. Similarly, the creature design can be frightful in its bizarreness, even for those without any actual hostile intent.
The game may not feature any voice acting, but that effort has instead been channeled into its sound design. The instrumental music selections are as limited in number as the unique locations are, but each track is of high quality and seems vaguely but immediately familiar. Like the visual elements, the goal here seems to have been to underscore a sense of being in a strange place that's equal parts friendly and dangerous, with compositions as mysterious and foreboding as the setting. Tersa itself is alive with the haunting sounds of its wildlife, from the distant chirping of birds to the melancholy whistling of a fisherman.
As a series debut, A Curious Place is an all-too-brief dip into a thoroughly unpredictable and imaginative world that would have been right at home in the pages of the Wonderland chronicles. Offering nice graphics, music, and some decent puzzling, the biggest letdown may simply be its brevity, with the first episode ending after only about 2-3 hours, right after teasing an interesting upcoming confrontation through a momentous setpiece reveal. The presence of a bug and an unclear puzzle or two during such a brief stint suggests that future installments may need just a bit more time in the oven, but this first outing for The Puppet of Tersa proves the developers have all the ingredients needed to create a point-and-click fantasy adventure classic.
Our Verdict:
Despite a few very minor stumbles as it gets underway, A Curious Place offers a tantalizing glimpse into the world of Tersa and its young protagonist's plight to reclaim her beloved puppet and return home, though we'll have to wait longer for the rest of the story.
Want to share your own thoughts about this game? Share your personal score, or better yet, leave your own review!

review
Other articles you might enjoy