The Aggie Awards – The Best Adventure Games of 2019
page 3
Continued from the previous page...


Best Writing – Comedy:

Hypnospace Outlaw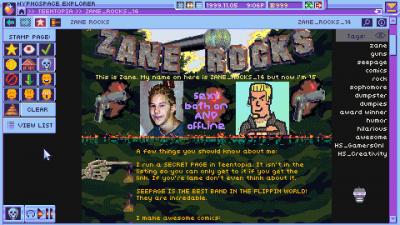 You'd be forgiven for going into Hypnospace Outlaw thinking it would be nothing more than a tongue-in-cheek, irony-drenched parody of a long-lost era of internet history. And indeed that alone would have been great, but scratch under the surface and you find something much greater: a deeply earnest, loving tribute to a time when the internet was more innocent and more honest, but still weird as all hell. Playing as an Enforcer charged with maintaining order within a fictional OS on the burgeoning World Wide Web, we laugh at Zane's nu metal-laden homepage and the ego-driven drama of the Freelands because we know those people. We may even have been those people, not so very long ago. It's funny… because it's true? But it's also funny because it's just plain funny, whether you're stumbling across Chowder Man's epic ballad to shaving or accidentally sparking a crusade to protect users' god-given rights to post fan images of Gumshoe Gooper. Hypnospace Outlaw is hilarious, and even more impressively, it's authentically human. And now it's an Aggie Award winner for best comedy writing.
Runners-Up:
Feria d'Arles
Gibbous: A Cthulhu Adventure
Yuppie Psycho
Irony Curtain: From Matryoshka with Love
 
---


Readers' Choice:

Gibbous: A Cthulhu Adventure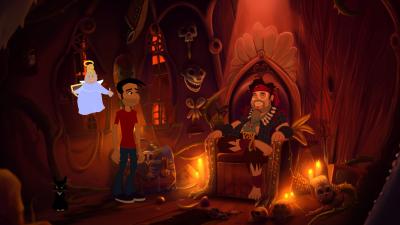 When seeking inspiration for your debut comedy adventure, naturally you go straight to the master of cosmic horror and those laugh-a-minute gritty detective stories of the '40s… Wait, what?! Yes, what makes Stuck In Attic's Gibbous particularly amusing is its unexpected melding of Lovecraft and film noir into a comedic romp filled with amusing banter, bizarre characters, zany scenarios, and plenty of riffs on pop culture ranging from Star Trek to Batman to Evil Dead. Oh, and a wisecracking cat who's none too pleased to be graced with the power of speech but not afraid to use it. With loads of hotspots and multiple comments for each, there are plenty of gags to go around, giving this Cthulhu Adventure a runaway victory over its competition from our readers.
Runners-Up:
Irony Curtain: From Matryoshka with Love
Disco Elysium
The Mystery of Woolley Mountain
Tangle Tower
 
---
Next up: Best Writing – Drama... the envelope, please!
Continued on the next page...