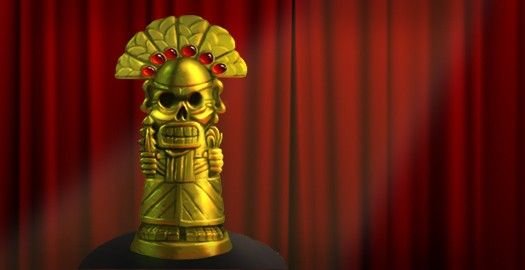 Continued from the previous page...



Best Graphic Design:

Memoria



Daedalic's jaw-dropping Memoria explores two different time periods in the history of Aventuria – a magical, dangerous place where demon armies gather for battle and an ancient mask holds deadly secrets. This sense of mystery and enchantment is expertly enhanced by the game's hand-drawn interiors and landscapes, which are expansive yet still manage to convey a sense of intimacy. Small details are beautifully depicted: ironwork patterning is reflected on a polished floor; skulls, chests and scrolls clutter a magician's attic; and exotic blossoms embellish a cave lost to the grasping hand of time. Backgrounds reveal a dramatic sense of scale, where spire-tipped mountains march across the landscape, monumental stone dragons frame an arched doorway, and gnarled trees ascend in tiers through the mist. The locations are remarkably diverse, from the angry red sands of a corpse-strewn battlefield to the cold majesty of a fortress floating above the clouds. The quality of light also varies: mage fire in a tomb glows a sickly green; purple dusk steals through a forest, and sunlight dapples a rooftop garden.
The game's 2D characters fit smoothly into these environments. Sadja, a princess from Aventuria's past, is on a secret mission. Dressed in muted colours, boots, and a hooded shirt, her hair is restrained and she's neat as a pin. Geron, the hero from the first game in the series (the equally gorgeous The Dark Eye: Chains of Satinav), is wan and scruffy. His medieval togs are rumpled – he's neglecting everything in his urgency to find a cure for Nuri, a young woman transformed by a curse. Mythical creatures aid or threaten, from a phoenix-like being made of pure light to a craggy rock giant smashing everyone in its path. Perhaps the most intriguing is a sentient wooden staff, twisted and gold-banded, its bony tip vaguely human. From the rustic landscape to its outlandish temples, from warriors and tricksters to exotic artifacts and beasts, Memoria distinguishes itself amid a crowd of comely rivals, capturing the Best Graphic Design award for 2013.
Runners-Up: Kentucky Route Zero: Acts 1-2, BEYOND: Two Souls, Lilly Looking Through, Brothers: A Tale of Two Sons

---


Readers' Choice:

Memoria



Daedalic is no stranger to this award, but the German developer not only had to contend with some incredible competition from others this year, it also had to split votes among its own impressive trio of games. But once again, the studio's talented stable of artists came through with its stunning hand-painted depiction of Aventuria – and doing so with only a fraction of the budget of its nearest runners-up. For that, Memoria sweeps both our staff and reader Best Graphic Design Aggies for 2013.
Runners-Up: BEYOND: Two Souls, Brothers: A Tale of Two Sons, Kentucky Route Zero: Acts 1-2, The Night of the Rabbit

---

Next up: Best Animation... the envelope, please!

Continued on the next page...

feature
Other articles you might enjoy