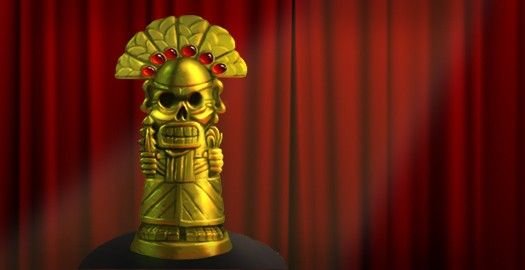 Continued from the previous page...



Best Gameplay:

Brothers: A Tale of Two Sons



Controversy alert! It's true that Brothers: A Tale of Two Sons doesn't play the way we've come to expect of traditional adventure games. There's no pointing-and-clicking, no dialogue trees, and no inventory, and there is some running, jumping, and even flying. But Brothers is all the better for blazing its own trail, a shining example of how puzzles and light platforming can be melded together with a captivating story. Controlling two brothers on their quest to find a cure for their dying father, the gameplay mechanics are fundamentally linked to the main characters. To guide the respective brothers simultaneously – and you'll often have to – you use the left and right analogue sticks and triggers on a gamepad (or two separate key clusters on the keyboard, though that's not the recommended way to play). It sounds simple on paper, but it takes some getting used to in practice. Stick with it, however, and you'll begin to feel a deepening connection with the pair. These are brothers, and you're responsible for keeping them together through thick and thin. When a simple trigger pull elicits a strong emotional response, you know you're playing something extraordinary.

Each brother has his own talents and strengths and it is this that makes up much of the puzzle-solving. Whether it's something simple like helping the weaker swimmer cross water or overcoming more sinister obstacles like defeating a creepy monster, there's seemingly no task that these brothers can't do when they work together. The game often rewards you with quiet moments too, allowing you to spend time playing ball with a fellow villager or sitting on a bench to soak in the view. Brothers is never overly complicated, but that's not the point. The gameplay works in perfect tandem with the story, keeping you fully entertained while pulling you along. There is some dexterity required to succeed, but if you're looking for an adventure that'll offer a gameplay experience like no other, you'll find your match in this year's Aggie winner for Best Gameplay.
Runners-Up: Papers, Please, Cognition: An Erica Reed Thriller – Episodes 2-4, Professor Layton and the Azran Legacy, BEYOND: Two Souls
---


Readers' Choice:

Brothers: A Tale of Two Sons



Oh dear. United in our selection, and not a dialogue tree, inventory item, or mouse cursor to be found! But we adventurers are becoming a more adventurous lot, and both staff and readers alike clearly embraced this unique platforming adventure that combined epic exploration, cooperative (yet single player) puzzle-solving, and lots of physical exertion for its two silent protagonists. And what a diverse range of runners-up! We adventure gamers really are spoiled for choice.
Runners-Up: Cogniton: An Erica Reed Thriller, Papers, Please, Phoenix Wright: Dual Destinies, BEYOND: Two Souls
---

Next up: Best Concept... the envelope, please!

Continued on the next page...

feature
Other articles you might enjoy