Monkey Island 2: LeChuck's Revenge - Special Edition
Developer:
LucasArts
Platforms:
iPad, PC, PlayStation 3, Xbox 360
Releases:
Digital

July 7, 2010

by LucasArts
United Kingdom

September 9, 2011

by Activision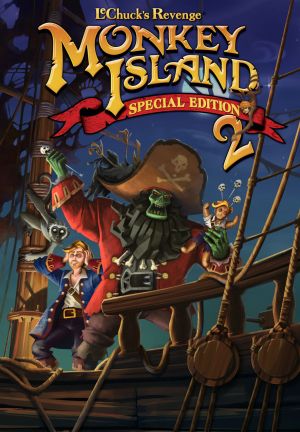 I thought I'd killed the Ghost Pirate LeChuck for good. Wrong. How many times can that bloated old fool die? Other pirates tell me there's no escape. "When LeChuck wants you dead, you're dead," they say. Legend has it that the treasure of Big Whoop holds the key to great power... I must find it before LeChuck finds me. -- Excerpted from The Memoirs of Guybrush Threepwood, the Monkey Island Years
Originally released as download only, then later released on disc in the Monkey Island Special Edition Collection.
Stuck in
Monkey Island 2: LeChuck's Revenge - Special Edition
, or looking for the best way to proceed? Click below to view our walkthrough for
Monkey Island 2: LeChuck's Revenge - Special Edition
and wonder no more!
Note, these will contain spoilers.

Posted by TimovieMan on Oct 3, 2013
An improvement over the first Special Edition, possibly even better than the original!

They've changed some things for the better when compared to the Special Edition of Monkey 1: object highlighting eliminates pixel hunting, the added "director's commentary" by Ron Gilbert, Tim Schafer and Dave Grossman is a nice touch (and not too intrusive...

Posted by Adventure on Oct 2, 2012
Still funny, still the best introduction to the genre

A classic no doubt, and for a lot of people a brilliant introduction to adventure games. They could have done much worse as this is solid, classic point and click with great graphics (notice I am not specifying: "for its time") and the self-aware humor SoMI...

Posted by Lucien21 on Aug 11, 2012
Better than the original.

Guybrush. Mighty Pirate is back. Bragging about his conquest of LeChuck to everyone who can stand to hear it. Unforunatly he's stuck on Scabb Island due to the Largo Embargo. His trouble is soon to worsen as LeChuck is back and looking for revenge. The...
SELECT wt.entry_id as entry_id, we.entry_id as review_id, wt.title, we.field_id_46 as rating, wd.field_id_71 as series FROM exp_channel_titles AS wt, exp_channel_data AS wd LEFT JOIN exp_playa_relationships as rl ON (rl.child_entry_id = wd.entry_id AND rl.parent_field_id = 31) LEFT join exp_channel_data as we ON we.entry_id = rl.parent_entry_id WHERE wt.entry_id NOT IN (SELECT entry_id FROM exp_category_posts WHERE cat_id = 10) AND wd.channel_id = '2' AND wt.status = 'open' AND wt.entry_id = wd.entry_id AND wd.field_id_19 NOT LIKE '%Hidden Object' AND wd.field_id_85 != '0'  AND wd.field_id_17 = 'Third-Person'  AND wd.field_id_23 = 'Comic cartoon'  AND wd.field_id_76 = 'Comedy'  AND wd.field_id_75 = '2D or 2.5D'  AND wd.field_id_22 = 'Point-and-click'  AND wd.field_id_19 = 'Quest'  ORDER BY rating DESC LIMIT 16
You might also like these adventure games