Escape From Monkey Island
Developer:
LucasArts
Platforms:
Mac, PC, PlayStation 2
Releases:
Worldwide

November 1, 2000

by LucasArts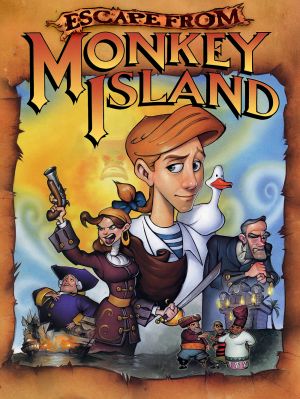 Spitting the sand of Monkey Island from my mouth, I wondered if the life of a mighty pirate was all it was cracked up to be. I'd ignored recent events that should have been warning shots across the bow of my soul, from my wife's brush with death to the anti-pirate ramblings of an Australian gazillionaire. If only I'd chosen a different path, LeChuck might still be dead and the Ultimate Insult might have remained a mystery. If I'd never picked up a sword, the grog-swilling pirates of the Tri-Island Area might be unthreatened by the forces of gentrification and demonic heckfire. If only... suddenly, the hairy finger of a familiar monkey tapped me on the shoulder. It was time. Time for the biggest battle of my swashbuckling life. -- Excerpted from The Memoirs of Guybrush Threepwood, the Monkey Island Years
Released for PS2 in 2001.
Stuck in
Escape From Monkey Island
, or looking for the best way to proceed? Click below to view our walkthrough for
Escape From Monkey Island
and wonder no more!
Note, these will contain spoilers.

Posted by TimovieMan on Mar 1, 2013
Not as good as its predecessors, but highly underrated!

This is one of the most underrated games out there. Criticism goes from the awful graphics to a deep hatred of Monkey Kombat, to a claim that it's just completely unfunny. I don't agree with this at all. In fact, when the game was just released, the graphics...
SELECT wt.entry_id as entry_id, we.entry_id as review_id, wt.title, we.field_id_46 as rating, wd.field_id_71 as series FROM exp_channel_titles AS wt, exp_channel_data AS wd LEFT JOIN exp_playa_relationships as rl ON (rl.child_entry_id = wd.entry_id AND rl.parent_field_id = 31) LEFT join exp_channel_data as we ON we.entry_id = rl.parent_entry_id WHERE wt.entry_id NOT IN (SELECT entry_id FROM exp_category_posts WHERE cat_id = 10) AND wd.channel_id = '2' AND wt.status = 'open' AND wt.entry_id = wd.entry_id AND wd.field_id_19 NOT LIKE '%Hidden Object' AND wd.field_id_85 != '0'  AND wd.field_id_17 = 'Third-Person'  AND wd.field_id_23 = 'Comic cartoon'  AND wd.field_id_76 = 'Comedy'  AND wd.field_id_19 = 'Farce'  ORDER BY rating DESC LIMIT 16
You might also like these adventure games