A full overview of all adventure games released in the Monkey Island Series. These can be episodes, remakes/remasters or sequels, created by either one or several companies. As long as the IP is used, we'd quantify this as part of a 'series'.


Developed by Rare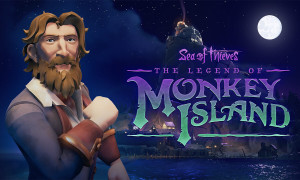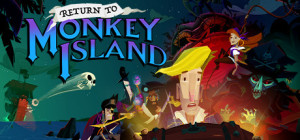 Return to Monkey Island is an unexpected, thrilling return of series creator Ron Gilbert that continues the story of the legendary adventure games The Secret of Monkey Island and Monkey Island 2: LeChuck's Revenge developed in collaboration with Lucasfilm Games.

It's been many years since Guybrush Threepwood was last locked in a battle of wits with his nemesis, the zombie pirate LeChuck. His true love, Elaine Marley, has turned her focus away from governing and Guybrush himself is adrift and unfulfilled, having never found the Secret of Monkey Island. Hip, young pirate leaders led by Captain Madison have shuffled the old guard from power, Melee Island has taken a turn for the worse, and famed businessman Stan has been imprisoned for 'marketing-related crimes'.

Banter with old friends and new faces on familiar islands now under dangerous new leadership. Then, take to the high seas and explore the new and unknown as you work your way out of tough predicaments. Clever puzzles, bizarre situations, and devastating ripostes are all that stand between Guybrush and glory.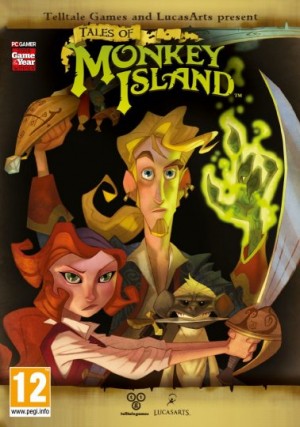 Our piratey heroes meet their ultimate match with the [i]Rise of the Pirate God[/i]. Can the world of Monkey Island be saved? Find out as the [i]Tales of Monkey Island[/i] saga comes to its thrilling conclusion.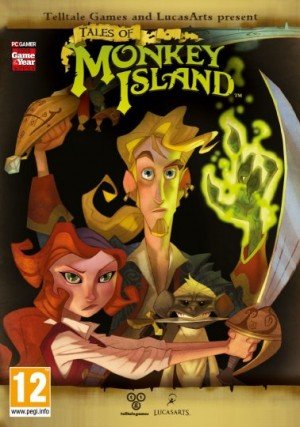 The fourth chapter finds Guybrush double-crossed by the pirate hunter Morgan LeFlay and returned to Flotsam Island against his will. Facing an angry mob of poxed pirates with a long list of grievances, Guybrush must defend himself in court against a smooth-talking prosecutor and absolve himself of the false accusations in order to continue his quest to rid the Caribbean of the insidious pox of LeChuck!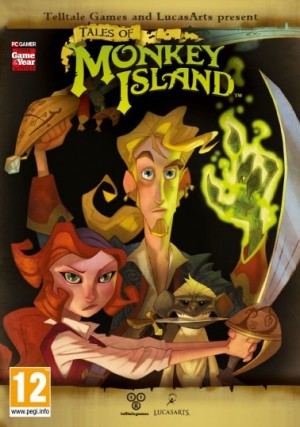 Trapped in the belly of a giant manatee, Guybrush encounters a surprising band of castaways, including the long-lost (and obsessive-compulsive) explorer Coronado De Cava. Can the Mighty Pirate win the suspicious De Cava's trust? Will sexy pirate hunter Morgan LeFlay prove to be a ruthless enemy, or an unlikely ally? Will the group find La Esponja Grande in time to save Elaine from the rampant Pox of LeChuck? And will the world be crushed by the gnashing teeth of a certain demonic skull? Tales of Monkey Island's moist and absorbing third episode will answer some of these urgent questions -- and raise still more -- as the five month adventure builds to its epic climax!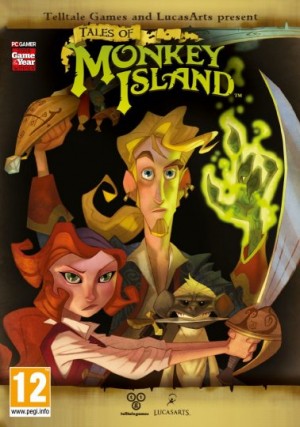 Guybrush's adventures continue on the high seas as pox-plagued pirates lay siege to the innocent Mer-People. In between defending the Mer-People and dodging the persistent pirate hunter hot on his trail, Guybrush manages to catch up to his beloved wife and despised arch-nemesis -- but their reunion is short-lived. Now Guybrush must focus on eradicating the Pox of LeChuck before more harm can be done. And as the Mighty Pirate draws closer to a cure, the waters will only grow murkier in this thrilling chapter of the epic saga.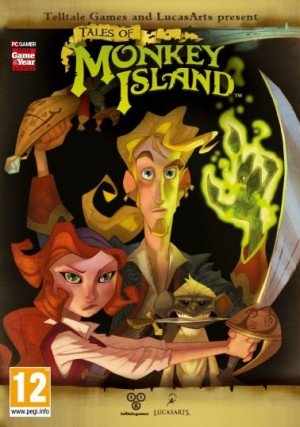 The saga begins with a heated battle involving the brave but often bumbling Mighty Pirate Guybrush, his beloved wife Elaine, and their nemesis, the demon pirate LeChuck. When the showdown goes up in flames, Guybrush finds himself marooned on a strange island with winds that always blow inward. How will our hero manage to escape this meteorological anomaly? What has become of LeChuck and Elaine? And what's the story with the infectious voodoo pox that's spreading across the Caribbean, causing Guybrush and other pirates to act like unruly hooligans? These are just some of the many questions posed in this first of five tales of Monkey Island.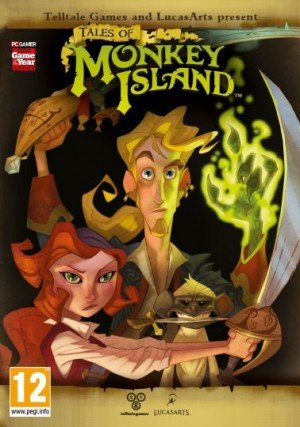 In this five-episode "season" of all-new [i]Monkey Island[/i] adventures, during a heated battle with his nemesis, the evil pirate LeChuck, Guybrush unwittingly unleashes an insidious pox that rapidly spreads across the Caribbean, turning pirates into zombie-like monsters. The Voodoo Lady sends Guybrush in search of a legendary sea sponge to stem the epidemic, but this seemingly straightforward quest has surprises around every corner.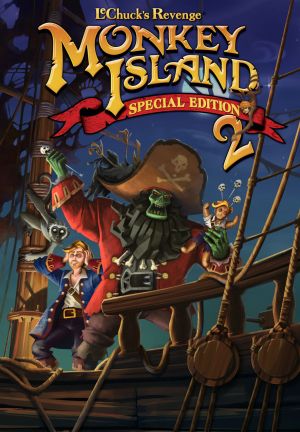 I thought I'd killed the Ghost Pirate LeChuck for good. Wrong. How many times can that bloated old fool die? Other pirates tell me there's no escape. "When LeChuck wants you dead, you're dead," they say. Legend has it that the treasure of Big Whoop holds the key to great power... I must find it before LeChuck finds me. -- Excerpted from [i]The Memoirs of Guybrush Threepwood, the Monkey Island Years[/i]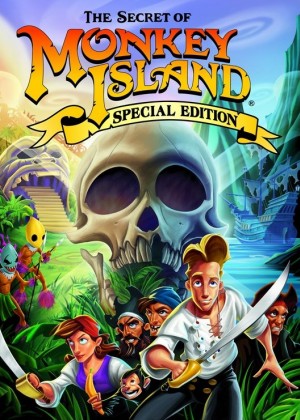 Back by popular demand, The Secret of Monkey Island: Special Edition faithfully re-imagines the internationally-acclaimed classic game (originally released in 1990) for original and new audiences alike. The new version features all-new HD graphics, a re-mastered musical score, full voiceovers, and an in-depth hint system. Purists will also delight in the ability to seamlessly switch between the updated HD graphics and the original's classic look.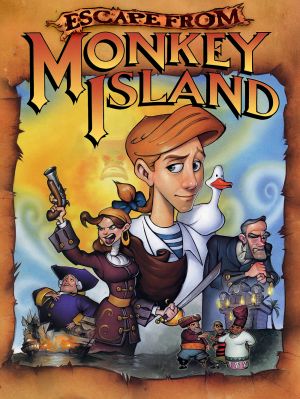 Spitting the sand of Monkey Island from my mouth, I wondered if the life of a mighty pirate was all it was cracked up to be. I'd ignored recent events that should have been warning shots across the bow of my soul, from my wife's brush with death to the anti-pirate ramblings of an Australian gazillionaire. If only I'd chosen a different path, LeChuck might still be dead and the Ultimate Insult might have remained a mystery. If I'd never picked up a sword, the grog-swilling pirates of the Tri-Island Area might be unthreatened by the forces of gentrification and demonic heckfire. If only... suddenly, the hairy finger of a familiar monkey tapped me on the shoulder. It was time. Time for the biggest battle of my swashbuckling life. -- Excerpted from [i]The Memoirs of Guybrush Threepwood, the Monkey Island Years[/i]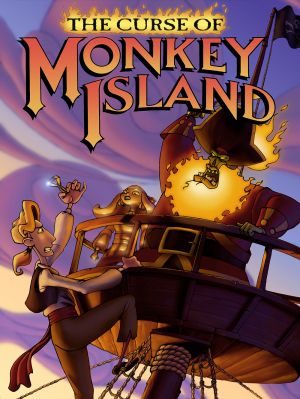 I've sailed the seas from Trinidad to Tortuga and I've never seen anything like it! The engagement ring I gave Elaine has a terrible pirate curse on it. LeChuck is behind it, I'm sure. I should have known that nothing good could come out of the evil zombie's treasures. And if that's not bad enough, the clairvoyant I met in the mangrove swamp told me that if I am to break the curse and save Elaine, I will have to die! -- Excerpted from [i]The Memoirs of Guybrush Threepwood, the Monkey Island Years[/i]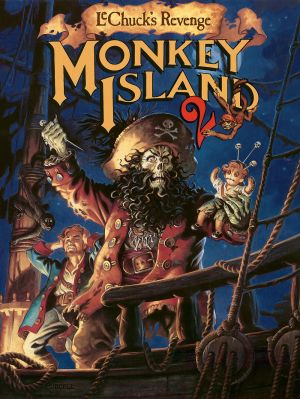 I thought I'd killed the Ghost Pirate LeChuck for good. Wrong. How many times can that bloated old fool die? Other pirates tell me there's no escape. "When LeChuck wants you dead, you're dead," they say. Legend has it that the treasure of Big Whoop holds the key to great power... I must find it before LeChuck finds me. -- Excerpted from [i]The Memoirs of Guybrush Threepwood, the Monkey Island Years[/i]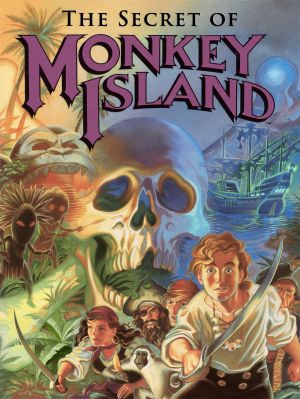 I cursed my luck again as I slid down the monkey's throat. Have my dreams of guzzling grog and plundering galleons been reduced to this? "Three small trials and you're a pirate like us," they said. Fair enough. If only I could stomach the foul brew these scurvy seadogs swilled, the rest would be easy. How could I have known I'd meet a powerful and beautiful woman with a jealous suitor too stupid to realize he'd been dead for years? And how can I crawl through this great stone monkey to find a man who walks three inches above the ground and sets fire to his beard every morning? --Excerpted from [i]The Memoirs of Guybrush Threepwood, the Monkey Island Years[/i]