The Aggie Awards – The Best Adventure Games of 2020
page 14
Continued from the previous page...

The Silver Aggies
Every year there are some excellent games that fall just a little short of reaching the podium for various awards, either finishing as a runner-up or barely missing the finals entirely. With so many awesome titles to choose from, it's easy for these near-misses to fall through the cracks, and that would be a shame. So while our Silver Aggies may not have precisely the same lustre as our golden statuettes, these bonus categories are another chance to hand out some much-deserved hardware – impressive new releases, all, that are no less worthy of any adventure gamer's attention.
 
---


Best Games No One Has Played: The Last Campfire, Lost Words: Beyond the Page
The rise of retail exclusives may be a financial necessity for developers, but it can be a curse for earning games enough wide-scale attention. If you rely on Steam or GOG for most of your adventure game purchases, for example, chances are you missed out on a couple of gems that have yet to make their way beyond their limited early releases. The first is Hello Games' The Last Campfire, in which a mysterious creature known as Ember roams a fantasy land in a bid to rescue fellow travellers. To do so you'll need to dive into their minds and solve environmental puzzles to help them overcome their mental anguish. But some of them don't want to be rescued; some would rather wallow in their loss, or spend more time seeking acceptance. It sounds heavy, but the magic of this game is that its warm visuals, gentle music, ethereal narration and smooth progression to new and interesting locales all work together to create something both moving and entertaining.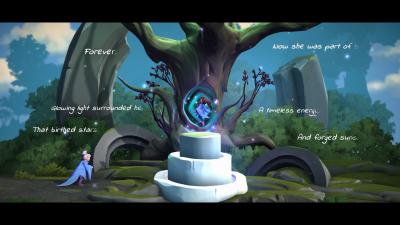 Lost Words: Beyond the Page is one of the most poignant and beautifully crafted games you probably haven't played this year. Created by Sketchbook Games and Fourth State and written by Rhianna Pratchett, it tells the story of Izzy, a young girl who wants to be a writer. The adventure takes place in two different realms, one that plays out right on the pages of Izzy's diary, and the other set within the world of a story she's writing. In the former, you'll jump between key words and images as they're written to advance the story, occasionally using special words to interact with the page directly. In the latter, you'll guide the tale's young protagonist through a gorgeous side-scrolling world with the help of words from Izzy's accompanying narration, occasionally calling up a book of magic words to overcome larger obstacles. Both halves combine to form a clever, love-filled adventure with sweet, heart-tugging moments offset by humour and a child's passion. We can't wait for the game to finish its exclusive Stadia commitment so more players will get to enjoy this delightful experience.
Best Brainteasers: Boïnihi: The K'i Codex, Relicta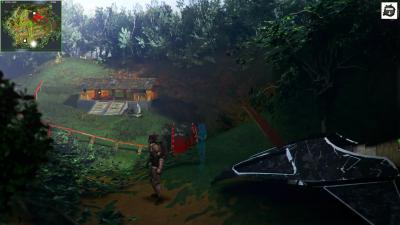 Boïnihi: The K'i Codex is the latest in Simon Mesnard's acclaimed Black Cube sci-fi puzzler series (ASA, Catyph, Myha), and true to form, it delivers a veritable cargo hold's worth of challenges to solve in a well-executed blend of third- and first-person presentations. From crafting your own writing tools, to using scientific instruments to figure out coordinates for your ship's navigation, to translating the alphabet of the codex written by a mysterious alien hermit, players are tasked with completing an ingenious array of inventory and logic puzzles set among the many beautiful environments. Whether for a long-time Simon Mesnard fan anxiously awaiting the next release, or a Black Cube newcomer simply looking for an intriguing sci-fi game with well-crafted puzzles, Boïnihi: The K'i Codex is sure to keep you taking notes and scratching your head until the next satisfying "aha!" moment.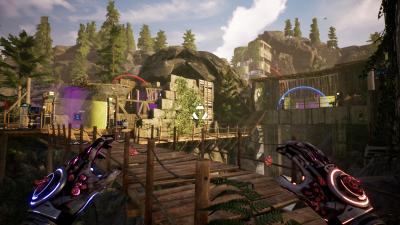 If you like your puzzles a little more hands-on, a much more physical challenge awaits in Mighty Polygon's substantial, highly polished environmental puzzler. Everyone loves playing with magnets, with their ability to invisibly attract or repel objects at a distance. Add to that the manipulation of gravity, force fields, and teleporters and you get Relicta. Set in a future scientific research facility on the moon, Doctor Angelica Patel must make her way through a series of experiment tracks designed to test the magnetism- and gravity-manipulating devices that are a product of the base, all while investigating the mystery of the titular strange purple meteorite that is more than it seems. The game's easy-to-grasp mechanics quickly evolve into some fiendishly clever first-person conundrums that are sure to scratch any Portal itch.
Best Climax: Leisure Suit Larry: Wet Dreams Dry Twice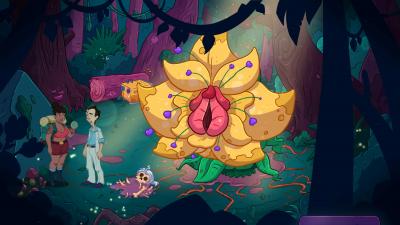 Okay, we're being a bit cheeky with this award, but there's no question that CrazyBunch's Leisure Suit Larry: Wet Dreams Dry Twice represents a happy ending for its titular protagonist. Things looked bleak at the conclusion of Wet Dreams Don't Dry, but the sequel picks up with our loveable loser trying to track down the whereabouts of his (literally) lost love. As with all Larry games, hilarity ensues as players confront a variety of imaginative, story-driven puzzles. This time around, in addition to the usual inventory-based challenges, many dialogue and environmental puzzles are introduced across a number of diverse and interesting locations. The hand-painted art is gorgeous, and Larry is once again superbly voiced by Jan Rabson. While a little less raunchy than the last game, there are enough comedic sex scenes and innuendo to satisfy the most ardent series fan. What might not be quite as expected is the quality of the story here, which surpasses the typically skin-deep plots of previous Larry adventures as the man out of time continues to find his way in the modern era. We sure hope this isn't the last we've seen of Leisure Suit Larry, but if it is, we're certainly glad he came.
Best Cyberpunk Adventures: Cloudpunk, VirtuaVerse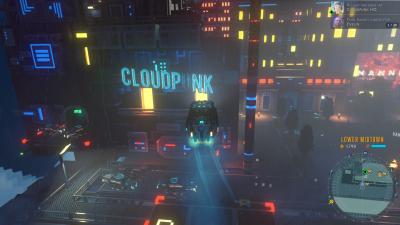 Nivalis, city of the future, sprawling in every direction – horizontal and vertical – held in the ravaging grip of entropic decay. Here traffic systems fail and entire skyscrapers collapse into rubble. In ION LANDS' voxel-based Cloudpunk, players control Rania, a delivery driver just trying to make it through her first night on the job and earn enough to pay the rent. Issued illicit assignments by Cloudpunk Control, Rania flies her hovercraft through the varied districts of a breathtakingly expansive metropolis that would make Blade Runner envious. At each destination, she'll jump out of her HOVA, running along busy thoroughfares suspended high above the ground, in order to drop off her packages, where she'll encounter myriad groups with competing agendas and stories to tell. Whether in the air or on foot, Rania's night is a busy and fascinating one that's well worth a look for any sci-fi fan.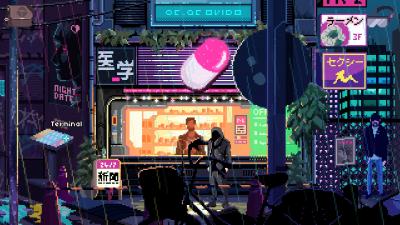 Back down on terra firma, Theta Division's VirtuaVerse distinguishes itself by going beyond the usual cyberpunk fare. Sure, we get the expected neon-glaring, perpetually rain-drenched streets of a futuristic concrete jungle, depicted in wonderfully detailed pixel art. The degree of polish on evident display during the first half of the game alone would be enough to make it stand out against a field of contenders. But when the latter half treats us to the designers' vision of how else a cyberpunk motif can be interpreted – say, on the open seas, within the deepest jungles, or even in outer space – the result is truly memorable.
Best Genre Hybrid: The Girl of Glass: A Summer Bird's Tale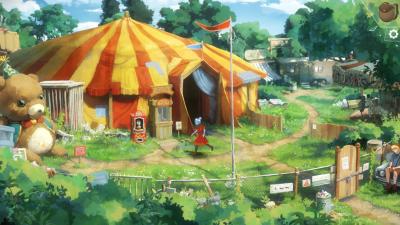 When certain aspects of a story are best suited to one form of gameplay while other elements are better served by another, what do you do? If you're Markus Oljemark, you take the seeds of both, plant them in landscapes of gorgeous hand-painted art, and watch as your unique genre hybrid blossoms into something beautiful. The Girl of Glass: A Summer Bird's Tale is equal parts traditional adventure and turn-based RPG combat. It follows Kristal, a teenage orphan working as a servant for a traveling circus in a fascist country lorded over by an omniscient, evasive figure known only as the Eagle. When a boy shows up inviting her to run away with him, Kristal soon finds herself on the run from the law during her waking moments, while in her dreams she uses supernatural powers to wage a coup against the Eagle. The point-and-click adventure segments allow you to explore the stunning environments at a relaxing pace, working through a variety of puzzles and other fun tasks. The RPG parts are much more intense, offering a stimulating challenge to anybody who's up for it, though with easier difficulty options for those less accustomed to battle. If you cherish adventuring and roleplaying alike, you'll welcome this lovely game that represents an equal blend of what both genres have to offer.
Best Lovecraftian Adventure: Call of the Sea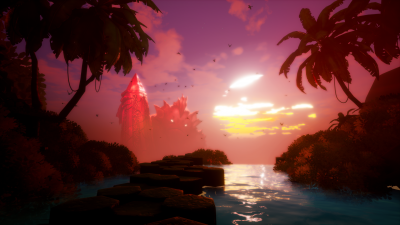 When you think of H.P. Lovecraft, visions of dreary, fog-shrouded New England towns probably leap immediately to mind, or perhaps inhospitable snow-capped mountain peaks. But gorgeous tropical islands? As incongruous as that sounds, Out of the Blue Games' Call of the Sea makes it the perfect backdrop for a Lovecraftian adventure. When Norah Everhart's husband doesn't return from a research trip to the South Pacific, she sets out to uncover what happened to him. Her journey through a seemingly deserted island with traces of an ancient civilization ends up being one of supernatural self-discovery, complete with underwater creatures, black ooze, and haunting spirits that would do the famed horror novelist proud. Even without its literary influence, however, Call of the Sea would still dazzle in many ways, not least in how it pulls you through a series of incredibly beautiful and diverse biomes, of which you'll enjoy exploring every nook and cranny while solving a welcome variety of brain-tingling puzzles. Add a finishing layer of grand orchestral music and atmospheric ambiance and you've got the perfect island getaway.
Best Non-PC Adventures: Lancelot's Hangover: The Quest for the Holy Booze, The Procession to Calvary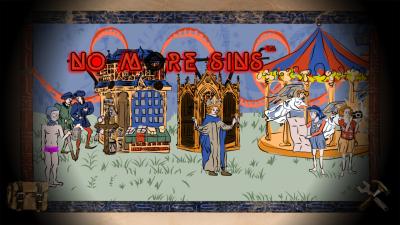 No, not that kind of non-PC! No console or handheld adventures to be found here. We're talking about those games that laugh – or rather, make us laugh – in the face of political correctness. If you're looking for a fun, nipple-tweaking, thigh-slapping good time that takes absolutely nothing seriously, Lancelot's Hangover: The Quest for the Holy Booze should be one of your first stops. This delightfully bawdy Monty Python-inspired point-and-click adventure follows Sir Lancelot the Sexy – sporting a revealing bright pink Speedo – on his mission from God to find the Holy Grail … and then put some booze in it and have a massive party. Along the way, expect to spend your time gleefully tittering while exploring the Tunnel-O-Christian Love and listening to the holy teachings of our Lord and Saviour, Hipster Jesus. Lancelot's Hangover is a refreshing, tongue-in-cheek tonic offering a few hours of silly escape from the tedium and gloom of modern life.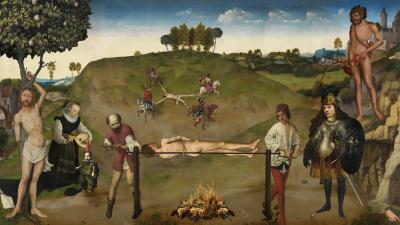 If that's not enough to earn you a trip to the confessional, Joe Richardson's sequel to 2017's Four Last Things once again delivers a clever farce by turns silly and sacrilegious. Mocking, irreverent humour and a variety of zany tasks take center stage in The Procession to Calvary, a comedic puzzler that sees the bloodthirsty protagonist try to exploit a loophole that would allow her to continue to wage a holy war against her enemies. This is another script that wouldn't be out of place in a Python sketch, with hilarious dialogue, acerbic send-ups of religion, and even a series of meta gags that poke fun at the developer himself. Richardson's signature collage-based art style returns as well, as do public domain recordings of classical music that form the soundtrack, resulting in a wonderfully cohesive audio-visual aesthetic that just so happens to be budget-friendly, too. While definitely not for the easily offended, The Procession to Calvary managed to bring much-needed laughs in a year that needed all the levity it could get.
Best Side-Scroller: Helheim Hassle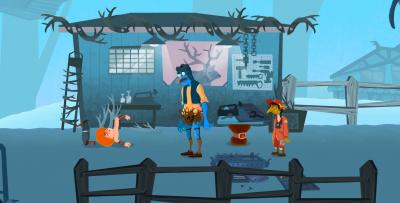 Standing out from the crowd frequently means introducing a novel mechanic, telling a story no one's heard before, or putting a new spin on familiar material. Perfectly Paranormal's Helheim Hassle, not content to do things by half-measures, takes an all-of-the-above approach and throws pitch-perfect voice casting and a hilarious script into the bargain. It tells the tale of Bjørn, an undead Viking pacifist who must journey with the Biblical Horseman of Pestilence through a thoroughly modern Norse mythscape to escape Valhalla. The puzzles take full advantage of Bjørn's semi-zombified state, which lets him remove, control and reattach his limbs at will. Need to pull a lever that's out of reach? Just use one arm to fling the other through the air and up to the ledge where it's located. Too heavy to jump a gap to speak to a character you're supposed to meet? Just ditch Bjørn's torso and leap across with one leg while his head bites onto his pant leg! There's an exhaustive number of combinations possible, and you'll have to use them all to find every puzzle, side quest, and secret scattered across the huge game world. In 2020, side-scrollers didn't get any better than this.
Best "So 2020" Adventures: The Longing, Shut In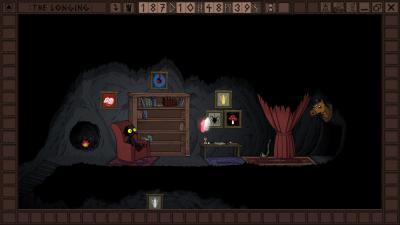 Imagine spending an entire year stuck inside with a distant end-date for your solitude, little direction on how to spend your time, and only the dimmest hope of escaping to live the kind of life you hoped for. Awful, right? Yeah. We now know exactly how that feels. But before the vicissitudes of COVID-19 were inflicted upon us all for real, the developers at Studio Seufz presciently saw the unique gaming potential in just such a scenario. The result was The Longing, a beautiful game about a tiny Shade whose only job is to wait underground by itself until four hundred days have passed in real time. What's especially astonishing is how much they got right about long isolation: the loneliness, the monotony, the search for purpose, and the vast significance that even the smallest change to one's surroundings can possess, as well as the surprisingly poignant rewards of creating a place to call home under such adversity. When future generations wonder what it was like to live in this strange time, The Longing will have more insights to show them than anyone could have imagined this time last year.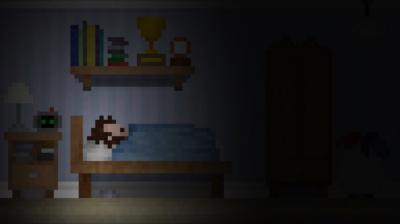 The less time we spend meeting people or going outside, the harder it can be to find the motivation to properly take care of ourselves. Independent developer Cael O'Sullivan addresses this issue in Shut In, a short but powerful game about a young man just trying to leave his house. Every attempt is an unsettling but slyly humorous journey filled with puzzles and unexpected dangers to avoid if the protagonist wants to get out alive. Even as he's constantly mocked by a sarcastic narrator who represents the main character's own lack of self-esteem, the 2D pixel art background gradually turns from a messy apartment to a house of horrors, the closer the protagonist gets to the exit. Shut In is a terrifying and well-written portrait of how isolation and depression can affect our mental health, especially during these times of global pandemic. But even in the darkness, it's also one of hope, as the game so deftly reminds us that we can always "just try again tomorrow."
Best VR Adventure: The Room: A Dark Matter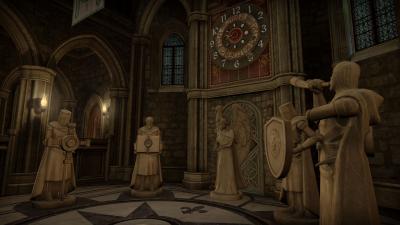 What began as a pure mobile puzzle game by Fireproof Games before maturing into a series of full-fledged multiplatform adventures achieves its next stage of evolution in The Room VR: A Dark Matter, making excellent use of the new technology to ramp up the fun and challenge factors. The supernatural plot hinted at in the earlier games is further developed, turning much more sinister as you visit several distinct locations, from a cathedral you need to shrink yourself to enter, to a witch's cottage filled with magic potions and haunted rooms, to a temple in the middle of a desert. As in previous outings, the many wonderful puzzles are multilayered and very rewarding to solve, though here each makes impressive use of virtual reality to increase immersion even more. It's a fully realized gameplay experience in every respect, with impressive production values to match, making this the one can't-miss VR adventure released last year.
Game You'll Flip For: Tales from Off-Peak City: Volume 1 – Caetano's Slice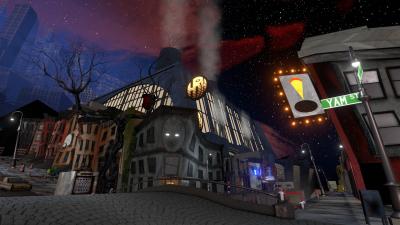 Many games claiming to be "surreal" can feel like a grab bag of disparate elements, their creators largely throwing absurdist elements at the wall to see what sticks. That's why it's so refreshing to dive into the weird and wonderful world of Tales From Off-Peak City. The first commercial volume of Cosmo D's funny, nightmarish, practically Lynchian adventure series is unapologetically strange, to be sure, but it's also cohesive and smartly constructed, with a genre-defying soundtrack complementing the imaginative faux New York City street corner visuals and unconventional gameplay that sees you attempting to steal a valuable saxophone. Advance the plot by delivering your custom-made flamingo-meat-and-synthetic-grey-matter pizza to the city's hungry residents, or meander around chatting with sentient apartment buildings – it's up to you. Caetano's Slice won't be for everyone, but it's a tasty treat for any adventure gamer looking to experience weirdness done right.
Hidden Gem: Embracelet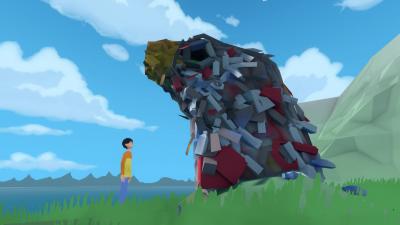 After Milkmaid of the Milky Way, Mattis Folkestad made the jump from 2D pixels to low-poly 3D with Embracelet, a captivating coming-of-age story set in northern Norway. Being a teen on the verge of adulthood is a particularly tumultuous time for anyone, but after Jesper receives a magical bracelet from his grandfather, a new stress is added to his list of worries. He must now embark on a journey to the island where his grandpa lived in his youth in order to unravel the secrets behind the bracelet's history and its power. The game is perhaps easy to overlook due to its modest aesthetic, but don't be fooled by the apparent simplicity: there is a lot going on here, much of it exceptional, particularly for a small indie developer. With a beautiful soundtrack, balanced puzzles, and an engaging multigenerational plot filled with an exploration of adolescent identity and thrilling mysteries, Embracelet is a gorgeous experience from start to finish.
Most Fun on Paper: A Fold Apart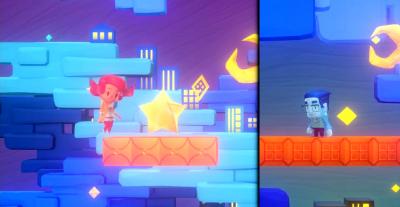 In the aptly named A Fold Apart, the simple act of folding paper becomes deeply symbolic. Any love story has two sides, just like paper, and here a single fold can literally shift your perspective, with up becoming down or a vast chasm disappearing. The joy of Lightning Rod Games' beautiful first title lies in the way it plays with these perspectives, both to craft deceptively tricky puzzles and as a metaphor for the difficulties and misunderstandings of a particular couple's long-distance relationship. The gameplay sounds simple: fold sheets of paper to help the protagonists get from one platform to another, and maybe to an awkwardly placed star. And yet, as they wander from page to page, from the real world to that of their hopes and fears, these folds change their world in very tangible, clever ways. A Fold Apart takes a unique and simple idea, then elevates it with lashings of Pixar-esque charm to create the kind of heartwarming tale we could all use a little more of in our lives.
Scariest Adventure: Visage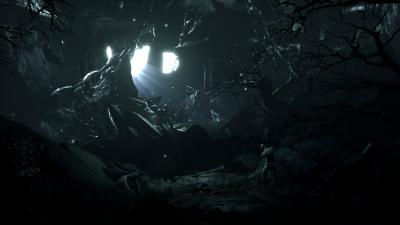 As if 2020 wasn't horrific enough in its own right, anyone looking to scare themselves more need search no further than SadSquare Studio's Silent Hill-inspired Visage, which is guaranteed to have you jumping at every little sound and peering into darkness anxiously. With its set of four anthologized chapters steeped in their own uniquely unsettling atmospheres, Visage sees you exploring an ever-changing haunted house while solving puzzles and managing survival items, all the while attempting to maintain your sanity even as you're being stalked by deadly apparitions who are none too pleased by your presence. To further wrack your nerves, expect the unexpected as randomized paranormal events terrorize you by shutting off lights and slamming doors, making sure you never feel safe. For those who crave the psychological discomfort that only horror can provide, Visage is a thrill every bit worth seeking.
Best of the Rest: Amnesia: Rebirth, Someday You'll Return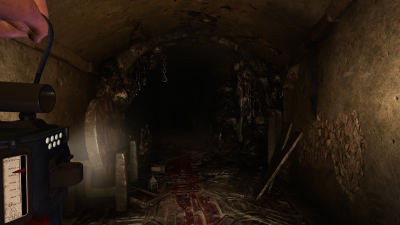 When Frictional Games released Amnesia: The Dark Descent in 2010, it was arguably the scariest adventure ever made and helped redefine the survival horror genre in the process. Rather than simply trying to out-fright its acclaimed predecessor a decade later, the more sci-fi flavoured Amnesia: Rebirth sacrifices a bit of pulse-pounding fear to focus on horrors of another kind. Make no mistake: you'll still be sorely tempted to turn on your own lights for a little illusory relief from the unnatural terrors of the dark, but things that go bump in the night aren't the only things that can horrify a person. The game's believably emotive protagonist Tasi Trianon isn't just fighting for her own sanity and survival, but that of her unborn baby as well. And while most games use memory loss as a cheap gimmick to drip backstory, here it's inextricably linked to the hell Tasi's experiencing. You'll desperately want her to remember the recent past as she searches for her missing husband following a plane crash in the Sudan desert, but you'll come to dread the longer-term memories as they return, gradually unveiling the traumatic events that ultimately brought her here. It's gripping stuff that will leave you feeling like you've been through the emotional wringer, and if you're a horror fan, you'll love every heart-wrenching, bladder-loosening minute of it.
The theme of parent-child horrors continues in CBE's Someday You'll Return, in which Daniel's just trying to find his runaway daughter in the deceptively scenic Morovian woods of the Czech Republic. The problem is, dogging his every step are dark, supernatural terrors, a beast that walks on two legs, and an even darker past. In a bold storytelling move, the protagonist is an angry, unpleasant man, making for a challenging tale that is as rewarding as it is unsettling. Boasting a surprisingly substantial play time that will keep you on the edge of your seat throughout, this is a game best played with the lights out and the sound cranked up to benefit from the impressive audio-visual presentation. It may not stand above the rest of its contemporaries in any one area, but it's one of the most complete adventure experiences of 2020, sure to give you plenty of fingernail-chewing bang for your buck.
Fondest Farewell: Kentucky Route Zero: Act V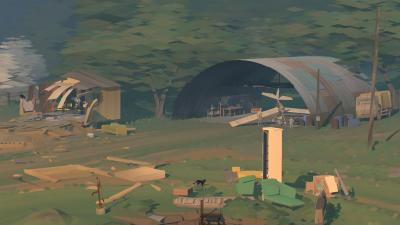 How do you end a surreal journey that began in 2013 with delivery driver Conway stopping at a gas station with a horse head tower before twisting his way along picturesque vector art highways, flying on eagle's wings through misty forests, and sailing on a tugboat down an underground river? You continue to defy all expectations in the series finale, that's how. In Act V of Cardboard Computer's Kentucky Route Zero, we finally reach our ultimate destination, but like many of the stops along the way, the last locale is caught up in hard times, reduced to a flooded town haunted by disaster, death and ghosts. Yet sometimes paradise can be found in purgatory. Perhaps that's what is happening here, as the protagonist's fellow ramblers turn out to be just what this beautiful, godforsaken spot desperately needs – people who can repair, nurture, entertain, and provide innocent hope to a broken community. Quite surprisingly (we should know better by now), the concluding chapter is viewed from the perspective of a cat, who looks on as the long-time travelers settle into a fresh reality, their stories merging with those of their new neighbours. Appropriately, Act V closes with a tuneful benediction, aimed at bringing the oddball remnants together as one. Though we hate to say goodbye, in shouldering its characters' looping trails and travails, Highway Route Zero has brought us to a place where the ending just might be a gratifying rebirth for those involved.
 
---

Next up: Best Non-Traditional Adventure... the envelope, please!
Continued on the next page...