The Aggie Awards – The Best Adventure Games of 2020
page 8
Continued from the previous page...


Best Setting:

Beyond a Steel Sky

Union City became one of the most memorable game settings more than twenty-five years ago in Revolution's Beneath a Steel Sky, and many adventure fans have longed to revisit the futuristic metropolis ever since. It wasn't until 2020 that we finally got that chance, but was it ever worth the wait. The long-anticipated sequel Beyond a Steel Sky takes the fully realized sci-fi dystopia of its predecessor and transforms it into something even more inviting the second time around. Where the city once was a mass of bleak industrial paranoia and foreboding distant towers framed by a polluted sky, a decade later Union City is now a thriving tourist-friendly utopia that more closely resembles Times Square, with droids (or d-RYDs, to be more accurate) filling the piazza that serves as the central hub of activity with their spunky brand of visitor-welcoming positivity and dry wit. Of course, not everything is as it seems, as something sinister lurks just beneath this seemingly idyllic veneer.

The move from pixel art to free-roaming 3D met with some consternation from series fans, but it's all the more immersive now in ensuring players feel like an outsider in this city of vibrant billboards, high-speed gondolas and massive skyscrapers. At every moment, the spectacular art direction of Dave Gibbons is bursting with imagination and wonder all around. The sequel even has some surprises in store: after spending the first part of the game in the welcoming daylight, Union City becomes an evening social scene with a grand gala under beautiful blue sky, where the bright lights and glitz really shine. For not only returning us to this beloved adventure setting, but for making the experience under the steel sky feel altogether new, the second adventure of Robert Foster and Joey the robot captures the Best Setting Aggie over an incredible group of competitors.
Runners-Up:
Paradise Killer
Beautiful Desolation
VirtuaVerse
Cloudpunk
Tales from Off-Peak City: Volume 1 – Caetano's Slice
 
---



Readers' Choice:

Beyond a Steel Sky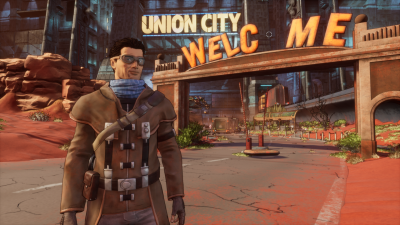 Union City is the last place Beyond a Steel Sky's protagonist wants to be. But it's exactly the place the rest of us wanted to be once again, as evidenced by the game's Best Setting Aggie sweep. It's easy to pass this off as a nostalgia trip, but this Union City is far different than the one we remember. The pixel art presentation is long gone, and it's fully 3D now, not 2D. Indeed, many fans of Beneath a Steel Sky feared these changes would rob the sequel of what made its predecessor so memorable. Not so! You'll feel like you're truly in a metropolitan city of the future, complete with background characters coming and going according to their own plans and schedules via the game's Virtual Theatre system. Mind you, not everything here is nearly as perfect as it seems, but we wouldn't have it any other way – where would be the fun in that?
Runners-Up:
Beautiful Desolation
Paradise Killer
Chicken Police
VirtuaVerse
 
---

Next up: Best Graphic Design... the envelope, please!
Continued on the next page...