The Aggie Awards – The Best Adventure Games of 2020
page 11
Continued from the previous page...


Best Music:

Paradise Killer

Kaizen Game Works' debut title, Paradise Killer, impressed us with its anime-inspired visuals, brilliantly conceived world, and genuinely open-ended investigative gameplay, but what really helps set the mood for this outrageous sci-fi murder mystery is a soundtrack loaded with strong bass lines, funky guitars, soft trumpets and rad jazz solos, all mixed with a good dose of synths. It's bound to make any player feel like a cool and sexy crime-solver – so much so, don't be surprised to find yourself seeking out the 24-tune soundtrack after the fact to keep on grooving to the game's delightful score.

The magnificent work of Barry "Epoch" Topping immediately leaves an impression with the main theme "Paradise (Stay Forever)," complemented by the powerful vocals of Fiona Lynch, perfectly setting the stage for the rest of the soundtrack to follow. The upbeat rhythms of the city pop genre go along nicely with the vivid vaporwave aesthetic of the not-so-idyllic Paradise Island. The chill sounds of lo-fi electronica mixed with jazz fusion have just the right amount of energy to liven up the investigation without ever being distracting. You perhaps won't even realize just how deeply they've immersed you until they suddenly stop playing and a foreboding, ominous feeling sets in. You may need to be an "investigation freak" to solve the big mystery, but not to figure out why Paradise Killer deserves the Aggie Award for Best Music.
Runners-Up:
Röki
Murder by Numbers
LUNA: The Shadow Dust
Creaks
 
---



Readers' Choice:

Chicken Police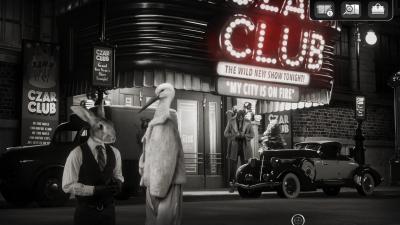 Any good film noir story needs an appropriately moody soundtrack, and that goes double when it's animal film noir. Fortunately, The Wild Gentlemen have imbued Chicken Police with a pitch-perfect brass and piano-driven jazz score to accompany brooding black-and-white visuals that will make you feel like you've just stepped back in time to the 1940s – a 1940s filled with a menagerie of anthropomorphic birds, mammals and reptiles, mind you. And like any classic hardboiled gumshoe mystery, it even stops in at the ritzy local nightclub, where the sexy feline songstress and femme fatale is performing live on stage. Not only do the twenty musical tracks provide top-notch accompaniment to the tale of Marty MacChicken and Sonny Featherland, the standalone soundtrack is great for just chilling when you're done. This reader Aggie is merely the feather in its cap.
Runners-Up:
Paradise Killer
VirtuaVerse
Beyond a Steel Sky
Call of the Sea
 
---

Next up: Best Acting (Voice or Live Action)... the envelope, please!
Continued on the next page...