The Aggie Awards – The Best Adventure Games of 2020
page 9
Continued from the previous page...


Best Graphic Design:

Beautiful Desolation

With 2015's sci-fi horror adventure STASIS, indie South African developer The Brotherhood established a hyper-realistic aesthetic that was as appealing as it was horrifying (in all the right ways). Beautiful Desolation carries on the isometric approach that Nic and Chris Bischoff have become known for, with the same careful eye for painstaking detail and flair for the exotic, this time in a whole different setting that ups the visual ante even further. The story of Mark and Don Leslie lends itself to a broad spectrum of creative sci-fi design elements, as Earth is invaded by the alien Agnate, followed by the brothers being swept into the overrun planet's distant future – all of this within the game's opening minutes! What follows is a tour de force of imaginative vistas and fantastical environments that marry ancient African tribal culture with futuristic hi-tech sensibilities, creating a clash of elements that's as unique and breathtaking as it is alienating and even disturbing at times.

And that's not even scratching the surface of the game's character models, as Mark and Don find they are the only actual humans still around in this future. Assimilations between man and machine, dreadlocked Rasta robots, and mechanical sentry dogs are just the tip of the science fiction iceberg here. Sentient plant creatures, living trains kept alive by pulsating internal organs, and parasitic brainworms make up just a part of the menagerie in store for players. It all makes for a world so utterly fantastical, and so incredibly gorgeous that it manages to snag our Best Graphic Design Aggie from a tough field with a variety of jaw-dropping styles.
Runners-Up:
LUNA: The Shadow Dust
Call of the Sea
A Fold Apart
Willy Morgan and the Curse of Bone Town
 
---



Readers' Choice:

Röki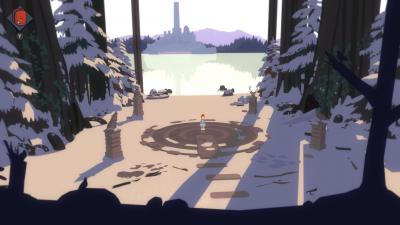 At first glance, Röki might not leap off the screen with a dazzling visual display. Its pastel art style is simple, even somewhat subdued, and never overwhelms you with detail. It's only in context that one can appreciate just how picture-perfect this understated aesthetic is. It's like a children's storybook come to life – a story of fantastical snow-covered lands with friendly trolls, giant animals and tiny gnomes, evil spells and magical forests, much like in the Scandinavian folktales young Tove reads to her little brother at bedtime – or did, until he was captured by an enormous monster and dragged through a portal to this mystical world seemingly lifted straight off the pages. From mountains to forest glades, from crumbling castle to beastly lairs, each scene is a joy … not so much merely to behold, but to inhabit, and for that it earns the reader award for Best Graphic Design.
Runners-Up:
Beyond a Steel Sky
Chicken Police
Call of the Sea
VirtuaVerse
 
---

Next up: Best Animation... the envelope, please!
Continued on the next page...