The Aggie Awards – The Best Adventure Games of 2020
page 10
Continued from the previous page...


Best Animation:

LUNA: The Shadow Dust

There were some highly cinematic big(ish)-budget 3D titles released in 2020, but you just can't beat the more personal touch of animating a graphic adventure by hand, frame by frame. Out of several impressive examples of the latter, none were more outstanding than LUNA: The Shadow Dust. The debut adventure from Lantern Studio is a gorgeous game at first sight, with delightfully textured and warm 2D art, but it really comes alive when seen in glorious motion, which should come as no surprise as it was inspired by an animated short by artist Beidi Guo when she was still in university.

It starts with the smaller details as you attempt to ascend a mysterious tower: shadows flicker from the illumination of glowing lamps, faded wall murals slowly crackle full of colour, and a wooden spaceship gently bops as you ride. These all help bring each playable scene of the enchanting world of LUNA to life, inviting you in like a well-worn children's storybook. And then there are the larger moments that you can't help but stop and watch: dazzling giant spirits whizz past you in a library, your circular cat-like sidekick waddles and tumbles and transforms into different forms, and a powerful array of cutscenes propels the story at key intervals. It all just feels so painstakingly crafted, oozing attention to detail in every stroke of the designer's pen. Proving you don't need a lot of money, just a whole lot of love to make a game a visual treat, LUNA bounces off with our award for Best Animation.
Runners-Up:
Creaks
Beyond Blue
The Girl of Glass: A Summer Bird's Tale
Amnesia: Rebirth
 
---



Readers' Choice:

Röki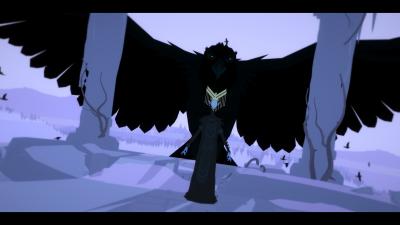 Just as its artwork is more "beautiful but doesn't know it" than "obsessed with looking good," so too is Röki's animation more subtle than overtly in-your-face. There are no splashy cutaway cinematics as everything is rendered in-game, but it's all the more impressive for never breaking immersion. You'll revel in the young protagonist's toboggan flight down a snowy mountain, hold your breath as she's pulled underwater by a malevolent tentacled creature, and cringe each time the game's witch-like antagonist spins her head around 180 degrees without moving her body. But you'll also delight in the quieter moments, like when the silhouetted foreground elements you've come to take for granted suddenly move as a wolf raises its head to howl as you trot by. There's such a committed attention to detail on display in bringing this fairy tale world to life, earning the game another well-deserved graphical reader award.
Runners-Up:
Beyond a Steel Sky
Creaks
Leisure Suit Larry: Wet Dreams Dry Twice
The Dark Pictures Anthology: Little Hope
 
---

Next up: Best Music... the envelope, please!
Continued on the next page...