The Aggie Awards - The Best Adventure Games of 2017
page 6
Continued from the previous page...
Best Gameplay:

Thimbleweed Park

Ron Gilbert's long-awaited return to point-and-click adventure is a bold affirmation of the design principles he first defined in his 1989 manifesto "Why Adventure Games Suck and What We Can Do About It." That document – and the success of the games it influenced – defined the Golden Age of adventure game design. Since then, those rough edges have been gradually sanded down and modern adventures polished into a pristine sheen with none of the hair-pulling frustration of the genre's early days, often at the expense of the challenge that made them so rewarding in the first place.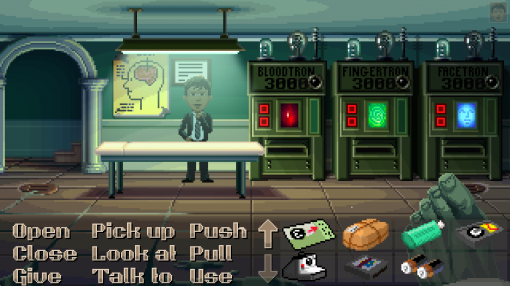 Like Maniac Mansion did in its day, Thimbleweed Park offers a course-correction, but instead of pushing away from traditionalism, it redresses the overreach the genre has made in confronting common headaches. The real problem was never the amount of freedom provided or the complexity of puzzles, but in how adventure games deliver feedback and communicate with the player. Recalling the most beloved classics of old, Thimbleweed Park gives us a huge world to explore with multiple protagonists, smartly layered objectives, assorted characters to converse with and countless items to acquire, successfully pulling it all off through well-written clues that actually respond to player choices. It's a master-class in traditional gameplay design that serves as one of the best arguments for restoring some of what we've lost along the way, and for that this staunchly old-school classic adventure wins our Best Gameplay Aggie Award over some impressively innovative challengers.
Runners-Up:

Gorogoa
Paradigm
The Sexy Brutale
XING: The Land Beyond

---


Readers' Choice:

Thimbleweed Park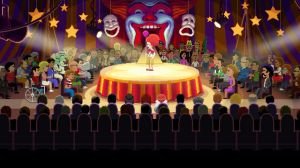 So we're agreed: If it ain't broke, don't fix it. That could be the motto for Thimbleweed Park, the delightful SCUMM-styled throwback with just enough modern conveniences to make it accessible for today's gamer. But this is no mere nostalgia vote, is it? While so many developers continue to shorten, streamline and simplify their games to disappointing degrees, the long-overdue reunion of Ron Gilbert and Gary Winnick serves up a complex story to unravel, an oddball collection of locals to interact with (and occasionally, control), an entire town to roam, and thoughtful puzzles whose solutions you can't lazily brute force. There were some impressive new approaches to adventure game design this year, but what other game served up a generous 15-plus hours of pure point-and-click adventurey goodness? None!
Runners-Up:
Gorogoa
XING: The Land Beyond
The Sexy Brutale
The Journey Down: Chapter Three

---
Next up: Best Concept... the envelope, please!

Continued on the next page...

feature
Other articles you might enjoy