The Aggie Awards - The Best Adventure Games of 2017
page 3
Continued from the previous page...
Best Writing – Comedy:

The Darkside Detective

You can't tell from a screenshot, a synopsis or even a trailer why Spooky Doorway's The Darkside Detective works as well as it does. On the surface its elements seem modest enough: a retro point-and-click anthology adventure with blocky pixels and text-only subtitles. Even thematically it comes across as fairly familiar, with an under-appreciated detective and his goofy sidekick, self-referential humour, and occult elements mixed with a whimsical tone. It's only when actually playing the game that the experience can truly be appreciated. In peppering players with always amusing, often hilarious dialogue, the end result is delightfully charming and witty, and thereby deserving of our 2017 Aggie Award for best comedic writing.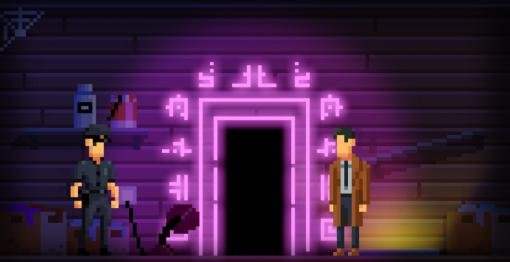 Experiencing this game's six distinct tales is a wonderful refresher on why comedy adventure games can be so much fun. Every hotspot in the environment, every line of conversation promises a fresh pun, quip or gag, and rarely do they fall flat or feel mean-spirited. Partners in paranormal crime-fighting, the two protagonists play off each other to great effect: Officer Dooley is one of the most endearingly offbeat sidekicks in years for us, but often leaves Detective Francis McQueen thoroughly exasperated, creating a wonderfully light-hearted dynamic between them. We dare anyone NOT to laugh when Dooley follows McQueen into a small closet and shuts the door behind them. There's plenty of other ridiculous characters to meet along the way, too, who both help and hinder your investigations, providing plenty of laughs along the way. Give it a chance, and you'll find The Darkside Detective is a game that knows exactly what it wants to be, and delivers on that ambition in joyous, charismatic, and superbly entertaining style.
Runners-Up:

Paradigm
Thimbleweed Park
Four Last Things
Thaumistry: In Charm's Way
 
---


Readers' Choice:

Thimbleweed Park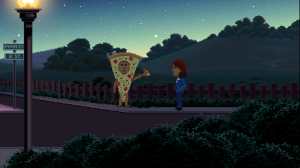 For a guy who calls himself "Grumpy Gamer," Ron Gilbert sure does write a lot of funny things. He gave the adventure genre some of its most memorable laughs with Guybrush and LeChuck in the first two Monkey Islands, and now he's back delivering more yuks in Thimbleweed Park (along with his co-writers David Fox and Lauren Davidson, not to be overlooked). So okay, we all agree the game overdid the in-jokes – including the developers themselves, as they've since made them optional! – but there are loads o' laughs to be found, from grin-inducing zingers to thigh-slapping guffaws. The script is laced with dry little quips that are continually amusing, but isn't afraid to go full-bore-zany as well, with brazen sight gags and over-the-top antics (a certain foul-mouthed clown knows who we mean). This was a solid year for comic adventures, but Thimbleweed Park is the only one laughing all the way to the readers' podium.
Runners-Up:
Paradigm
The Darkside Detective
The Journey Down: Chapter Three
Four Last Things
 
---
Next up: Best Writing – Drama... the envelope, please!
Continued on the next page...