The Aggie Awards - The Best Adventure Games of 2017
page 5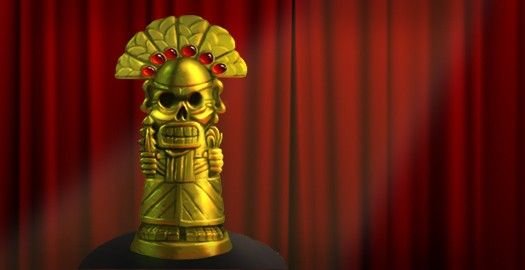 Continued from the previous page...
Best Character:

Paradigm (Paradigm)

According to the dictionary, a paradigm is a model, a template or a prototype. At first glance, it may seem strange that the titular hero of Jacob Janerka's Paradigm, with his stubby body, misshapen bulbous head and lack of nose could be a model for anything. Look past his hideous appearance, however, and this unusual protagonist has a positive and thoroughly endearing personality. Like the deformity on his head, the lovable Paradigm is sure to grow on you, and you'll soon find yourself rooting for him against his nemesis, Olaf the candy-dispensing sloth, and hoping that he fulfills his dream of finding those "phat beatsies" he cares about so much.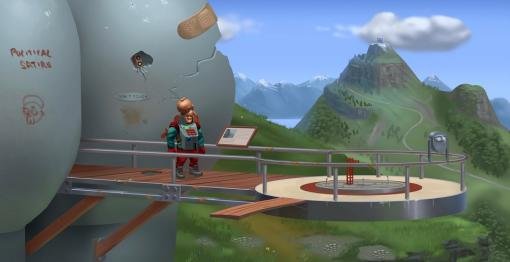 Where does such a bizarre creature come from? Well, it probably has something to do with DUPA Genetics, the company that created the Prodigy Children program and decided to dump its mistakes in the dystopian country of Krusz, where Paradigm now runs the nuclear power plant. His true love is really composing and playing electronic music, however. As he travels around gathering the items he needs to complete various tasks, he uses humor – often at his own expense – while interacting with some very wacky characters. His Kruszian accent is easy on the ears, and while he often shows sympathy for the plights of others, he's not above making pithy comments when appropriate. He's not just another pretty face, either, as that sentient and sometimes helpful benign tumor on his head can be handy for vague hints and amusing remarks. Anything but the stereotypical hero, Paradigm is a true one-of-a-kind, and we love him all the more for it. For so uniquely and engagingly defying expectations and delighting us at every turn, Paradigm stands alone as our Best Character of 2017.
Runners-Up:

Bwana (The Journey Down: Chapter Three)
Officer Dooley (The Darkside Detective)
Chloe Price (Life Is Strange: Before the Storm)
Delores Edmund (Thimbleweed Park)

---


Readers' Choice:

Officer Dooley (The Darkside Detective)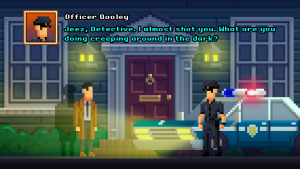 Sidekicks often get the best roles. While a game's lead protagonist is typically stuck playing it straight in order to do the heroic thing, their companions get to hang back and crack wise at every opportunity. According to you readers (and who are we to argue, having made him our second runner-up), Officer Patrick Dooley's name now belongs on the list of award-winning sidekicks. The kicker is, Dooley doesn't mean to be funny – he just can't help himself. For a cop he's not too eager to do anything dangerous, and his glib observations frequently drive Detective McQueen up the wall – and we wouldn't have it any other way. (By the way, for not picking him first, Ransome says [beep] you!!)
Runners-Up:
Ransome the Clown (Thimbleweed Park)
Paradigm (Paradigm)
Delores Edmund (Thimbleweed Park)
Detective Francis McQueen (The Darkside Detective)

---
Next up: Best Gameplay... the envelope, please!

Continued on the next page...

feature
Other articles you might enjoy