The Aggie Awards - The Best Adventure Games of 2017
page 9
Continued from the previous page...
Best Graphic Design:

The Journey Down: Chapter Three

SkyGoblin's The Journey Down series has always had superlative graphic design, but never has that been more evident than in its third and final chapter. There's a timeless quality to the vivid hand-painted art, with inspiration taken from all sorts of eras and cultures, from ancient temples to Gothic architecture to a neon-glowing metropolis. More than ever before, the settings burst with variety: one moment you find yourself amongst giraffes and parrots on gorgeous African plains and islands, the next you're plotting with subversive freedom fighters in secret underground resistance lairs or held prisoner aboard a floating airship that looks like something out of a sci-fi film. And yet with two playable characters in different parts of the world, never once does this incredible diversity feel forced; the fact that all these locations feel part of the same cohesive universe is one of the series' noteworthy artistic strengths.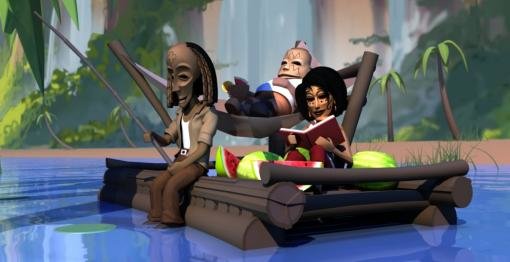 What makes The Journey Down even more distinctive are the unique character designs that draw inspiration from ancient African masks and carvings. This rarely-explored ethnic backdrop is no mere gimmick or nod to political correctness, either. After three full episodes with Bwana, Kito, Lina and the gang, you won't be able to imagine the game with any other character models, as they're an integral part of the experience. But really, everywhere our protagonists go, impressive eye candy awaits. The use of light and shadow are cleverly contrasted, and where appropriate the colour really pops. Upper-class skyscrapers tower over oppressive, rain-soaked urban streets and a bustling, earth-toned market. Elsewhere in the fabled Underland, the sun beams down from impossibly blue skies onto stunning waterfalls amidst a jungle of lush vegetation and wildlife. There were plenty of other great looking games of all different styles in 2017, but none so consistently beautiful as The Journey Down finale, making it our choice for the year's Best Graphic Design Aggie.
Runners-Up:

Last Day of June
Thimbleweed Park
Gorogoa
The Wardrobe

---


Readers' Choice:

XING: The Land Beyond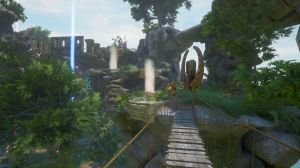 The fabulously immersive XING: The Land Beyond draws players in with more than enough beauty and realism to create a sense of wonder, plus a touch of surrealism that challenges, startles, and engages. From a magnificent portal hub through four uniquely different earthly realms linked to particular eras and cultures, there's always another picturesque new landscape to behold. Hanging over meandering paths are intricate branches and colorful blossoms; a sunset paints the sky, sand and palm trees in glorious golds; snow drifts down into the mist framed by breathtaking cliffs; and ancient ruins are emblazoned with vivid, enigmatic designs. And scattered throughout are stained glass dials, mysterious jeweled pedestals, glowing orbs and colourful, box-like totems crying out to be manipulated and mastered. We can certainly see how this game managed to edge out its more stylized competitors for this year's reader award for eye candy.
Runners-Up:
Thimbleweed Park
Gorogoa
The Journey Down: Chapter Three
Life Is Strange: Before the Storm

---
Next up: Best Animation... the envelope, please!

Continued on the next page...

feature
Other articles you might enjoy