Memoria
Developer:
Daedalic Entertainment
Platforms:
Mac, PC, PlayStation 4, PlayStation 5, Switch, Xbox One, Xbox Series X, Xbox Series S
Releases:
Digital

August 30, 2013

by Daedalic Entertainment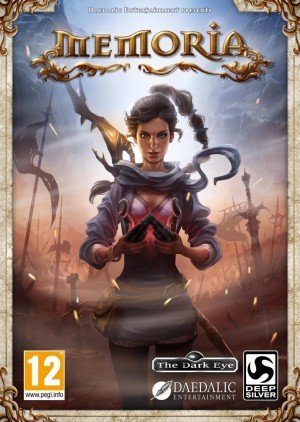 Princess Sadja of the faraway-land of Fasar once ventured into war to fight demons in the Gorian Desert. But her goal to become the greatest hero of all time was mysteriously foiled and the girl disappeared, her tale eventually forgotten. Five centuries later, a young bird catcher named Geron agrees to solve the mystery of Sadja's fate in exchange for a curse being lifted from the fairy Nuri. But doing so will trigger a chain of events that will soon cast a shadow on his homeland of Aventuria and turn his present into a dark image of its long forgotten past…
Walkthrough for Memoria
Stuck in
Memoria
, or looking for the best way to proceed? Click below to view our walkthrough for
Memoria
and wonder no more!
Note, these will contain spoilers.
What our readers think of Memoria

Posted by Kareman on Sep 19, 2016
Beautiful

Just beautiful....

Posted by RockNFknRoll on May 12, 2016
Solid, traditional, full length Adventure Game

This is a really good, true Adventure Game. I like hard puzzles, and I wouldn't say this qualifies as "very hard", but it's very well balanced. It's just enough to stump you for a while, but not enough that you HAVE to go to a walkthrough. That's a very fine...

Posted by gray pierce on Sep 23, 2013
Though not perfect still a huge improvement

Spent an entire weekend playing this game and I have to say I really, really liked it. It's a darker more mature game than Chains of Satinav and at times very different in terms of mood and feel. And that unfortunately is also it's weak point. Memoria is a...
SELECT wt.entry_id as entry_id, we.entry_id as review_id, wt.title, we.field_id_46 as rating, wd.field_id_71 as series FROM exp_channel_titles AS wt, exp_channel_data AS wd LEFT JOIN exp_playa_relationships as rl ON (rl.child_entry_id = wd.entry_id AND rl.parent_field_id = 31) LEFT join exp_channel_data as we ON we.entry_id = rl.parent_entry_id WHERE wt.entry_id NOT IN (SELECT entry_id FROM exp_category_posts WHERE cat_id = 10) AND wd.channel_id = '2' AND wt.status = 'open' AND wt.entry_id = wd.entry_id AND wd.field_id_19 NOT LIKE '%Hidden Object' AND wd.field_id_85 != '0'  AND wd.field_id_17 = 'Third-Person'  AND wd.field_id_23 = 'Stylized art'  AND wd.field_id_76 = 'Fantasy'  AND wd.field_id_75 = '2D or 2.5D'  AND wd.field_id_22 = 'Point-and-click'  AND wd.field_id_19 = 'Quest'  ORDER BY rating DESC LIMIT 16
You might also like these adventure games