Return to Mysterious Island
Developer:
Kheops Studio
Platforms:
iPad, Mac, PC
Releases:
Worldwide

October 26, 2004

by The Adventure Company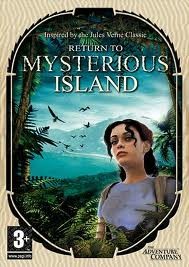 Alone on a round-the-world sailing expedition, adventurous and determined Mina becomes stranded on the shores of a wild and apparently uninhabited island. Exploring her new surroundings, she uncovers artifacts, living spaces and technologies left behind by the people who came before her to this uncharted island. Desperate to leave the island, Mina builds a temporary home from the remains of Granite House, and uses her survival skills against the wilds of the jungle. Mina becomes aware of a figure in the shadows… Could this be the unsettled ghost of the legendary Captain Nemo?
Ported to iOS under the name Jules Verne's Return to Mysterious Island.
Stuck in
Return to Mysterious Island
, or looking for the best way to proceed? Click below to view our walkthrough for
Return to Mysterious Island
and wonder no more!
Note, these will contain spoilers.

Posted by Houie on Jan 1, 2014
Re-defines 1st person adventure stereotypes. Great game!

~8 hours Before I tried this game, I thought all 1st person adventure games were "Myst clones." This game completely changed my perspective on it. The puzzle mechanics of this game are awesome. For those who are fans of item collection and combining, this...

Posted by emric on Jun 10, 2012
only for lovers of puzzle-centric, 1st-person solitary exploration style adventures

I'm really not into 1st person perspective adventures. but i got this game as part of a 5 game bundle that i bought, so i thought i might as well give it a go. initially i thought it was ok, so i'll start with the good stuff. the character design for main...
SELECT wt.entry_id as entry_id, we.entry_id as review_id, wt.title, we.field_id_46 as rating, wd.field_id_71 as series FROM exp_channel_titles AS wt, exp_channel_data AS wd LEFT JOIN exp_playa_relationships as rl ON (rl.child_entry_id = wd.entry_id AND rl.parent_field_id = 31) LEFT join exp_channel_data as we ON we.entry_id = rl.parent_entry_id WHERE wt.entry_id NOT IN (SELECT entry_id FROM exp_category_posts WHERE cat_id = 10) AND wd.channel_id = '2' AND wt.status = 'open' AND wt.entry_id = wd.entry_id AND wd.field_id_19 NOT LIKE '%Hidden Object' AND wd.field_id_85 != '0'  AND wd.field_id_17 = 'First-Person'  AND wd.field_id_23 = 'Illustrated realism'  AND wd.field_id_76 = 'Fantasy'  AND wd.field_id_22 = 'Point-and-click'  AND wd.field_id_19 = 'Solitary Exploration'  ORDER BY rating DESC LIMIT 16