Return to Mysterious Island 2: Mina's Fate
Developer:
Kheops Studio
Platforms:
iPad, iPhone/iPod Touch, Mac, PC
Releases:
Digital

July 1, 2009

by Microïds
United Kingdom

October 1, 2009

by Iceberg Interactive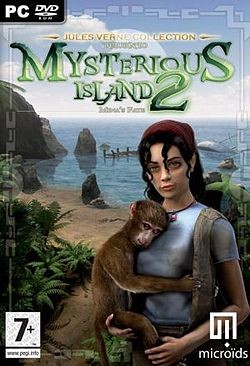 The sequel begins with the crash of the helicopter that came to rescue Mina. She survived but is once again trapped on the island. All of a sudden, before her very eyes, an unknown disease afflicts the plants first, then the animal life. Mina explores the island to locate the source of the infection. She searches Captain Nemo's base in vain, then the ruins of an unknown civilization, and finally understands that it is outside pollution that threatens the island. The only way to save this natural wonder is to turn the shield back on. But if Mina makes this decision, she gives up -- as Captain Nemo did before her-- the idea of returning to civilization…
Available for iPhone and iPod Touch in three parts under the name Jules Verne's Secrets of the Mysterious Island.
Stuck in
Return to Mysterious Island 2: Mina's Fate
, or looking for the best way to proceed? Click below to view our walkthrough for
Return to Mysterious Island 2: Mina's Fate
and wonder no more!
Note, these will contain spoilers.

Posted by Houie on Feb 12, 2014
Good game to successful sequel. It doesn't break new ground, but delivers a solid experience.

Play time ~ 20 hours The game plays much like the first one, except with much less item combining. The first game I believe is better. It seemed to have a fresh feel, whereas this sequel seems to be very similar to the first in terms of setting, atmosphere,...
SELECT wt.entry_id as entry_id, we.entry_id as review_id, wt.title, we.field_id_46 as rating, wd.field_id_71 as series FROM exp_channel_titles AS wt, exp_channel_data AS wd LEFT JOIN exp_playa_relationships as rl ON (rl.child_entry_id = wd.entry_id AND rl.parent_field_id = 31) LEFT join exp_channel_data as we ON we.entry_id = rl.parent_entry_id WHERE wt.entry_id NOT IN (SELECT entry_id FROM exp_category_posts WHERE cat_id = 10) AND wd.channel_id = '2' AND wt.status = 'open' AND wt.entry_id = wd.entry_id AND wd.field_id_19 NOT LIKE '%Hidden Object' AND wd.field_id_85 != '0'  AND wd.field_id_17 = 'First-Person'  AND wd.field_id_23 = 'Illustrated realism'  AND wd.field_id_76 = 'Adventure'  AND wd.field_id_75 = 'Panoramic nodes'  AND wd.field_id_22 = 'Point-and-click'  AND wd.field_id_19 = 'Solitary Exploration'  ORDER BY rating DESC LIMIT 16
You might also like these adventure games