Continued from the previous page...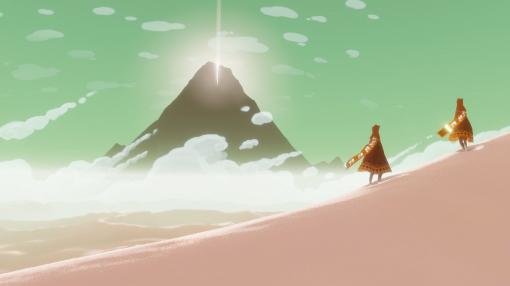 Best Graphic Design:

Journey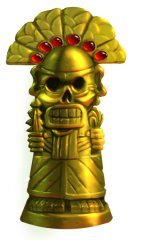 Though the beauty of thatgamecompany's Journey is certainly unconventional, it is nevertheless artistically captivating. One look at a screenshot and you instantly pick up the image of a strange traveler, suited in a flowing robe adorned with strange symbols, exploring a vast and hazardous landscape. The pastel colors are rich in their flatness. Light promises salvation and danger in equal measure. The shadows are purposeful, aiming to hide or accent elements to build suspense and surprise at every turn. The creatures you encounter live seamlessly in their environments. The vast desert hills and watery depths and frigid climes all speak to a consistent world that you immediately want to explore.
But what the screenshots don't tell you is how the art really is the foundation of the entire experience. The animation and lighting work in perfect concert with the sound effects and even music to elevate the background visuals to their highest level. The characters glide like iceskaters across apocalyptic sand, in a long fluid trail. The trills and flutters that accompany movement punctuate your dives and spins. Throughout it all, you are directed to the pinpoint of light in the distance. You don't know why you need to get there but you do know you want to, if only to see if it holds something even more gorgeous than what you've already experienced. Everything in Journey seems crafted to fit and its visual elegance shines through the entire experience. The result is a visual masterwork that narrowly earned our 2012 Best Graphic Design award over some other jawdropping contenders.
Runners-Up: The Dark Eye: Chains of Satinav, Botanicula, The Journey Down: Chapter One, Lost Chronicles of Zerzura

---


Readers' Choice:

The Dark Eye: Chains of Satinav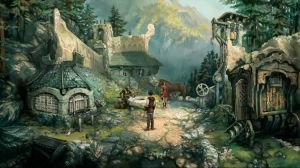 Until we went in a more abstract direction this year, we were thinking about changing the name of this Aggie to the "Daedalic's Latest Game" award, as the German studio continues to crank out one gorgeous adventure after another. This year was no exception. With Botanicula nipping closely at its heels, the fantastical hand-painted world of The Dark Eye: Chains of Satinav displayed the artwork most worth crowing about for our readers.
Runners-Up: Botanicula, The Walking Dead, Deponia (series), Cognition: An Erica Reed Thriller - Episode One: The Hangman

---
Next up: Best Animation... the envelope, please!

Continued on the next page...

feature
Other articles you might enjoy