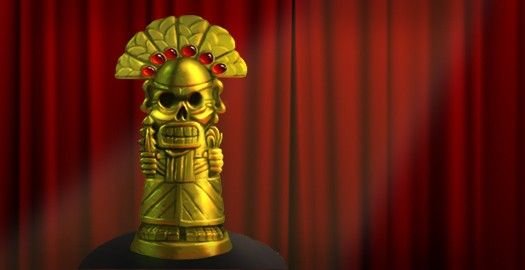 Continued from the previous page...



Best Writing – Comedy:

Deponia/Chaos on Deponia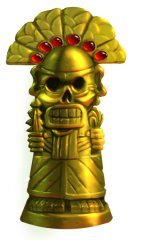 Comedy is a very hard thing to get right, especially when it's originally written in a foreign language, as it's very easy for nuances to be lost in translation. Fortunately, in the case of Daedalic's Deponia series, the laughs survived the transition largely intact. Much of humour comes from the main character Rufus, a sarcastic guy who is never short of a snide remark and can't wait to ditch his companions on the trash-littered planet surface for the restricted skybound utopia above. Rufus is a town agitator, a lousy friend, an even worse lover, and a bit of a chauvinist pig. In short: not the most likeable sort. But that's what makes him such a suitable foil. He speaks to others with disdain, but they give as good as they get, often getting the better of him in barbed banter that's funny without ever really feeling hostile.
Gags come not only from Rufus's conversations (whether your laughing with him or at him), but also from how he acts, like when his face glazes over with a grin when asked why he wants to meet the beautiful new girl that fell from the sky. The secondary characters are equally amusing in their eccentricity; from the receptionist whose female voice keeps slipping into masculine territory, to the post office robot who is obsessed with bubble wrap, the series is full of characters that never cease to make you giggle with their quirks. Now two games into a planned trilogy of Deponia games, the jokes so far have been delivered thick and fast, and credit goes to Daedalic for ensuring that most of them hit their mark. Writer Jan Müller‑Michaelis (also competing against himself this year for Harvey's New Eyes) certainly has a flair for the absurd, and while Deponia's oddball sensibilities may be something of an acquired taste, its snappy repartee, silly characters and wacky situations earn the series our Aggie for Best Comedy Writing this year.
Runners-Up: The Journey Down: Chapter One, The Ballads of Reemus: When the Bed Bites, Edna & Harvey: Harvey's New Eyes, The Book of Unwritten Tales: The Critter Chronicles

---


Readers' Choice:

Deponia (series)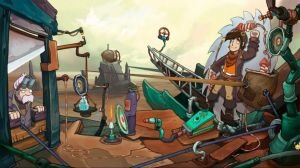 So it's official: We're all a bunch of degenerates. Or at least, we like to laugh at an ill-tempered, self-absorbed, and utterly un-politically correct protagonist just looking out for himself, at the expense of everyone around him. Especially when his antics usually result in hilarious comeuppance. Deponia's Rufus may not be very likeable, but Daedalic sure did make it easy to laugh at his madcap attempts to flee his junk-filled planet – with typically disastrous results.
Runners-Up: Edna & Harvey: Harvey's New Eyes, The Book of Unwritten Tales: The Critter Chronicles, The Journey Down: Chapter One, Primordia

---
Next up: Best Writing – Drama... the envelope, please!

Continued on the next page...

feature
Other articles you might enjoy