The Aggie Awards - The Best Adventure Games of 2015
page 8
Continued from the previous page...


Best Setting:

Armikrog.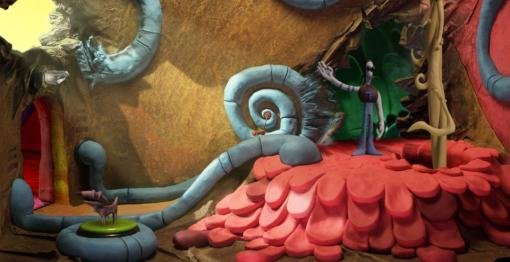 In Armikrog, you crash land on a planet where a monster immediately tries to make you into a wrap sandwich. Fortunately, you manage to escape to a sanctuary beyond your wildest dreams… or possibly your freakiest nightmares. It's a surreal, richly hued fortress where waxen petals deck the walls. Doors are pock-marked or blocked by fuzzy cubes. Creatures with long, gummy limbs hang from the ceilings. Machines with tube-like gewgaws squat below. Statues emit ghostly clues. Flaky red ants hibernate in their presidential cocoons. It's whimsical, delectable, and seriously insane.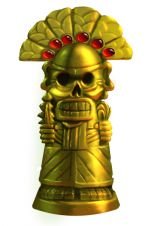 Of course, with this spiritual successor to The Neverhood, it's not just the "what" and "where" that are important but the "how", as each of these fantastical scenes have been meticulously hand-modeled in clay and brought to life with rich stop motion animation: players will putter about via bumper cars and buzzy-bee wings. You hop onto slurping tentacles, slithering up and down. Treadmill wheels rotate as you saunter around them. Giant air hoses suck you up and chuck you out. Clay snout birds and wheelie things flap and zoom about. For giving us a place so wonderfully bizarre that any self-respecting hero would want to crash there, Armikrog is entirely deserving of this year's Best Setting Aggie Award.
Runners-Up:

Broken Age
STASIS
Tormentum: Dark Sorrow
Technobabylon
 
---


Readers' Choice:

Broken Age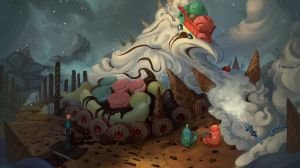 There's a distinct sci-fi theme running through the highly competitive Best Setting category this year, but the one claiming the reader prize takes players on a delightful journey through diverse environments filled with richly imaginative details, from the pastoral baking town of Sugar Bunting where maiden sacrifices dress up like frosted cupcakes, to the floating cloud city of Meriloft, to a spaceship housing a roller coaster through ice cream mountains. And then all hell breaks loose. Well done, Double Fine.
Runners-Up:
STASIS
Technobabylon
SOMA
Dead Synchronicity: Tomorrow Comes Today
 
---
Next up: Best Graphic Design... the envelope, please!
Continued on the next page...