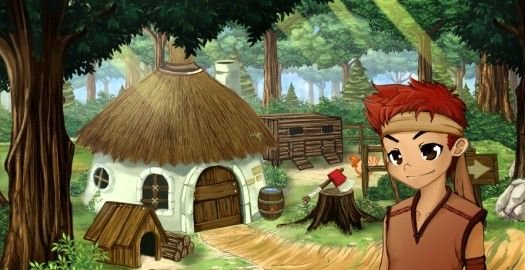 Game information
You might also like these adventure games
Advertisement
Adventure games by Ovogame
BITMAP BOOKS
"Once upon a time there was a boy named Anka," a narrator introduces what seems like a charming storybook tale. The child's self-titled adventure begins at an idyllic cottage in a forest of lush green, where he and his parents live. Like all fairy tales, however, nothing is as perfect as it seems. Though Anka lives a happy and carefree life, his parents are poor and struggle to make ends meet. When they don't return home at all one day, Anka determines to set out on a quest to search for them. Along the way, he'll also save a man's life, solve a murder mystery and deal with cowboys and indians, plus overcome a whole lot of puzzles and minigames while he's at it.
Anka is a puzzle-adventure game aimed at a younger audience, though not exclusively, as gamers of all ages may enjoy its activities, just not finding the same degree of challenge. The game plays mostly like a traditional first-person adventure, but it's filled with minigames and other kinds of puzzles frequently thrown in. The first objective, for example, is to retrieve a missing door handle through a couple of inventory puzzles in order to enter Anka's home. Once inside, Anka's mother instructs us to search for forty missing eggs scattered about. Players must look everywhere in and around the house, as eggs may be in plain sight, hidden inside other objects or behind curtains and foliage. Some can only be collected after solving more inventory puzzles, while another egg needs to be obtained through a logic puzzle of strategically moving haystacks inside a chicken coop.
This first obstacle sequence sets the tone for the rest of the game, as Anka regularly presents combinations of different puzzle-adventure elements and minigames. As a children's game, Anka is very accessible, with objectives spelled out in a straightforward way and never proving too difficult. Anyone unfamiliar with traditional adventures won't be at a disadvantage, as the game handily introduces the concepts of inventory collection and use. The interface itself is basic but perfectly adequate, as interacting with the world is all done through simple mouse clicks. The cursor appears to be hotspot-sensitive, as it changes shape when Anka can walk in various directions or interact with certain objects on screen. However, for other hotspots the cursor doesn't actually change shape. This seemed somewhat random, but isn't particularly bothersome if you click on everything that looks important. You'll never see Anka move around or interact with objects, but animations are shown when inventory items are used, so when an axe is used for a certain puzzle, we see the axe flying around as if wielded by invisible hands.
Even with the constant stream of activities offered, players should never find themselves stuck at any point, since a hint button is easily within reach and available in every situation, though it only activates two or three minutes after entering a new situation, encouraging players to solve them first. Similarly, Anka's minigames and standalone puzzles are also very forgiving, as any of them can freely be skipped after a couple minutes by clicking the skip button. While these options are useful, since they remove any threat of insurmountable obstacles, experienced gamers will find them unnecessary, as most of the activities aren't very difficult. There are no challenges in which you can actually die or lose, or any that require skilled hand-eye coordination. Players are free to get hints and skip challenges with no penalty, but unfortunately receive no tangible reward for completing tasks by themselves.
When a logic puzzle or minigame is finished in the main adventure, that particular activity then becomes available in Anka's minigames section, accessible through the main menu. Even tasks that are skipped get unlocked, diminishing even further the 'reward' for completing these yourself. Once unlocked, these offer a lot of replayability, as many more difficult levels and challenges are offered. Some can be very engaging. I had a lot of fun with the seven additional levels of the chicken coop puzzle, for example. There are 23 activities that can be unlocked in all, though not all of them offer extras beyond the challenge present in the game itself. A few of these are riddles or brain teasers that have only one solution and therefore no replay value, such as dividing a pizza into seven slices with one olive each. Some unlocked tasks, such as a jigsaw puzzle, can easily be customized with pictures that are stored on your computer, which is a nice feature.
Speaking of jigsaw puzzles, some of Anka's challenges are a little too unoriginal. Examples include standard games of mahjong, tangram or word search puzzles. These may be fun in their own right, but they add nothing new or refreshing to this game, included merely as one-time diversions to keep players occupied. The mahjong game is even given to Anka by a train conductor so that he has something to do while waiting for a train to arrive. Such tasks also lack any logical integration within the context of the game, doing nothing to further the story itself.
The obstacles that are relevant to the plot, however, are more fun and interesting. Halfway through the game, for instance, you need to pop a number of balloons using a bow and arrows through a cleverly designed minigame that takes gravity, applied strength, angle and distance into account. This is an entertaining activity that blends well into the game at the time. Even better integrated are some of Anka's more traditional adventure game puzzles. In one of the more enjoyable sections of the game, you need to collect various kinds of evidence that exposes a murderer and clears Anka's falsely accused mother of all blame. Players needs to ask witnesses for their testimonies, complete a jigsaw puzzle and a memory-game, and solve a couple of inventory puzzles such as casting a footprint in plaster. Once all the evidence has been found, the relevant facts need to be linked together and presented in response to the sheriff's various inquiries.
This ability to entertain with a mix of different kinds of gameplay is easily one of Anka's strengths, though not all tasks are likely to appeal to everyone. I had some fun with the puzzles involving seemingly mundane tasks like cleaning up Anka's house or watering the tomatoes. While these are hardly noteworthy challenges, I was amused by the clever thinking required to achieve them. What did bore me after a while, though, were the numerous item searches. It's fun the first few times to scour the screen for objects that are more or less hidden from view, but after a while these become little more than dreaded pixel hunts. During dull sections like these, the complete absence of music beyond the main menu becomes a major issue. The occasional piece of music would have livened up the experience more, providing welcome atmosphere and making the less interesting puzzles more endurable.
An interesting characteristic of Anka's adventure-style puzzles is that you can't collect every item whenever you first see it, instead requiring that Anka himself know a reason for using it. I found this approach to be a refreshing change of pace. Rather than picking up everything that isn't bolted down, whenever I got in a new puzzle situation, I found myself actually thinking about what item I could use, instead of just looking at my inventory on autopilot. This also had the side-effect of functioning a bit like a memory game, since I regularly figured out what item was needed but didn't instantly recall where I should look for it. (Now where did I see that can opener?) I thought this was a nice touch, though some players may be frustrated about having to go back and forth to pick up items they would otherwise have taken earlier. This never becomes a laborious exercise, however, as Anka is a fairly confined game, and travelling between screens happens as quickly as a single mouse click. There are fifteen areas in total, of which you're never able to visit more than four at any one time.
A few puzzles, unfortunately, are somewhat illogical. In one instance, I needed to catch a fish that was visible in the water, and had already created a fishing rod with bait. Using the rod on the fish in the water seemed the obvious solution, but it didn't work. For some reason, I first had to lure more fish near to the other fish before being able to catch one of them. Again, this felt like the designers simply wanted to lengthen the game time and just threw in some random obstacles that don't really make sense.
Even with a few head-scratchers, Anka isn't a very long game. Adults should finish the game in about five hours, though younger players will probably take longer. As a children's adventure primarily, older players will probably find the plot a bit shallow and unoriginal, but it really isn't a childish story. After his mother has been released from prison, Anka travels to another village by train to rescue his father. He eventually learns the identity of the culprit behind his family's misfortunes, and the reason motivating the plot against them. Though the story is simple, it does manage to entertain and keep you guessing at the outcome, so it is not just there as an excuse for playing some minigames.
Anka himself is a resourceful young boy and a likeable protagonist. Most of the time he is honest, friendly and very helpful towards other people, always willing to lend a hand. At times he can also be mischievous, as he does not always speak the truth and twice sets an animal free against its owner's will. Even such minor complexities are welcome, as he is surrounded by a cast of unsophisticated characters, from the friendly innkeeper to a sinister-looking assassin. One positive exception is an ill-mannered boy who at first picks on Anka but later befriends him. Like the protagonist, not even these non-player characters (save one) are shown in their natural backgrounds. Instead, close-ups of them pop up only when it's time for Anka to talk with someone. Character interaction is the main way through which the plot is advanced, but conversations are handled automatically and there are no dialogue options to choose from. Most actors do a fine job, as all voices are of decent quality and fit well with their characters. Only the narrator is lacking, as his lines are performed in a rather dull and lacklustre way.
The story is supported by a somewhat interesting setting. Besides Anka's house in the forest, the nearby village with its classic steam train has a nineteenth-century feel, though no specific time period is mentioned. The hand-drawn graphics are attractive, showing realistic landscapes supplemented with more cartoon-like characters which appear to have some anime influence. The design becomes less inspired in the second half of the game, however, with fewer natural environments and dull-looking buildings. This is also when the story suddenly moves to some kind of western location with cowboys and stereotypical indians, complete with broken English and a medicine man whose healing medicine Anka needs. I found the rural setting of the first half the game very charming and pleasant to explore, whereas the abrupt switch to a western backdrop seemed both unnatural and unnecessary. It felt like Anka lacked consistent direction, or as if the designers ran out of good ideas, because at a certain point the plot becomes rushed and even the gameplay gets less interesting, ultimately leading to a fairly poor and unsatisfying finale.
Despite some increasing disappointments towards the end of the game, overall Anka is still an entertaining game with some interesting minigame challenges and cleverly designed puzzles that are never too difficult. They aren't always original, but the more interesting activities are fun to play, while the lesser ones never become nuisances that spoil the game. The setting and plot provide a suitable backdrop, at least early on, and younger players in particular will have fun with Anka, though it's pleasant enough to appeal to gamers of all ages looking for a light, relaxing adventure experience.
Our Verdict:
A light children's adventure that older gamers may also enjoy, Anka mixes traditional puzzles with minigames and other challenges to create an entertaining but limited experience.
GAME INFO
Anka is an adventure game by

Ovogame

released in 2009 for PC. It has a Stylized art style and is played in a Third-Person perspective. You can download Anka from:
What our readers think of Anka
Want to share your own thoughts about this game? Share your personal score, or better yet, leave your own review!

review
Other articles you might enjoy