AlternativA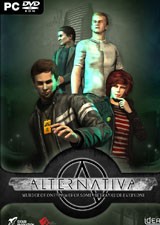 AlternativA is a sci-fi/cyberpunk adventure composed of a number of shorter stories that lead players through the lives of its characters, as well as the fictional world of the future. During the game, the player gradually learns about this world destroyed and devastated by wars, revolution and time. These shorter, miscellaneous stories present people's lives and problems in situations such as rape investigation, nocturnal visits to the morgue and database hacker attacks.
Stuck in
AlternativA
, or looking for the best way to proceed? Click below to view our walkthrough for
AlternativA
and wonder no more!
Note, these will contain spoilers.
What our readers think of AlternativA

Posted by CaptainD on Jan 26, 2018
Great atmosphere, but gameplay is lacking

I really, really wanted to like this game. The atmospheric portrayal of a bleak dystopian future almost rivals that of Westwood's "Bladerunner". Sadly that's where the comparisons to an all-time great end. The visuals are very nice, moody music, decent...

Posted by TrevimusPrime on Dec 12, 2015
Painfully Unfinished

Painfully unfinished, Alternativa may be the worst point and clink game Ive played in years. Firstly, the game crashes a lot. This can be remedied by running in as an admin, but the game will still however crash sometimes during cutscenes (which it did...

Posted by millenia on Jun 6, 2012
Wasted potential

I really wanted to like this game. It looks good, the cyberpunk setting is great and the plot itself is interesting and full of potential. The game just doesn't deliver what it promises. The whole touch to the world seems very superficial - and artificial (...
SELECT wt.entry_id as entry_id, we.entry_id as review_id, wt.title, we.field_id_46 as rating, wd.field_id_71 as series FROM exp_channel_titles AS wt, exp_channel_data AS wd LEFT JOIN exp_playa_relationships as rl ON (rl.child_entry_id = wd.entry_id AND rl.parent_field_id = 31) LEFT join exp_channel_data as we ON we.entry_id = rl.parent_entry_id WHERE wt.entry_id NOT IN (SELECT entry_id FROM exp_category_posts WHERE cat_id = 10) AND wd.channel_id = '2' AND wt.status = 'open' AND wt.entry_id = wd.entry_id AND wd.field_id_19 NOT LIKE '%Hidden Object' AND wd.field_id_85 != '0'  AND wd.field_id_17 = 'Third-Person'  AND wd.field_id_23 = 'Illustrated realism'  AND wd.field_id_76 = 'Science Fiction'  AND wd.field_id_22 = 'Point-and-click'  AND wd.field_id_19 = 'Quest'  ORDER BY rating DESC LIMIT 16
You might also like these adventure games