Game information
You might also like these adventure games
Advertisement
BITMAP BOOKS
The first game made by Erin "The Ivy" Robinson, Spooks, is a promising opening gambit. Many newcomers to amateur game development release their first mediocre attempts at an adventure, and only later go on to develop something worthwhile. For some reason, female amateur developers seem to be immune to this phenomenon, as they do a great job the first time out. Games such as Principles of Evil and Cirque de Zale testify to that, and Spooks is another such game to continue the trend.
Spooks begins in black and white, as our Tim Burton-esquely coiffed heroine, Mortia, enters the Land of the Dead's Carnage-val (and the puns continue throughout the game) and tries her ghostly appendage at a game of darts. Hitting the bull's-eye, her prize from the stallholder is a real living fish, in colour no less. Mortia has no idea what "alive" means, and sets out to discover its meaning and to find an appropriate place for the fish (which she names Spooks) to live... which the Land of the Dead is certainly not.
As the game progresses, it turns out that more than just Spooks the fish is in colour, and this forms part of the plot. The authorities in the Land of the Dead are trying to stamp out these aberrations and so Mortia must keep Spooks hidden as she continues on her quest. Things that are in colour, and thus connected with being alive, are what the police are after, but also what Mortia needs to look for if she's going to find a safe place for her new piscine friend.
If you are worried that a game mainly in black-and-white might be dull, just go and watch Sin City and you'll get the idea: it's the things in colour that stand out as unusual. This visual style is unique in AGS games, and the game locations are well laid-out and nice to look at. The artistic design is similar to the classic LucasArts games (including the low 320x200 resolution), but more stylized.
The music by "The Scorposer" also adds to the atmosphere, matching the grim carnie setting. The music is MIDI-based and there are some good ambient sounds and effects, too. As is usual for an amateur game, there isn't any voice acting.
Puzzles are logical and not too difficult, and consist mostly of using inventory items on hotspots. As Mortia goes around talking to the people at the fair and following the normal "pick up everything that isn't nailed down" strategy, you'll find that the non-player characters move around, so you'll have to find them again from time to time, as well as checking on changes your actions have accomplished, which is generally intuitive.
Mortia is a sardonic girl and her humour is a constant presence in the game. Her comments on the objects and situations she finds herself in are typically sarcastic, but not particularly dark. There are also some in-jokes and references: to the author herself and to Trilby of 5 Days a Stranger, among others. An interesting and amusing world full of hilarious characters (such as the seer, who is basically just a giant eyeball) and situations (like the angel and demon who have a love-child) is established in the game and I'd love to see more games from the author exploring the Land of the Dead further.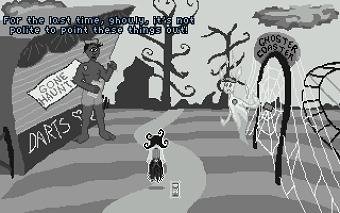 There are only a few minor niggles in the game, such as a couple of poor explanations as to why things can't be done yet, and a long dialogue the first time you meet one of the characters that is repeated if you talk to them again, which doesn't quite make sense. The menu that pops up at the top of the screen also gets in the way of one puzzle a bit. And as with many otherwise excellent amateur games, I also wish there was more of it! I enjoyed every minute of the hour or so spent playing the game, but it felt like one part of something larger only hinted at.
A four megabyte download won't take too long, even on dial-up, and it is certainly worth the time. Once that's done, you'll be hooked all the way into helping Mortia find out what being alive is all about. Spooks is a great little game, and The Ivy and her coding assistant Vince Twelve should be proud of a job well done. I'm hoping that we'll see longer and more finely polished work coming from that direction soon.
Spooks can be downloaded from the AGS website.
What our readers think of Spooks
Want to share your own thoughts about this game? Share your personal score, or better yet, leave your own review!

review
Other articles you might enjoy