Gold and Glory: The Road to El Dorado
review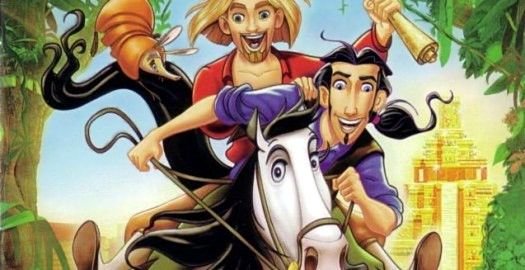 Game information
You might also like these adventure games
Advertisement
Adventure games by Revolution
BITMAP BOOKS
Good games based on movies are few and far between. There are plenty of tie-in games every year – where there's money to be made, this is going to happen – but, with a few notable exceptions, most of them manage to be mediocre at best. On the face of it, Gold and Glory: The Road to El Dorado, appeared to be among the few with real potential. Created back in 2000 to coincide with Dreamworks' animated movie The Road to El Dorado, development duties were handled by a certain Revolution Software, who are no slouches when it comes to adventure game design (they are, after all, the creators of Broken Sword and Beneath a Steel Sky). The film itself, meanwhile, featured the kind of plot that could lend itself well to an adventure game, with a healthy dose of exploration and problem-based situations, and plenty of comic potential. So, could Gold and Glory be one of the better game adaptations?
Things certainly start promisingly enough. After a video montage of clips from the film, the game begins with the two main characters, Tulio and Miguel, reminiscing about their adventure, which is then played out in flashback. After a brief opening dialogue, you're then dumped near some docks (where the film also opens), and need to get out without being caught. Not that the plot remains this straightforward, of course, as a dice game leaves them in possession of a map to the treasure-laden lost city of El Dorado, which they can only reach after evading the clutches of the evil Spaniard Hernán Cortés.
Visually, Gold and Glory does well. Oddly enough for a game based on a 2D cartoon animation, the game is actually in 2.5D, with distinctly 3D models on rendered 2D backgrounds. Despite the extra (half) dimension, though, the game does a good job of capturing the cartoonish look of the film, and the 3D models, though quite simple by modern standards, handle the characters well. At various points during the game, clips from the film itself are used, and it's a testament to the game's artistic direction that the stylistic change isn't nearly as jarring as one might expect. These animated clips are actually used rather cleverly in the game, being used at times to advance the plot in ways that are subtly different from the film.
Audio, too, is pretty good. The film featured some songs by Elton John and Tim Rice, along with a score by Hans Zimmer. For better or worse, the game doesn't, and most of it is accompanied by ambient sound effects rather than music. What is here, though, is well written, has character, and is appropriate for the context of the game, whether making use of percussion-heavy Caribbean stylings or more common orchestral flourishes in the more dramatic moments. Voice acting is traditionally a weak link in film tie-ins: with a lack of involvement from the stars of the film, sound-alikes tend to be used, with occasionally dreadful results. But while Gold and Glory has to put up with actors that only sound a bit like Kevin Kline and Kenneth Branagh, the stand-ins do a reasonable job. They're not perfect – there's a little too much overacting going on – but I never felt the need to turn the speech volume down to zero either.
Control of the two player characters in the PC version (the version reviewed here, though the game was also released for Sony's PlayStation) is a relatively straightforward process, and players will switch between them at various times throughout the game, though never wandering far from the other. Anyone who has played another Revolution Software game called In Cold Blood will feel immediately at home, since the two games share an engine and interface, while for newcomers it comes down to a choice of actor- or camera-relative keyboard or gamepad controls to manoeuvre a character around the screen. This all works well enough, though the decision to make the run control a 'run forward' option rather than a simple speed toggle can be a frustration. The running speed is also a bit too fast; it can be a tad awkward directing the character around when running, though running isn't usually necessary either. There's also a button that causes the character to crouch, which comes in handy for the occasional sneaking section. Inventory management, which is particularly streamlined in Gold and Glory (you can't, for instance, examine items or use one item on another) is straightforward. Jumping over gaps in the floor, though, is much less straightforward. This happens at several points in the game, but a lack of marked hotspots makes it difficult at times to judge precisely where you're supposed to stand. Most of the time it's fairly obvious that you need the character to jump and you're not up against any tight time limits, but the locations where a character can jump could have been shown more clearly, as there's simply no response at all if you're not standing in the right place. All in all, though, the interface is acceptable, though a lack of any form of mouse support will almost certainly irritate some.
So far so reasonable, but Gold and Glory reveals its weaknesses in the two areas that many players are likely to care about most: story and puzzles.
Now, the idea of a problem with the story in a game based upon a film might seem rather unusual, but bear with me here. At first, all seems well – indeed, the opening section is an elaborated version of the first twenty minutes of the movie, extracting a lot more gameplay out of the search for the titular lost city. Unfortunately, somewhere in the production process, the central section of the film's story appears to have hit the cutting room floor, rendering the rest of the game borderline incomprehensible. A villain is introduced in the course of a single cutscene, without any idea being given of how he relates to the main characters or what his motives are. A friend character – a love interest in the film, no less – appears in a couple of cutscenes without it ever being explained who she is, either. From the point at which Miguel and Tulio arrive in El Dorado, the game consists of two incidents that appear to be entirely isolated from each other, and which together amount to only a small fraction of the total game time. I played Gold and Glory in advance of watching the film, and I got to the end with very little idea of what was actually going on; it was only after I saw the movie that I actually understood who some of the characters were. For those who have already seen The Road to El Dorado, this may be considerably less of an issue, but it's a large barrier to those who haven't.
The puzzles, meanwhile, suffer from being solved for you. There are plenty of neat ideas in Gold and Glory's puzzles – I found the section where Tulio and Miguel have to escape from a ship's hold quite memorable (if a little too similar in places to the opening section of The Curse of Monkey Island), and there are some nice touches in the puzzles in El Dorado too. But the game has the frustrating habit of not just holding your hand through these mental exercises, but actively revealing the solution to you. There are remarkably few items and hotspots – it would be quite possible to solve this game quickly using trial and error, even when the solution isn't blindingly obvious – but I lost track of the number of times that the main characters, while speaking dialogue that portrays them as a couple of bumbling fools, told me exactly which item to use on a particular hotspot; this game doesn't so much drop hints as drop almost all semblance of a challenge.
That said, there are a couple of more taxing moments. One of them, which involves using a wanted poster to represent the main characters even though they have to be present in the same location at the same time anyway, was a rather odd design decision. Another involves winning a game of chance several times. While it's impossible to lose this part of the game, the amount of time I spent rolling dice seriously stretched my patience. A third section – a combination of lever pulling and sneaking past some spiders – would have been fine were it not for some dodgy collision detection and the irritating habit of the game removing control from the player while Miguel or Tulio is speaking, which led to a spider walking up to me mid-line on more than one occasion. Aside from these, though, the game really is a breeze, and a final play time of about three-and-a-half hours bears witness to the relative lack of challenge.
Gold and Glory, then, ends up being a disappointment. So much good work has been done here in terms of the presentation and some of the puzzle design that it makes it all the more surprising to see the gaps in the plot, and even more frustrating to have those well-designed puzzles solved for you. In truth, the game has clearly been pitched towards the 'family' market, and children may well appreciate the cartoon style and comic action, while parents can be satisfied with a lack of profanity, graphic violence or adult themes. Otherwise, only those who are after a particularly easy adventure game to while away a couple of hours will find much value here. Those who haven't seen the film on which the game is based, however, are likely to come away feeling more than a little confused. And the lack of challenge and short length strip it of lasting appeal for children and adults alike. So while the game adaptation of The Road to El Dorado is a noble attempt to make a decent movie tie-in, it proves once again that all that glistens is not gold.
Our Verdict:
While it successfully recreates the spirit of the Dreamworks animation, missing plot segments and far too much hand-holding prevent The Road to El Dorado being one that all gamers should travel.
GAME INFO
Gold and Glory: The Road to El Dorado is an adventure game by

Revolution

released in 2000 for GameBoy Advance, PC and Retro. It has a Comic cartoon style and is played in a Third-Person perspective.


Want to share your own thoughts about this game? Share your personal score, or better yet, leave your own review!

review
Other articles you might enjoy