What can I say here that could possibly prove interesting?
Hmm.
My name is Robert Lacey, and I'm a GP/Family Doctor. In my spare time I pretend to make video games, and play games. Lots of games.
People tell me off when I complain about how horrible I find myself. I ignore them.
View forum profile »
Articles by Robert Lacey: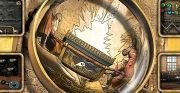 This reimagined (and retitled) adaptation of its PC predecessor finds some success on DS, but it lacks quite the same sting.
Read the review »
Jan 20, 2010
The latest adventure for the wisecracking wizard isn't quite able to clone the charm of the early series games.
Read the review »
Mar 3, 2009
Revolution's game adaptation of the animated feature film sought riches on PC, but a few key problems sent it off course.
Read the review »
Oct 3, 2008
Replayability and B-movie charm make Heart of China worth checking out, but its problems prevent it from reaching the heights of the classics.
Read the review »
Feb 1, 2008
"The Replayable Adventure" is true to its claim, though the pickings prove a little slim along the way.
Read the review »
Mar 29, 2007
A new commercial indie seeks adventure under the seas, but does it rise to the occasion or drown itself in problems?
Read the review »
Sep 20, 2006
This unique murder mystery fights for acceptance among its more traditional contemporaries.
Read the review »
Apr 8, 2006
Robert takes a closer look at the upcoming horror adventure that many are itching to play.
Horror adventure meets anime in this surprising debut title from Studio Trophis.
Read the review »
Aug 20, 2005
The ghostly denizens of Mystery Manor make the move from website to adventure game, but do these spectres have enough substance?
Read the review »
Jul 13, 2005
Could the next great cartoon adventure come from Poland? Here's a look ahead.
The legendary Yahtzee returns with a follow-up to one of his most popular amateur adventures.
Read the review »
Sep 16, 2004
Robert Lacey takes a deeper look at the very popular Underground game community of Reality-On-The-Norm.