Game information
You might also like these adventure games
Advertisement
BITMAP BOOKS
Britton "cerebrit" O'Toole is a relative newcomer to the underground adventure scene, and No-Action Jackson is his amazing first game.
The game centres around Jackson, a young, role-playing obsessed nebbish who's got a D&D game scheduled with two of his friends. The only problem is that his mother refuses to let him leave the house because his grandparents are visiting. Jackson's first task is to somehow get out of the house without his mother and grandparents noticing. After finally escaping, Jackson is horrified to discover that his two friends have completely stood him up. You spend the rest of the game trying to track them down and convince them to play D&D as planned.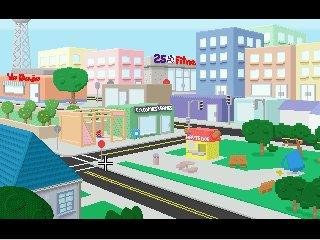 The interface is the classic LucasArts verb-choosing type, a la Day of the Tentacle and Indiana Jones and the Fate of Atlantis. The right-mouse button tries to intuit your intentions, and chooses the most obvious verb feature available. The keyboard shortcuts are sadly lacking, which slows gameplay down a little for experienced LucasArts gamers. The save/load menu contains only one savegame slot, which is a little irritating for those of us acustomed to saving every five seconds (although there are no deaths or "walking deads," which makes this more forgivable).
The dialogues and interactions are often very amusing, with Jackson showing his geeky persona often. The other characters often say some very funny things to you, and the flash-forward cut-scenes between Jackson and his two friends are well worth sitting through.
No-Action Jackson's definite strong point is the graphics, which are of an amazingly high standard (at least, for an amateur game). They are very reminiscent of Day of the Tentacle, only in a slightly less "warped" style. The LucasArts inspiration is obvious, as the main character resembles Bernard from Day of the Tentacle very closely. There are also plenty of animations in the game, leaving nothing to the imagination. Events like doors swinging, birds flying and Jackson's mother vaccuming are all fully animated.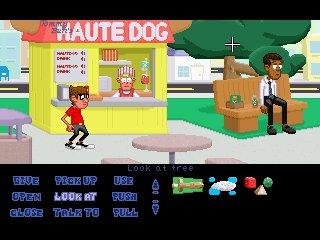 The game features some excellent music in the form of a gentle techno beat that loops well and never becomes annoying. The sound effects are also very good--doors squeak, the shower showers, and the family's pet bird tweets in its cage.
Throughout the game, you will encounter some very amusing characters and events. Jackson's nerdy little references are sure to amuse the geeks among us (and we all play adventure games, after all...). The puzzles are quite clever, too; There are a fair few easy puzzles that won't take much brain-power to solve, but they are balanced nicely with a bunch of lateral-thinking problems that will certainly challenge you. The game features quite a number of locations, and it should keep you occupied for a good couple of hours.
The only real flaws I could find in the game are the bugs. You'll come across the occasional glitch which detracts from the game a bit, but at least none of them are fatal. I don't know to what extent the game was beta tested, but perhaps a little more testing time could be spent on cerebrit's next project.
Overall, No-Action Jackson is an excellent game. It is definitely one of the best amateur games I've every played. We can only hope cerebrit goes on to create bigger and better things. I would strongly recommend No-Action Jackson to anyone who considers themself a fan of amateur adventures--don't miss out!
You can download the game here. Read more information about the game at our gameinfo page.
Want to share your own thoughts about this game? Share your personal score, or better yet, leave your own review!

review
Other articles you might enjoy