Game information
You might also like these adventure games
Adventure games by Outsider Games
The UKIE booth (Association for UK Interactive Entertainment) has always been a good place to visit at gamescom, and that was true this year as well, as the stand was inhabited by several adventure game developers. One of them was Stephen Downey, CEO and Lead Artist of Outsider Games, creators of musical-adventure Wailing Heights, which was released earlier this year. Based in Belfast, Stephen is also an acclaimed comic book illustrator whose credits include a three-issue series named Jennifer Wilde, which is now in the process of being turned into an adventure game.
As Jennifer Wilde (the adventure) had not been revealed before gamescom, and I was not familiar with the source material written by Maura McHugh (who is also responsible for the game's script), Downey was eager to fill me in on the details: During the 1920s, young French artist Jennifer Chevalier accidently summons the spirit of famous Irish playwright Oscar Wilde while investigating the death of her father. Joining forces, and developing a deep friendship along the way, the odd couple travels several European countries to find out what really happened to Jennifer's father.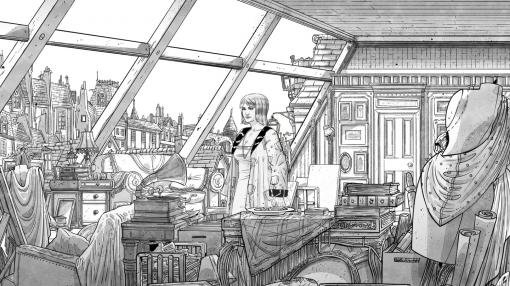 After giving me a quick summary of the story, the multi-talented artist presented me with some early screenshots. Drawn entirely in black-white, the ink-washed 2D graphics beautifully illustrate the original comic book aesthetic. They also convey a subtle air of melancholy, so I asked about the balance of humour and drama in Jennifer Wilde. "Maura has written plenty of clever and funny dialogue between Jennifer and Oscar," Stephen replied, and went on: "but it's a drier, sarcastic humour. The first puzzle is pretty silly, as a way of introducing the mechanics, but the rest of the scenarios have more drama to them."
Next Stephen started up a demo, giving me a quick hands-on glimpse at the game itself. Jennifer Wilde features point-and-click gameplay, although played with a controller or a combination of keyboard and mouse to move and interact. As I guided Jennifer through an untidy apartment packed full of detail, she was able to engage other characters in conversation peppered with witty dialogue.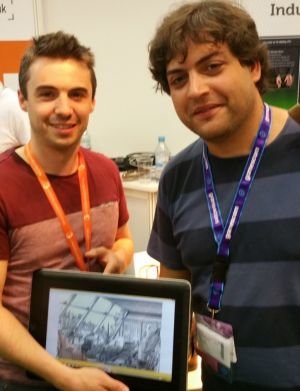 Outsider Games' Stephen Downey with fellow developer Javier Cadenas (The Season of the Warlock)
I was also introduced to a special feature that replaces traditional inventory puzzles. "Jennifer Wilde has a unique mechanic that involves Jennifer sketching out clues as comic book panels in her notebook." Stephen told me. "The panels act as an inventory and can be pieced together in the right order to form a comic book page, constructing the story Jennifer is investigating." During the presentation, Jennifer questioned a witness to a hit-and-run car accident. She was automatically able to sketch the car based on the witness's description, but was unable to get a clear picture of the driver. Since there wasn't enough time to see what would happen next, Stephen explained: "Later, after sketching a face found in a photo and presenting it to the ghost of the victim, Jennifer is able to combine these two images into a single panel, inserting it into the comic page with the other clues she has sketched and completing the mystery."
Jennifer Wilde also includes dialogue puzzles that will not only help you acquire more information, but also modify Jennifer's character. One example Stephen offered of this character-building feature is that "you can choose whether Jennifer romantically prefers men, women, neither or both." Interaction with the environment is particularly crucial when it comes to the investigation of items that cause flashback clues. At times you will also be able to control Oscar Wilde. According to Downey, "Oscar is tethered to Jennifer, but controlling him will form a part of the puzzles." The game will contain other types of puzzles as well, including one I didn't see but Stephen described by saying: "There's a briefcase that needs to be unlocked by entering a combination [and] players will have to pay attention to clues in the surroundings and inspect items, read letters, etc. to find the combination."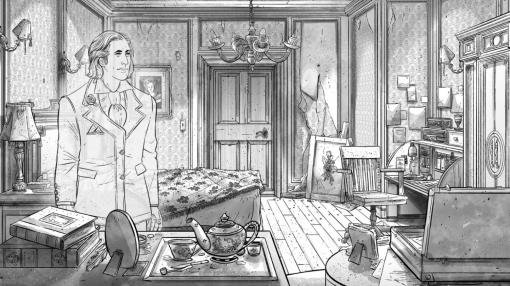 Outsider Games have received funding from the publisher of the Jennifer Wilde comic books, Atomic Diner, and the national screen agency for Northern Ireland. As Stephen revealed, though, that funding is only covering the costs of the production of one episode. While I was told that this first episode is nearly finished, Outsider Games is not planning to release it, but instead want to turn it into a much bigger game. Pressed for details, Downey shared the current status of that plan: "We haven't settled a Kickstarter date, and it's even possible we won't do one, but I think that is the likely way forward for us." Perhaps further contributing to the financing, I was also informed that a console version of Wailing Heights is currently in production. The release details at this point are rather sparse, but Stephen teased that portings for "major consoles" are "coming soon".
Four particular games had not been on my radar before the fair started, but in the end turned out to be among my personal gamescom highlights. Jennifer Wilde was one of them, and I'm very much hoping that further funding can be secured to turn the existing material into a bigger game. Based on what I have seen, the game promises a charming story premise, witty writing, beautiful art, and clever gameplay ideas. We'll certainly keep an eye on the project, and will keep you posted about its progress. See what I mean about the UKIE booth? It's always worth a visit!
Referenced Adventure Games
preview
Other articles you might enjoy