Gamescom 2015 round-up: Part 1
Events Coverage
Reporting from E3, GDC, AdventureX, Gamescom and other gaming events around the world
Once again, this month the gaming world converged in that hotbed of adventures known as Germany for the annual gamescom in Cologne. Unfortunately, Adventure Gamers couldn't be there in person this time. But sometimes it's not about what you know but who you know, and with the intrepid staff of Adventure-Treff attending and willing to share their observations with us, we've still got you covered. As usual, there was so much to see and do, it'll take two articles to get through it all. Enjoy the first.
 
---

Armikrog
With the claymation adventure Armikrog drawing closer to its early September release date, we visited a presentation at the booth of Versus Evil. It turned out that Terry Scott Taylor, known for the soundtrack of The Neverhood, has returned to provide the music for its spiritual successor. The developers are currently polishing the last animations, but other than that we were told that the game is finished. However, the prototype we played was still lacking some work, and the controls were a little unprecise. Nevertheless, in terms of visual and comedic aspects, Armikrog does a great job. Gamers will be able to switch between Tommynaut and his dog Beak-Beak, who fits through small holes and can see important hints through his black-and-white vision, an interesting element that appears to be implemented well. The puzzles we encountered seemed challenging and clever, which helps explain why the game is supposed to have a length of around 15 hours.


The Weird Story of Waldemar the Warlock
Our Spanish colleague Javier Cadenas (staff member of Aventura y CÍA) has joined forces with the developers of The Weird Story of Waldemar the Warlock. Even though the project, which features beautiful hand-drawn backgrounds, did not meet its minimum goal on Kickstarter, the game is moving along. In fact, Javier is currently hoping that the team will finish this traditional point-and-click adventure later this year. A release should rather be expected in 2016, though, as it is likely the developers will want to avoid the annual Christmas competition.
Waldemar the Warlok tells a twisted tale of British lord Alistair Ainsworth, who summons a mighty necromancer. Right in the beginning, players will have to choose whether they want to help this evil creature get its revenge, or if they want to be a part of the opposite side. Depending on this choice, puzzles will differ throughout the game.


Wailing Heights
One appointment that originally wasn't part of our schedule was our meeting with development team Outsider Games from Northern Ireland. The three-man crew, supported by Kevin Beimers (Hector: Badge of Carnage), has been working on their musical adventure Wailing Heights for several months now. Players will slip into the role of Frances Finklestein, the last surviving member of a '60s band, who has to assume control of the various supernatural abilities of a city's inhabitants. Gameplay-wise, Wailing Heights is focusing on dialogue puzzles and music puzzles. The painted backgrounds certainly take time getting used to, while the animations we saw still consisted of placeholders, though we witnessed only a very early version of the game. The game is scheduled for a PC-only release in early 2016. However, ports for Mac, Linux, consoles and mobile devices are not being dismissed as possibilities.

Nelly Cootalot: The Fowl Fleet
Work on Nelly Cootalot: The Fowl Fleet will soon be reaching completion. At the booth of Application Systems Heidelberg we were given a chance to have a closer look at the first minutes of Nelly's grand adventures. We were a little bummed that Nelly didn't want to collect any items before the first cutscene started, but instead insisted on cleaning up first. Fortunately, this was the only time we had reason to complain about a game that is still waiting for the final touches on gameplay. According to what we were told, Nelly Cootalot will not include elements of pixel hunting, mortal danger, or mazes, which makes it one of the most traditional adventure games we saw on the first day of gamescom. Furthermore, a length of 12-15 hours, 35 locations, and 45 hand-animated characters have been promised. Last but not least, we also found out about Jürgen, a bird who will serve as a helping guide, although we were not able to see him in action ourselves.


Herald
After being successfully funded on Kickstarter, Herald: An Interactive Period Drama will be released as a two-parter. Part one (containing two chapters) has been announced for February of next year, with its successor currently aiming for an October 2016 release. Thematically, this 3D point-and-click adventure game will address conflicts between people of different origins. A lot of research has been done to bring a believable 19th century setting to life. This includes interviews with historians on contemporary social events, laws, the state of shipbuilding and other aspects of the time.
Herald will primarily take place on a big sailing ship. Interactions with other characters will lead to player decisions that have an effect on the relationships between the protagonist and supporting characters. Displaying very pretty 3D graphics, the game is presented from a third-person view, while several tracking shots promise visual variety. The protagonist is telling the story of a young woman, which means that a major part of the game will take place in the past. This past (and partially the future as well) can be manipulated by player decisions.


Heaven's Hope
Eurovideo gave us a chance to check out the newest version of Heaven's Hope by Hannover's Mosaic Mask Studio. The game has reached its beta status and the presented version can already be played from beginning until end, with both the English and German PC and Mac releases planned for early 2016.
Heaven's Hope centers around the story of a fallen angel named Talorel, the playable character who has to get back to heaven before anyone realizes he left without permission. This turns out to be harder than expected, as Talorel has lost his halo and wings. Stranded on earth, he finds himself confronted with the era of the Inquisition and other nasty events. During his adventures he receives guidance from two other angels, who also serve as the game's integrated help feature. However, neither of these two can influence events on earth directly as they are only present as spectral appearances. Two other sidekicks (a mouse and Anselm Homunkulus) turn out to be a little more phsyical as they can be used like inventory items. The Mosaic Mask team is particulary proud of the quest log, which does not exist in written but rather visual form to give adventurers a quick and easy idea of current tasks.
During the presentation we saw some traditional puzzles, and learned that the game also contains small minigames. Several character skills can be leveled up, for instance the ability to bring the dead back to life. We were told to expect 12-14 hours of play time, around 35 hand-drawn backgrounds, and 30 3D characters. Since the last time we saw Heaven's Hope, the game has gone through quite an overhaul. Originally containing a pretty dark atmosphere, the mood now seems brighter and more pleasant. Several comedy elements serve this new style very well. One thing that has not changed, however, is our positive impression of the visuals. We were particularly impressed by a variety of individual animations that were created by a film animation studio in Berlin.

Microïds - Syberia III, The A.B.C. Murders, Yesterday Origins
The lean adventure game period of the last several years seems to be over for French publisher Microïds. Celebrating their 30th birthday, the company has a promising line-up of big adventure titles to be released in 2016. All of these games are being developed for PC, Mac, PS4 and Xbox One.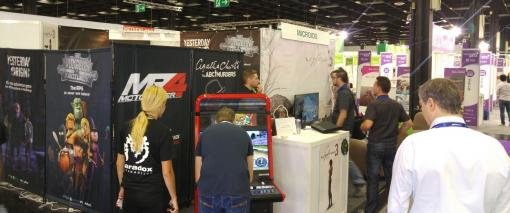 Microïds at gamescom 2015
A first trailer and gameplay scenes from Syberia III, shown to us behind closed doors, didn't fail to impress. The translation of Benoît Sokals' traditional style into real-time 3D works very organically. Overall, Syberia III feels a lot more cinematic and lively than the first two games of the series. The dream-like, meditative look and mood of the predecessors (it's not clear to us whether this game is still dream-like and meditative, or if that atmosphere has been replaced) is now facing gameplay tasks that are more concrete and tangible than before. For instance, after Kate Walker is rescued early on in the game, she must help the Youkols by leading their herd of animals to their hatchery. During the beginning of the game, nature plays a much more important role than technology. Later on a dystopian, abandoned city illustrates the polar opposite that is so typical for this series. Unfortunately, we were not able to see that location ourselves. As well as representing Sokal's comeback, Syberia III also marks the return of Syberia II soundtrack composer Inon Zur.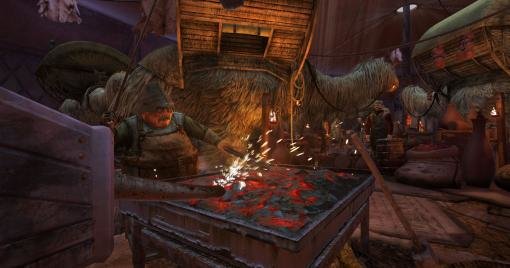 Syberia III
The ABC Murders is another highlight of the current Microïds line-up. Based on the eponymous Hercule Poirot novel by Agatha Christie, apparently readers of the book will not benefit from their pre-knowledge of the story in solving the case. The interesting visual style includes comic characters and rather detailed backgrounds using real-time 3D and a lot of cinematic tracking shots. The gameplay focuses on investigation, crime scene reconstruction and the hunt for clues. Adventure fans familiar with Sherlock Holmes: Crimes & Punishments will have a good idea of what to expect. The analysis of facial expressions during an interrogation is just as important as finding the murder weapon or other evidence. Reconstructing the murders reminded us slightly of the flashback scenes in The Vanishing of Ethan Carter. It also appears that the game will offer up some logic puzzles every now and then. In general, the creators are eager to spice up the sub-genre of crime adventures with some innovative gameplay ideas. The current plan is to release the game in January.  
Of course we were also looking forward to the presentation of Yesterday Origins, the new project by Pendulo Studios. The first bit of insight we were given was that the game is both a sequel and prequel at the same time. One part of the story takes place right after the events of Yesterday, while John Yesterday will also time travel back to the era of the Spanish Inquisition. It is not possible to explain this scenario further without spoiling the first game. However, it will be possible to fully enjoy Yesterday Origins without any pre-knowledge, as everything players need to know will be explained. Pendulo is another studio that is switching to 3D for their upcoming project, and based on the preview version we saw they are doing a very good job with that. Yet the game is not abandoning the familiar visual design and comic-like cutscenes of the first part. Characters will not be "beamed" to places on the screen anymore, but have to walk there instead. During the presentation we also got a first glimpse of a puzzle chain which was well integrated into the story and environments. Yesterday Origins is scheduled for an autumn 2016 release.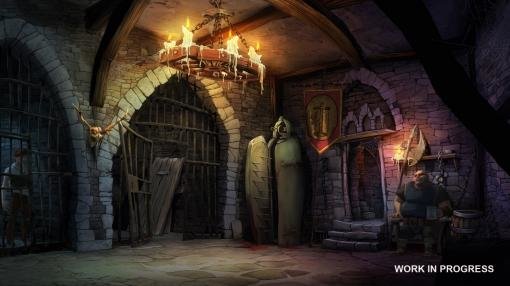 Yesterday Origins

White Heaven
While we did not have an appointment with the folks from Kalypso, we discovered the announcement of horror adventure game White Heaven in their press flyer. Created by the team behind Anna, White Heaven sends gamers into an ancient hotel that is being haunted by evil forces. While trying to find a way out of this uncomfortable place, players will encounter challenging puzzles and dynamic changes between day and night. White Heaven is being created with the Unreal Engine 4 and will offer Oculus Rift support.


Lost Horizon 2
Even though the October release date of Lost Horizon 2 has nearly arrived, and the full game could be played at the public booth of Deep Silver, we still don't know much about the plot of Fenton Paddock's return. What we do know is that this adventure sequel contains four playable characters and at least two different time tiers. Two of the protagonists are Fenton Paddock and his daughter, who find themselves in the early stages of the Cold War in the 1950s.
It was very interesting to see how much the first Fenton scene, set in Port Said, had changed since gamescom 2013. Not only in regards to the graphics, but also in terms of gameplay mechanics, as climbing up a fortress wall doesn't contain any arcade elements anymore. Instead of proving their reflexes, players now have to entirely tackle this task by solving various puzzle chains. Another playable character is Oscar Brunner, who is being chased by the SS in 1942 Dresden. When Nazi henchmen knock on his door, Oscar must determine whether he's dealing with a friend or a foe. Opening the door does not work by simply clicking on it. Instead we saw a closeup of the door handle, which has to be moved manually by mouse or keypad. Publisher Deep Silver refers to these elements as "kinesthetic tasks" used to create tension.
Staying true to the more traditional adventure game approach, Animation Arts has also returned to their roots when it comes to the graphics department. Lost Horizon 2 now looks and feels like another part of the Secret Files series. The backgrounds (usually pre-rendered) have enormous depth created from the so-called projection mapping technique that was also seen in The Book of Unwritten Tales 2. Another new element is an integrated walkthrough. Whenever a player gets stuck, he or she can easily find out how to solve the current puzzle with a simple mouse click. That may be useful, as puzzles in Lost Horizon 2 will purportedly be a lot more challenging than they were in the game's predecessor.
Infamous Quests - The Order of the Thorne, Quest for Infamy: Roehm to Ruin
A lot of new details were revealed about the episodic fairytale adventure Order of the Thorne, in which a king whose bride has been kidnapped promises to reward whomever will bring his wife back to him. The traditional 2D point-and-click adventure game will offer three playable characters throughout the course of four episodes: A bard, a squire, and a female character, all of them having individual skills. The bard, for example, is able to manipulate his environments with music. Episode four will ask players to decide which character they want to control in the finale. Obviously, this decision will have an impact on the puzzles. The opening episode of Order of the Thorne is currently scheduled for a release at the end of this year, and is aiming for a length of between 2-4 hours.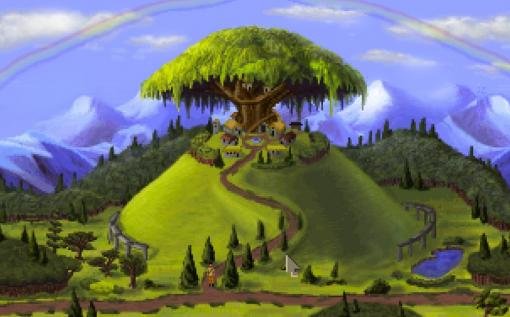 Order of the Thorne
The plot of Quest for Infamy: Roehm to Ruin returns players to the world of the first Quest for Infamy game. Among other things, Roehm to Ruin explains why the main character of its predecessor really ended up in the tower – surprises included. Along with traditional adventure game elements, this short title will also contain hidden object scenarios where objects have to be stolen from rooms. We were not able to play the game ourselves, but we were told that Quest for Infamy: Roehm to Ruin will contain between 2-3 hours of playing time. Fantasy fans can expect a release within the course of this year.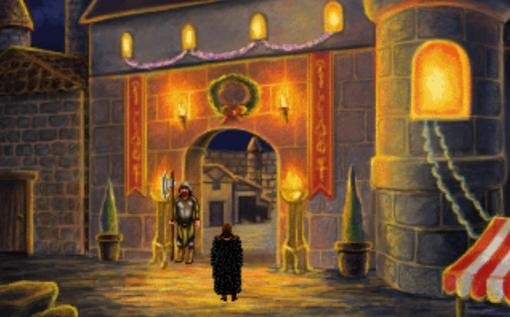 Quest for Infamy: Roehm to Ruin

Black Sails
Deck 13 didn't have any new adventures to show off, but they did confirm good news for English gamers that a localized English version of Black Sails will be released either late in August or early September.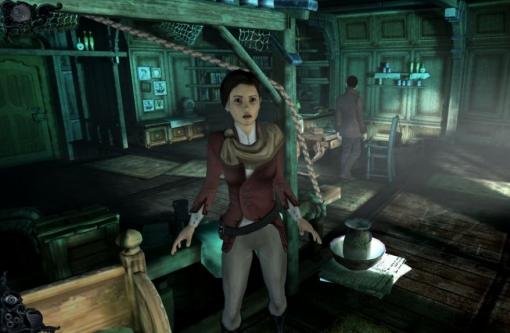 ---
This article originally appeared on the German website Adventure-Treff. It has been translated and reprinted with permission.