Order of the Thorne Series
A full overview of all adventure games released in the Order of the Thorne Series. These can be episodes, remakes/remasters or sequels, created by either one or several companies. As long as the IP is used, we'd quantify this as part of a 'series'.


The second (and likely) final adventure in Infamous Quests' fantasy anthology.
» Full game details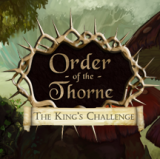 In the debut of a planned anthology of adventure games, The King of the Fairy Realm proposed a challenge to all those willing to venture forth on a quest to find his Queen and bring her back to him. Finn the Bard, young and headstrong, packed his lute and songbook and dressed in his travel clothes, ...
» Full game details