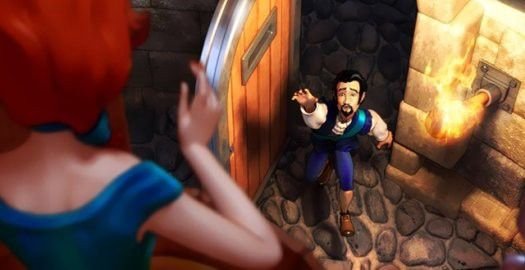 Game information
You might also like these adventure games
Advertisement
Adventure games by Orchid Games
BITMAP BOOKS
Two star-crossed lovers kept apart by fate and family spend one romantic night with each other before submitting to their doomed destinies… No wait, that's a different tale. Royal Trouble, a new casual adventure from Orchid Games, is a far lighter and more comedic romp that lets you play both prince and princess of different monarchies as they attempt to escape their captor. To help them achieve that, you'll explore a beautiful castle sequestered away on a tropical island, dabble in a bit of alchemy, and engage in some romantic comedy hijinks in this casual game with a fun but all-too-predictable story.
As you start the adventure, you'll discover that an evil knight has kidnapped our two royals, whisking them away to his island-bound castle for reasons that are difficult to fathom early on. In an interesting twist on most first-person adventures, you get to play the game as both protagonists, Princess Loreen and Prince Nathaniel, in turns. To differentiate between them, when you play as Loreen your interface is a royal blue, while it changes to a manly brown when you play as Nathaniel.
Switching between Loreen and Nathaniel at pre-determined points, you'll witness some humorous interplay between the two bickering characters as they work together to escape. On one occasion, Nathaniel refers to the princess as "her royal spoiledness". At another point in the game, Loreen comments on a raft that Nathaniel worked hard to put together: "Well I hope they don't use this to load that ship. It looks like a toddler put it together." The sharp banter is fun, but there are some clichés that could use some updating. Loreen is a plucky red-headed heroine who's feisty to a point: she may be good at cleaning rusty chains and clearing away cobwebs, but she leaves the heavy lifting to Nathaniel. Yet Royal Trouble also subverts other stereotypes. Nathaniel isn't a swashbuckling prince or your typical knight in shining armor who always knows how to finesse a situation. He'll work on an elaborate solution to a problem only to later discover that a far simpler solution was staring him right in the face. At other times, he stumbles, trips, and falls his way through the many obstacles thrown at him.
The backdrop for all of this buffoonery is a fun-looking cartoon world filled with bright, colorful graphics that are perfect for a tropical island setting. The scenes themselves are bright and clean with a soft glow. The developers show a great use of colors, popping bright jewel tones, blues and sea greens, against tan sandy beaches and golden interiors. While you'll only explore the castle and its immediate environs, including a nearby ship, there are plenty of scenes for you to wander around in. You'll find one royal locked in your typical dungeon cell replete with spare bed and notches on the wall to mark the time, and the other in a not-so-typical cell with sumptuous red-quilted walls, tapestries, and trophy animal heads. Eventually you'll branch out to such locales as subterranean libraries with golden torchlight illuminating the ceilings. There are some animations in the game (a ship moves across a distant horizon, silver shooting stars cascade across a velvety night sky), but a bit more would have better rounded out the look of the game.
During your explorations, the background music is airy and jaunty and puts you in a light-hearted mood. While you'll encounter several interesting characters, from a greedy guard to a mysterious alchemist to a sour librarian with a terrible tummy ache, the only voice acting in the game comes from the narrator, whose highly expressive voice sounds very much like a movie trailer actor over-dramatizing even the simplest of events. Though never described in so many words, you can almost hear him saying: "Two star-crossed royals who love to hate each other -- she's resourceful and scrappy; he can't walk and chew gum at the same time. Will they work together to escape from their kidnappers in time?"
You'll progress through the game simply by left-clicking for all interactions. The cursor is context-specific and will allow you to look at and interact with objects or communicate with different characters. It's usually very easy to see hotspots, which is good, because there is no hotspot highlighter to help you, though small twinkles for harder-to-find objects will display briefly at times. This isn't consistent, however, so you will occasionally have to sweep the screen with your cursor to find interactive areas. And the scenes you explore are full of interaction. Click on chains and they swing; click on a mouse and it scampers away only to pop up somewhere else. You'll even get different responses from the same items depending on the character you're playing at the time, which is a nice touch. A deer head wall trophy that Loreen despises is something that Nathaniel finds to be quite a nice decorating touch.
The majority of puzzles are inventory-based, so you will find and pick up items and keep them in your inventory menu at the bottom of the screen until you find a door that needs unlocking, a letter that needs writing, etc. You'll also pick up items as Loreen that you'll have to creatively transfer to Nathaniel (or vice versa) to solve puzzles. The characters use various methods to communicate what they need to each other, including notes, carrier pigeons, and even telepathy. Part of the challenge consists of trying to figure out how to successfully communicate to the other character, as well as finding and sending the items that they request. If you're stuck trying to solve a puzzle, chances are you'll have to figure out a way to contact your counterpart for help. You'll occasionally have to combine objects in your inventory to create new items, and these instances are pretty intuitive. While you may be using odd objects to unscrew things or cobble together ladders, they still do make a certain MacGyver-type sense. In fact, these inventory puzzles are well-integrated and straightforward, but can be a bit too easy. Because of their simplicity, I found I didn't have to rely on the game's built-in hint system. If you do resort to using it, the hints are graduated, allowing you to click on as much or as little information as you need.
This inventory puzzling is mixed up with some slider puzzles, locking and logic puzzles, and algebra problems(!), as well as a few alchemy exercises. The latter can be quite laborious at times. For these tasks, you'll have to gather ingredients, prepare them, and then cook, roast, and boil them in just the right way to create certain concoctions. This can involve a lot of tedious clicking for prolonged periods of time. For example, if you get a cooking temperature wrong, you may have to start clicking to get the temperature back to the correct level, and getting a bellows-run wood stove from cold to boiling hot can give you quite the carpal tunnel ache after a while. There are also a few hidden object-type scenes sprinkled in, but they are fully integrated into the story, like looking for silverware in a messy drawer to help you set a table or gathering ingredients for an alchemy potion. Despite the variety of different puzzles, a few of the locking puzzles repeat themselves and many are fairly easy. Unfortunately, the speed of certain puzzle animations made solving some of the puzzles difficult for me. It wasn't always easy to see the consequences of particular mouse clicks, so I found it difficult to make connections. However, for any puzzle that proves too difficult, there is always a skip button available.
The story supporting all of this puzzling is not very original. Two people who don't like each other at first begin getting to know each other better through shared danger and... well, you can guess what happens. The game makes up for this predictability with its humorous situations, but there are some loopholes. You never meet the arch-nemesis of the story (although you see paintings of him everywhere), and the reasons you're given for why he's gone through all the trouble to not only kidnap various people but also provide them with room and board seem rather flimsy. Some characters hint at deeper connections, but those storylines are never wrapped up. Still, the writing is witty, and the interaction between the characters is funny and entertaining. Of the two main characters, I found Nathaniel to be much more compelling: he's a bumbling fool who somehow manages to muddle his way to escaping his island prison. You learn a bit about his background and interest in alchemy, and his comments open up a small window into his feelings for Loreen. Loreen, on the other hand, is described as feisty and willful, but in reality relies on Nathaniel to solve most of their problems.
Despite some character shortcomings and the rather generic plot in which the heroes find themselves trapped, I found Royal Trouble to be a engaging, humorous way to spend a few afternoon hours. Available only as a download, the game's ease ensures it won't last longer than that, but though the journey is short, it's packed full of fun puzzles and whimsical interaction. Real-life relationships may not work this way (and don't have a funny narrator on hand to smooth over any rough transitions), but helping Nathaniel and Loreen overcome their dislike-at-first-sight to help each other escape their tropical prison is the kind of casual romcom fun that anyone can enjoy.
Note: Adventure Gamers is a Big Fish Games affiliate.
Our Verdict:
If you're interested in a light romantic comedy that doesn't delve too deeply into human relationships but provides a few casual hours of fun interaction, Royal Trouble is for you.
GAME INFO
Royal Trouble is an adventure game by

Orchid Games

released in 2010 for iPad, Mobile (Other) and PC. It has a Stylized art style and is played in a First-Person perspective. You can download Royal Trouble from:
Want to share your own thoughts about this game? Share your personal score, or better yet, leave your own review!

review
Other articles you might enjoy