Gibbous: A Cthulhu Adventure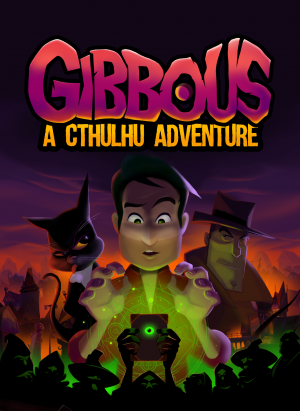 In an alternative present day, where death cults are popping out everywhere, all in competition to awaken Cthulhu, grizzled P.I. Don R. Ketype is hired by a mysterious patron to locate the dreaded Necronomicon. How bad could things go, really? After all, it aint nothin' but a book of some sort.
Stuck in
Gibbous: A Cthulhu Adventure
, or looking for the best way to proceed? Click below to view our walkthrough for
Gibbous: A Cthulhu Adventure
and wonder no more!
Note, these will contain spoilers.

Posted by Metaone on Aug 26, 2019
Lots of talking, easy puzzles, mediocre script, and lots of talking (again)

I am a point-and-click adventure fan since the 90s, and I waited this game for months, since the demo looked promising to me. But it was only a short and playable part of the game that hid its hideous face: talking and talking and talking. I can say that 70%...

Posted by khoa1708 on Aug 12, 2019
i'm confused... what's going on?

first of all I love the graphics in this game... the world is beautiful and very interesting. however... i am totally lost when it comes to the story... what's happening? I have no idea what's going on or where the story is going... a lot of it doesn't make...

Posted by SamuelGordon on Aug 12, 2019
(G.E.F.Q!!) = Generic Eldritch Fetch Quest

Good - Good voiceacting - Great artwork & locations - Decent length - I really can't think of anything else..how sad :( Bad: - Boring puzzles and "fetch" quests. There are some puzzles that stand out in difficulty but honestly it's all so forgettable. -...
SELECT wt.entry_id as entry_id, we.entry_id as review_id, wt.title, we.field_id_46 as rating, wd.field_id_71 as series FROM exp_channel_titles AS wt, exp_channel_data AS wd LEFT JOIN exp_playa_relationships as rl ON (rl.child_entry_id = wd.entry_id AND rl.parent_field_id = 31) LEFT join exp_channel_data as we ON we.entry_id = rl.parent_entry_id WHERE wt.entry_id NOT IN (SELECT entry_id FROM exp_category_posts WHERE cat_id = 10) AND wd.channel_id = '2' AND wt.status = 'open' AND wt.entry_id = wd.entry_id AND wd.field_id_19 NOT LIKE '%Hidden Object' AND wd.field_id_85 != '0'  AND wd.field_id_17 = 'Third-Person'  AND wd.field_id_23 = 'Stylized art'  AND wd.field_id_76 = 'Comedy'  AND wd.field_id_75 = '2D or 2.5D'  AND wd.field_id_22 = 'Point-and-click'  AND wd.field_id_19 = 'Quest'  ORDER BY rating DESC LIMIT 16
You might also like these adventure games