Gamescom 2015 round-up: Part 2
Events Coverage
Reporting from E3, GDC, AdventureX, Gamescom and other gaming events around the world
If you missed the first part of our gamescom 2015 coverage, courtesy of our German colleagues at Adventure-Treff, there's still time to get caught up. For everyone else, let's forge ahead with the rest of another very busy games convention in Cologne.

---

The Adventures of Bertram Fiddle
We discussed the current state of The Adventures of Bertram Fiddle with Seb Burnett from Rumpus Animation. Episode 1 - A Dreadly Business has been available for iPad for some time and recently came out for PC. We saw some art from the second part, which will have more difficult puzzles than a first installment that was criticized for being too easy. A Kickstarter campaign for the second and last part will be started as early as September, for which the funding target has not yet been decided. The playtime is again set to be two to three hours.


The Italian Booth - The Town of Light, Loading Human
Two interesting exploration-driven adventure games are coming out of Italy in the near future. The first is the horror-adventure The Town of Light. For this game the developers recreated one of the largest abandoned sanatoriums in Europe in great detail, then filled it with objects and stories of their own. When it was in use, the clinic harbored up to 6,000 patients, the same as the number of citizens in the nearby city. As a result, almost all local inhabitants were somehow connected to the facility.
The story behind The Town of Light is itself fictional, but based on true events and months of research. Part of the story is set in the year 1942, when no medication was available and people had to rely on mechanical therapies. The other part is set in the current day, with the building already abandoned. The story is about a girl who was 16 years old when she was a patient there. How to interpret these experiences is left to the player. The game can be played from four points of view, which will lead to distinctly different experiences. The ending is always the same; the replay value is in how the game progresses.
There will be a regular screen mode, an Oculus Rift mode, and a Hybrid mode where the VR goggles are used only in specific places. The version we looked at was already working fairly well both on the screen and with the VR goggles, and we were very impressed with the graphics. The controls using the Oculus worked great as well. The sound effects also hit the right grim tone. The game works on subtle horror rather than jumpscares, and created a gripping atmosphere right from the start when we tested it.
The Town of Light should come out for PC by the end of the year, though this is not entirely certain yet. A console version is also being planned. Initially the Oculus Rift will be the only VR set the game supports. If the game is a success, further episodes and add-ons are possible.
Another game that works with VR goggles is Loading Human, a first-person game that will have many classic adventure game puzzles. There was sadly nothing to see yet, but we did get to discuss the essential information. The game is about a young man named Prometheus, who is being trained by his father for an important space mission. His father, a scientist, managed to develop a machine that can bestow immortality. This machine, however, requires an increasing amount of energy to function, for which a new, inexhaustible source is needed. This is where Prometheus comes in. Naturally his journey is not without incident.
The game is being developed entirely for VR goggles, and will support all major models. There will also be six different control schemes to choose from. Currently the release schedule is no more specific than sometime in 2016.
The Interactive Adventures of Dog Mendonça & Pizzaboy
The Argentinian developer OKAM Studio gave us the latest updates on comic book adaptation The Interactive Adventures of Dog Mendonça and Pizzaboy. The most important news was that publisher Deep Silver has taken the game under its wing and wants to release it for PC and Mac. Ports for iOS and Android will follow later. We saw many new screenshots, which looked very detailed. The characters, including Kickstarter backers put into the game, are all done in 2D. The game length is estimated at about six hours.


Her Majesty's SPIFFING
Billy Goat Entertainment first showed us the 3D comedy adventure Her Majesty's SPIFFING last year. The latest version, which we were able to see today, showed sure signs of progress. The game runs smoothly, looks very good visually and has a great deal of jokes that hit home. The humor is deeply rooted in British culture.
The game should last about six hours and be able to stand alone, with further parts coming out if it's successful enough. The developers compare this with the classic Star Wars trilogy. (A successful start, a bombastic second part and a not-quite-as-good finale that wraps up the story?) The game should be done by January 2016 and offer English speech and both mouse and gamepad controls. Billy Goat is still looking for a publisher to put the game on store shelves.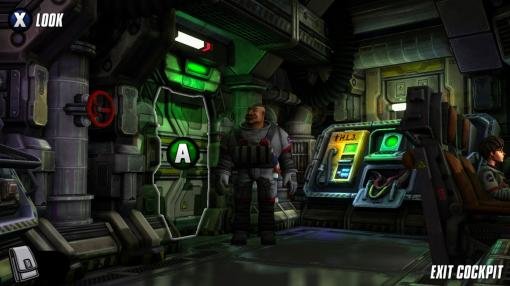 The Mulbury Project
Just like yesterday, a title from Belfast came out of nowhere to surprise us. Greg Maguire from inlifesize has been a Technical Supervisor at Disney for years, working on projects like Avatar, Robots and Spider-Man. On returning to Belfast, he and a team of six started working on an episodic game, advised by Martin Brennan (Hitman Absolution) and Kevin Beimers (Hector: Badge of Carnage). The game can be described both in gameplay and in theme as The Walking Dead mixed with a real inventory, puzzles and somewhat smoother, more rounded graphics.
The first three episodes should be done in October. In the meantime, further funding arrangements are being looked into. The last three episodes should arrive on a monthly basis once they start being produced. We were shown a video on an iPad that included some in-game scenes, and it looks like The Mulbury Project could end up being very interesting for people who like episodic games.
Jerry McPartlin
We met with Marco Dyziek from Bluebox Interactive (previously EdVenture Studios) to take a look at an almost finished Jerry McPartlin. Unfortunately that didn't work out due to technical difficulties, but we did get to know a few things about the game, including that it will be done by the end of the month.
On returning to his home town after being away for a while, titular hero Jerry McPartlin discovers that a string of mysterious murders are being committed. Wik Vaya, the Indian father of his old love interest and diner owner Luna, is convinced a ghost is involved and urges Jerry to intervene. The game should last 6-8 hours, and is the prologue of what was originally an episodic game, now self-contained but with plenty of hooks for potential sequels.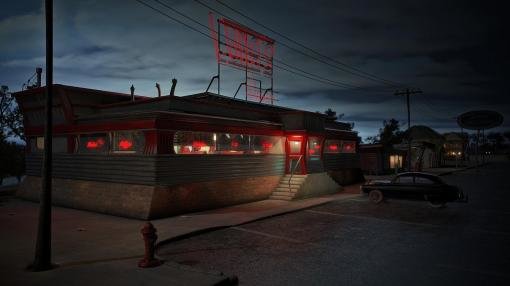 The game is made completely in 3D in the Unity engine, with a fixed camera that makes it play like a 2D adventure. The developer says the gameplay will consist of classic combination and inventory puzzles. The game will initially appear for PC, Mac and Linux, with versions for mobile devices and Xbox One and PlayStation 4 still being considered.

Dropsy
Publisher Devolver Digital let us take a look at the current state of the Kickstarter-funded adventure Dropsy. This roughly pixeled game about a sad clown who wants to be happy again and needs to make other people happy for that, feels rather odd to play and is a bit slow. The game is not convincing on the visual side either except for a couple of well-made animations. The length is about 5-6 hours, during which you can switch back and forth between playing Dropsy and his dog. The game will come out in September for PC, iOS, Android, Mac and Linux.


Kathy Rain
Kathy Rain, which was begun in the AGS community by Joel "JSH" Staaf Hästö, is inspired by classics like Gabriel Knight. Another oft-made comparison is with the 2012 title Resonance, which makes sense since the highly consistent pixel art used throughout the game is by the same artist. Unfortunately the backgrounds are displayed in a 4:3 aspect ratio, so that most players will see black bars along the side of their screen.
The main character Kathy returns to her home city after many years and wants to solve the mystery surrounding her recently deceased grandfather, as a number of questions remain unsolved and she doesn't believe the official account of what happened. The game is played in point-and-click style with a coin interface offering a couple of standard verbs. In dialogs, Kathy can discuss both inventory items and topics she overheard previously. The potentially dark investigation game should be finished in the first quarter of 2016.

The Journey Down
This crazy reggae adventure is finally moving into its third round, and the no-less-crazy developer announced it will be an uncompromisingly bombastic finale in the vein of a '90s action movie. This will tie up the many loose ends left by the predecessors. Some of the previous characters will be there once again for the third part. For example, Lina returns as a playable character and there is a bigger role for Professor Moorhead, who for a long time was only mentioned. On the side of the villains, Morobo from parts 1 and 2 brings along a new female antagonist, whose resemblance to Angela Merkel is mere coincidence. Another new character is Sergeant Waasi, who uses his guitar to inspire an underground revolution.
In the story, players will have to concern themselves with the citizens who were driven from their homes by bulldozers. This involves traveling to many distinct places. Besides the city, we were shown sketches and early graphics of islands, ice worlds and lava lakes, covering just about every imaginable location.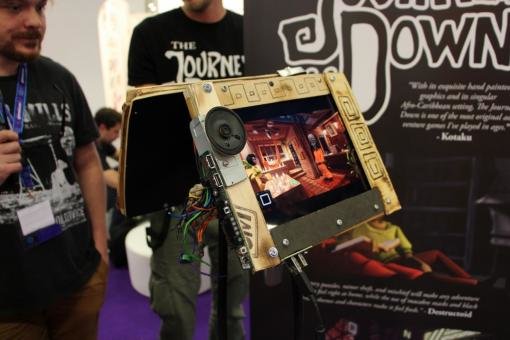 SkyGoblin's self-described "wonky setup" for The Journey Down at gamescom
The entire game is done as far as the story and puzzles go, and there is a very early playable version. Production of text, sound, cutscenes and graphics is now starting, we've been told. A Kickstarter campaign in October should bring in the necessary financial support for these elements. The team is also looking for a partner to publish a boxed version when The Journey Down wraps up with the last episode. The release date for Episode 3 will be sometime in 2016.
Pollen
Virtual Reality is everywhere: With Pollen, Finnish developer Mindfield Games has a VR title in the pipeline as well, set to arrive in the first quarter of 2016. This first-person exploration adventure is designated as a mix of Gone Home and 2001: A Space Odyssey. The player takes the role of a worker on the 13th moonbase on Titan. But on the first day of work, nobody else can be seen. Now you have to find and investigate clues to reconstruct what led to this curious situation.
Sound plays an important part in this. Every sound effect will have a natural origin somewhere in the environment. Side comments are dispensed with. Binaural recording techniques give the stereo sound a sense of space. Music will be used sparingly and discreetly. Every aspect is designed to create an immersive experience in a coherent world, and none of the game mechanics are allowed to go against this. Thus there is no classic point-and-click here. Instead, objects like doors and clues are interacted with through gestures, for which the VR experience is enhanced further if you use a hand controller. Highly detailed and crisp textures also support the immersion, though the graphic style is a bit plain and sterile.
The game has been announced for GOG, Steam and Oculus Home. Almost all major VR goggles will be supported. Besides Oculus, the game is also compatible with HTC Vive and OSVR. Support for Sony's Project Morpheus will follow sometime after release. A VR set and hand controller are not absolutely necessary, but there will be some scenes that can only be experienced through VR. The developers also mentioned an Easter egg or two as goodies.
Soul Axiom
The first-person puzzler Soul Axiom is much like Kairo and the movie Cube. The player has a number of skills with which to manipulate the environment. For instance, blockades can be removed or added and objects can be taken apart, destroyed or put together. While doing this, the protagonist moves through a digital world whose purpose becomes clearer through the course of the game. Eventually you will also figure out how you came to be in this world and what options there are to escape. Many environmental puzzles will have to be solved before reaching that point. The game is played using keyboard or gamepad. The PC version will be released first, in the first half of 2016, with console versions following later. An Early Access version is already available on Steam.


Daedalic Entertainment - Silence: The Whispered World 2, AER
Daedalic discussed only a few adventures with the press at this gamescom. During our visit we were especially excited about Silence: The Whispered World 2, which was presented in a rather different way than last year. This time the focus was on the excellent-looking cinematics, with frequent cutscenes and laboriously crafted animations. The cute animations for companion Spot were especially convincing.
Daedalic's Steffen Roche discussed puzzle design with us. He confirmed that Silence will not emphasize puzzles much and will tell a continuing story over the course of 10 hours. Rather than the old trial-and-error approach, what we get here is trial-without-error. While they can see that this will make puzzle enthusiasts who don't like games without them unhappy, they are also confident that this move will let them deliver a very strong story in a powerful form. Looking at the excellent production values throughout the game, we can see no reason to doubt that at the moment.
The second game to be presented was AER, in which you can freely switch between human and bird shape to make your way to a variety of floating islands. AER is heavily exploration-based and may be worth keeping an eye on.

AER


---
This article originally appeared on the German website Adventure-Treff. It has been translated and reprinted with permission.
Referenced Adventure Games
feature
Other articles you might enjoy