A full overview of all adventure games released in the Kathy Rain Series. These can be episodes, remakes/remasters or sequels, created by either one or several companies. As long as the IP is used, we'd quantify this as part of a 'series'.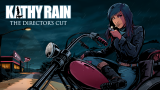 Return to Conwell Springs for an extended story with more puzzles to solve and new areas to explore. Witness the rise of an iconic detective as you uncover a dark and sinister truth hiding beneath the calm exterior of a small rural town. Enhanced update also includes a remixed soundtrack, full-scree...
» Full game details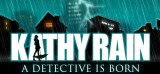 Kathy Rain, a sassy rocker chick with a knack for detective work, returns to her hometown after being gone for many years. Joined by her enthusiastic roommate Eileen, she starts investigating a local mystery, the legacy of her recently deceased grandfather. As they follow a trail of clues he left be...
» Full game details