A full overview of all adventure games released in the Bertram Fiddle Series. These can be episodes, remakes/remasters or sequels, created by either one or several companies. As long as the IP is used, we'd quantify this as part of a 'series'.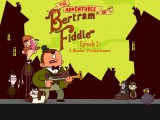 Android, iPad, iPhone, Mac, PC, Linux
Bertram has been forced to take a job at Dulsworth's Soap Factory but soon finds himself embroiled in mystery and is framed for a murder he did not commit. Will he be able to escape prison? Can he dress up as a lady, escape to the countryside, defeat an unspeakable foe, return to London with t...
» Full game details
Android, iPad, iPhone, Linux, Mac, PC, Xbox One
Bertram Fiddle, the World's Leading Victorian Explorator, has been finding it difficult recently to find any lost worlds and it seems that most unbelievable discoveries have, unbelievably, been discovered. But what about those gruesome murders that keep happening? There is something dark lurki...
» Full game details