Eye On iOS
Our regular round-up of iPhone, iPad and iPod Touch adventure games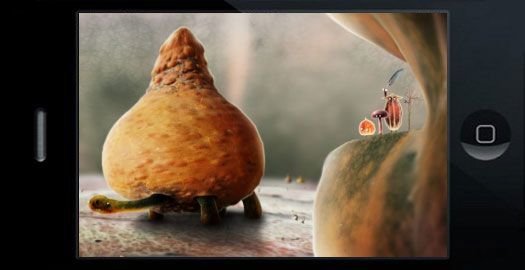 It's been a long time since our last iOS round-up, but we haven't forgotten about the point-and-tap crowd. Rather, with so many ports and exclusive new adventure-like releases every month, it's simply hard to keep up with them all! But at long last we've sifted through the App Store quagmire and pulled out a new batch of mobile games for your consideration.

---

Botanicula
Randall Rigdon
If you haven't played Botanicula and you have an iPad, this newly released port of the charmingly surreal nature adventure is a strong investment. As with most Amanita Design ports, Botanicula seems as if it was made for touch devices, its minimalistic point-and-click mechanics transitioning seamlessly to touching, tapping and dragging with a finger. Furthermore, if you own a retina display device, Botanicula's vibrant art style, spectacular environments, and fluid animations shine through crystal clear and flawlessly at a beautiful framerate, making great use of all of your iPad's display. The game also sounds as good as it looks, with quality reproductions of the lifelike natural sounds and engaging musical score, though of course you'll need decent headphones to get the best audio impact.
Told through very cryptic, near-gibberish (although slightly discernible) dialogue, the plot unfolds as Mii sets out to find his missing friend U. Along the way, Mii meets a variety of characters, including a talking hedge bush and a bird who chooses to travel by air balloon. Given its fantastical, abstract nature, the puzzle logic tends to be equally bizarre. Often seemingly simple or menial tasks, such as obtaining a colored ball or restoring electricity to the vicinity, are only achieved through completely illogical fetch quests. In one particular instance, I found myself looking up into the sky and dragging around what I thought was mere background detail onto a completely unrelated object on the ground to reveal one of the necessary items. I only stumbled upon this solution by complete accident and even in hindsight it still makes no sense.
If you've been looking for a very odd, outlandish, very European adventure for your iOS device, The Minims surely delivers in its peculiar cartoonish style, somewhat reminiscent of The Neverhood. Unfortunately, unlike the 1996 claymation classic, here the music and sound effects are hardly present at all. This is clearly meant to be just the start of an ongoing series, but the story has barely gone anywhere by the time this opening installment is finished. On the plus side, while originally released for a small cost, the game has since become entirely free for both iPad and iPhone. There are glimmers of promise in this quirky debut, but hopefully any upcoming commercial sequels will refine the gameplay and offer more story substance moving forward.
(Note: Since time of writing, The Minims has been updated and re-released as a full commercial adventure.)
Referenced Adventure Games
feature
Other articles you might enjoy