Bill Tiller - A Vampyre Story: Year One
interview
You might not recognize Bill Tiller if you met him on the street, but many adventure fans can instantly identify the work of this highly acclaimed artist behind LucasArts classics The Dig and The Curse of Monkey Island. Since forming his own company, Autumn Moon Entertainment, Tiller has brought his distinctive visual style to another pair of adventures, A Vampyre Story and Ghost Pirates of Vooju Island. But what's next? Over a year has passed since Bill first tweeted about a Kickstarter campaign for A Vampyre Story: Year One, and finally, after plenty of delays, the campaign has started (and could use more support). This provided the perfect opportunity for an in-depth chat with the father of Mona and Froderick to discuss AVS, Kickstarter, and the recently-defunct LucasArts.

---

Ingmar Böke: Welcome, Bill. I appreciate you taking time to talk to me during these busy days, having just launched a crowdfunding campaign for A Vampyre Story: Year One. You first tweeted about a possible Kickstarter campaign in April of 2012. What took you so long?
Bill Tiller: I tend to announce things a bit too early I am afraid. Sorry about that everybody. I'm new to the art of PR and I am always too optimistic. But the simple answer is money; I had to make some in order to pay my bills and as we all know that takes up a lot of time.
So I worked at Munky Fun for eighteen months and couldn't do any outside projects at the same time. Though I did do some color consulting on my friends' games: Gene Moscy's 1954 Alcatraz and Alex Schwartz's iOS game Jack Lumber. Before that I did the art for Snuggle Truck on iOS with Owlchemy Labs. I like to help my friends when I can.
At Monky Fun, I was focused 100% on Bounty Bots, which is an iOS cartoon shooter that was fun because it is the kind of game I wanted to make for a long time: a non-gory, kid-friendly, cartoon action game. It's a free game so people should check it out.
I tried to figure out a way to work on AVS Year 1 and work for Munky Fun. I wanted Munky Fun to help me with it but they weren't interested. Eventually, after Bounty Bots I only worked there part time, then full time at home as a freelance artist. That allowed me time to work on this Kickstarter campaign.
I am not super comfortable in front of the camera, so I had the idea that Mona and Froderick should star in the KS pitch video. Since they are animated characters, I needed help from Romero Alves, Animation Director on Ghost Pirates of Vooju Island. And I got Jeremy Koerner, the English voice of Froderick, and his lovely wife Mary Nitcshke to do the voices and write the script with me. I got Ed Brilliant, my lead artist on Power Gig, to do the props, and now Pedro Camacho is doing the music and sound FX. I painted the backgrounds, helped write it, sketched story boards, and did the 3D lighting. So we basically made a three-and-a-half minute movie in our spare time. That is why it took so long, kind of like this explanation.
Ingmar: Obviously A Vampyre Story: Year One is a prequel to the original game. Give us an idea of the story and how it leads up to the plot of the original AVS.
Bill: This was an idea I had for a long time, to do a short prequel to AVS that focused on the events a year before the story in that game. Prequels are pretty popular lately, probably because we want to know the origins of the characters. Just look at all the prequels that are coming out or have come out lately: Bates Motel, Prometheus, The Hobbit, Hannibal, Oz the Great and Powerful. I could go on. When we latch onto a cool character or milieu we want to know more about it. So that is what we are going to explore here. This prequel will also tie in well with A Vampyre Story 2: A Bat's Tale.
The story is about how Mona and Froderick met, and how Froderick ended up at Castle Warg in the first place. We get to see some characters that we heard about in AVS1 and we'll get to see them again in AVS2, particularly the Belfry Boyz – a gang of hoodlum bats who have it in for Froderick.
A few reviewers were annoyed at all the extra backstory for the characters and Draxsylvania in the first game. But I wanted to start planting the seeds for other stories that took place in Draxsylvania, so when players of AVS hear about a town or character they never see in one game, it will be nice – when we do more prequels, sequels or spinoffs – to finally see and visit things that were only referred to before. I'm trying to get the whole Draxsylvania milieu to feel more real and established.
Ingmar: If you compare Year One with the original game in terms of gameplay and mechanics, how much has changed in comparison?
Bill: The gameplay will be pretty much be the same, except Mona at first has no vampire powers, but she will be forced to learn at least one at a crucial point in the game. But the GUI and style will be the same. Unless someone makes a compelling argument that we need to change it (I'd listen – I'm easy!) the plan is to keep it the same. If we make a mobile version of the game, then yes, the GUI will change.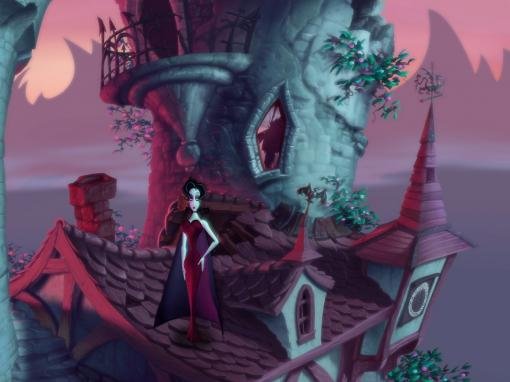 Ingmar: You first announced Year One in October of 2010. This suggests you've already invested quite a bit of work into the project. What is the current status of development?
Bill: We have the walk through already done and the gameplay is roughly working just fine right now. So the skeleton is done, we just need to now put the 'meat' on the skeleton, and dress it up nice. What that means in practical terms is we need to upgrade the engine and do all the fun creative stuff: final art, music, voice, visual FX and the like. We have most of the models made, most rigged, 20% of the backgrounds are painted, all are designed, and the puzzles are all done. We may add more to the game if we raise more than we are asking for.
Ingmar: In your last interview with AG, you stated that AVS2 was 40% done back then and you were looking for a publisher at the time, which obviously didn't happen. If your Kickstarter campaign is a success, how likely is it that we will see the original story continue? What's the license situation of A Bat's Tale, and might there be a potential problem with Crimson Cow?
Bill: No problems with Crimson Cow. They own the distribution rights to that game and want to get AVS 2 done as much as we do. It's just tough to get publishers and investors interested in graphic adventures, very tough. We are in talks about possibly doing a new deal with Crimson Cow, but it depends on how well this Kickstarter campaign goes. So let's get AVS Year 1 'crowd sourced' first and get the game directly to the fans. I think this is great new model to get non-mainstream games developed.
Ingmar: We will get back to AVS soon, but for the moment I'd like to go back to the beginning and have a look at your time at LucasArts. How did you get involved with the company and what were you doing prior to that point?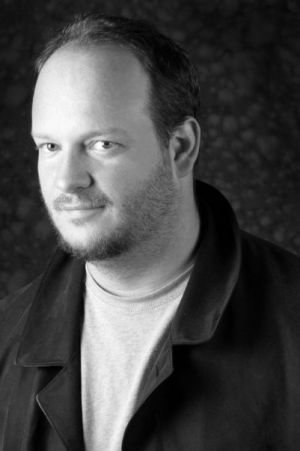 Bill Tiller
Bill: I loved Disney animated movies and computer games so I studied both in high school and in junior college. I made a few of my own movies and a few badly programmed BASIC games on my Apple II+. I quickly gave up on programming.
Then I applied to the California Institute of the Arts Character Animation program. I got a great education there; met a lot of lifelong friends and it's where I met my wife, Amy.
And then around 1992 Steve Purcell's wife, Collet Michaud, head of the LucasArts art department at the time, came down to Cal Arts' portfolio days. She saw that I had a lot of 2D computer animation experience and that I was very familiar with DPaint Animator. They needed an animator for Brian Moriarty's version of The Dig. I said I'd be thrilled to work on a cool project like that, so Collet invited me up for an animation test.
But before I went to San Rafael for the test I wanted to do some LucasArts research. I hadn't played a LucasArts game since Ballblazer, Rescue on Fractalus and HMS Pegasus. My brother and I ran out to the local Egg Head game store and asked for a copy of Indiana Jones and the Fate of Atlantis. But it was six months late. I was a bit annoyed, but the guy behind the counter said there was this other LucasArts game called Monkey Island 2: LeChuck's Revenge. The cover was really well done and I loved the Pirates of the Caribbean ride at Disneyland. So we bought it.
At first I thought it was an RPG game but then I realized it was like a graphic version of Zork the text adventure. I had played that quite a bit in high school. I was blown away by MI2! I loved it – laughed my butt off and just fell in love with the art and story. The Fate of Atlantis came out a week later and I was blown away by that game too, especially how cinematic it was. See, for four years of college I didn't play any video games because I couldn't afford a new computer and we weren't allowed to add games to the Amigas in the Character Animation computer labs. So I had missed out on all the games from 1987-1992.
I came up to B Building for my test. It was on the corner of Kerner and Bellum in San Rafael, (Remember Colonel Kerner in Fate of Atlantis?) and I did a rotoscoping test, which I thought had nothing to do with my animation skills at all! I was mightily puzzled. In my head I was thinking "A trained monkey could do rotoscoping. Got a real character animation test to challenge me with?" I just traced over Brian Moriarty walking on a treadmill for six hours. I found out later Brian wanted The Dig to have rotoscoped walk cycles just like the original Prince of Persia game had.
I finished the two day test early, so I then spent the rest of my time animating a small fat dragon trying to take flight but he was just too heavy to get off the ground – I figured he had just gorged himself on broiled birds from a tree he had burned down. Larry Ahern told me later that if I hadn't done that dragon animation I wouldn't have gotten the job. Good thing I was fast at animating back then.
LucasArts was my first real job. Before that in high school I worked at Disneyland, Crown Books and as a movie theatre manager for Edwards Theatres in Huntington Beach.

Ingmar: What was the experience like in the early LucasArts projects you were involved in?
Bill: Like I said, my first game was Brian Moriarty's version of The Dig. On my first day I was extremely impressed by the talent at LEC, and by the perks! I got my own desk and phone! I felt like a real adult then – my own phone! I saw Peter Chan's art, Anson Jew's, Larry Ahern's and Bill Eaken's and all the others, and I realized I needed to step up my art skills in a big way! I had a similar experience when I got to Cal Arts: I was surrounded by talent, so in each case I challenged myself to get better. At Lucas I got great advice from all the artists.
The office was very cool looking; not as cool as the Skywalker Ranch offices, but way cooler than a regular office. It was dark and chaotic with lots of drafting tables, props from Lucasfilm and Lucas Attractions like this huge model roller coaster sitting on Bill Eaken's desk. There were these huge wall-sized matte paintings everywhere from The Ewok Adventure, Star Trek II and Starman movies. It wasn't too empty but not too crowed either, and everybody could see what everybody else was doing and could talk to each other easily without having to walk too far...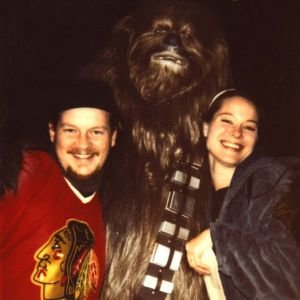 Bill, Chewbacca, and Bill's wife Amy
...UNLESS you had to talk to the programmers and project leaders. Then you had to leave the B building and go over to A building. This I didn't like as much. We tended to 'tribal-ize' a bit – artists vs. programmers vs. project leaders, A Building vs. B Building, SCUMM vs. Story Droid. That tension I didn't care for. I think the separation was bad for morale and communication. All offices have politics, but I think it was worse because we were so segregated. Being an overly sensitive kind of guy, it was a bit of a challenge not to let that sort of stuff bother me. But in hindsight it was much ado about nothing. We really had a good thing going there and it all turned out for the best anyway.
My favourite times were after work when we'd drink beer, play Street Fighter II, play PC games and D&D, watch movies, and play the games that were still in development. I especially loved playing on John Knoll's computer. He always had an updated version of X-Wing on it, or I could play it on the huge projection screen we had in the conference room. And I loved playing through Full Throttle and watching Larry Ahern work on the game. Sometimes we would go into Mike Ebert's office and play Zombies Ate my Neighbors (Back then it was called Monsters). Also after work we would go up to Skywalker Ranch and play softball games against the ranch team or the multiple ILM teams. It was a pretty damn cool place to work, I have to say. It wasn't without its flaws, but I think we Lucas alums all agree now, when we reflect back upon that time, that LucasArts was a pretty special place.
Ingmar: The Dig was in production for a long time and went through a lot of changes throughout the years. Please give us an overview of the development of that game from your perspective and talk about your personal contribution.
Bill: The first game I guess wasn't up to snuff – too many RPG elements, I heard. Not sure. Art looked cool though. Better ask Noah Falstein about that version and why it was cancelled.
Some of the artists wanted to turn what they had worked on into a Boba Fett game. I heard that idea got shot down because management felt Boba Fett wasn't a well-recognized character. That is what Bill Eaken told me. I find that ironic, because Disney is now doing a stand-alone Boba Fett movie. Go figure.
Then Brian Moriarty took over and wanted to start over from scratch, so there went 16 months' worth of work down the drain. Nothing annoys game developers more than a game they worked on never seeing the light of day. That put a sour taste in the mouths of many of the people who had worked on it.
I got hired about then and the second Dig team spent another 14 months on it, but the game was clearly not coming out the way Brian wanted. Brain was tasked with too many big jobs: build a new engine called Story Droid, write a huge game with four major characters in it, and develop a game that would live up to the huge expectations people had because Steven Spielberg's name was attached to it. Then along came game publisher Rocket Science and Brian was lured away. So that was the end of that one. The Dig quickly got the reputation for being the 'cursed project.' Nobody in the Art Department, except me, wanted to work on it. People thought I was weird.
"Why do you want to work on The Dig one more time?" I was asked a lot.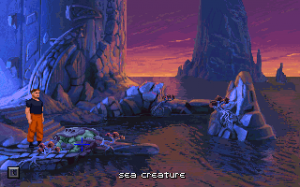 Final version of The Dig
See, what they didn't understand was that I am very goal-oriented. My first goal at LucasArts was to get the damn Dig out the door, and come hell or high water I was going to see it through. Some people thought I sold out to the programmers and project leaders, but really I was compromising, trying to avoid conflicts so that the game would not get cancelled a THIRD TIME! I was worried if I rocked the boat too much battling the non-artists on the team that that would be it for the project! So I thought it wise not to fight every battle – just pick the ones I thought were most important and try to win those.
Some on the team wanted to do live action for The Dig, which was VERY trendy at the time. But that would have meant redoing all the backgrounds, and management wanted just a fix to Brian's version, reuse the art, and not do a complete redo like Brian had done with Noah's version.
So I compromised and went with an airbrushed Roger Rabbit-style of shading on the characters. I wasn't thrilled with it but I was told by the leaders of the project we couldn't have a cartoony animation look. I just wanted to make sure it wasn't live action. So it was a compromised decision that turned out ok, but not great. I think if I had fought for a more Full Throttle-like treatment for how the animation should look, management would have just tossed the game out, even with Spielberg's name attached to it.
Unfortunately, it was hard to find people to work on a third version of The Dig. And due to that I think it hurt the quality of our character designs. We were stuck in 320 x 200 resolution because all the art from the second version was done in that screen res, and we couldn't change that. In 1994, 320x 200 was ok, but not so in 1995. So the game looked a bit old, pretty much because it was old.
This is where management's decision to keep the old art as much as possible was a mistake. Reviewers weren't happy with the look, mostly due to the resolution. I still like a lot of it, but I want to go back and fix a lot of it too.
Sean Clark wanted a big game with lots of puzzles and less emphasis on visual polish as an alternative to Full Throttle, which was a short game but with a ton of visual polish. I myself would have preferred the Full Throttle approach.
Ingmar: Even though never got to see Brian Moriarty's version of the game, I bet many people would love to find out in what ways it differed from the final product.
Bill: Well, there were four characters back then, one too many really. Sean made the right move to get rid of Toshi Olema. Toshi was going to be a Japanese billionaire who was financing the mission because NASA was low on money (just like today!).
Back then the aliens looked exactly like lions with wings. The plot was they had found heaven or enlightenment through multidimensional experiments and wanted to test other intelligent aliens to see if they were worthy of this great scientific breakthrough.
So the whole game was a test for humanity. These aliens came to earth and altered the subatomic spin of some early humans, allowing them to enter into this left-spinning heaven-like dimension. There was a lot of non-Euclidian geometry in it. Some in marketing were worried we'd have to ship a physics book with the game to explain it all. I have to hand it to Brian; it was very ambitious for sure.
There was a lot more gore in Brian's version, which Spielberg asked for. Later, in 1993, he told us to remove the gore because Spielberg had been criticized for all the gore in Jurassic Park. I thought that was odd. Dinosaurs are basically land sharks; they have sharp teeth for a reason: to eat other animals just like Bruce the shark in Jaws. And the gore in Jaws enhanced the terror. So I'm not sure why he changed it. I guess because kids like dinosaurs more than sharks. Damn that Barney!
One scene I had animated was Toshi falling in a pool of acid, then climbing out as his skin sloughed off. He writhed around on the ground like a burnt ant. My desk was kind of in a hallway so everyone who went past saw this horrific scene I was working on. It must have made an impression, which I guess helped my reputation.
Also, Brian didn't want this alien world to have plants like in the first Dig for some reason, so it became the world of rock islands.
I remember while watching Prometheus how much it reminded me of The Dig: a primitive, barren world, alien ghosts, ancient ruins, glowing hieroglyphs, alien space craft, dangerous monsters, astronaut archaeologists, aliens interacting with primitive man, a mission sponsored by a rich guy who dies (just like Toshi). I wonder if David Lindelof ever played The Dig? I am not a big believer in coincidences like that. Spielberg did say The Dig inspired him to make Deep Impact. You're welcome, world!

Ingmar: Among LucasArts fans you're probably most well-known for your work on The Curse of Monkey Island. Please share your memories of the creation of that game.
Bill: Well, that game was really designed not to be The Dig (which Jonathan Ackley and I had worked on), and would also use the best ideas Larry learned from Full Throttle development. And the company wanted to revive the franchise now that Ron Gilbert was gone – no Monkey games had been made in five years.
Now we had a new resolution to work with (still 256 colors)! So Larry wanted to upgrade the art style and character designs to take advantage of this new crisper display.
Back in the old days of 320x200, you really couldn't apply the lessons of traditional character design to these 40 pixel-tall characters. But with the higher res we could now design Guybrush with a traditional animation style in mind, and use ink outlines.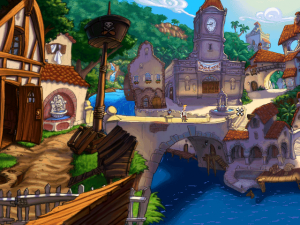 The Curse of Monkey Island
During preproduction, Larry and Marc Overny and the animation team sat down to re-envision Guybrush, and Larry and I started working on the style for the environments.
I'm a big fan of N.C. Wyeth and the Brothers Hildebrandt, and I felt the Caribbean setting lent itself to the kind of color palette those artists often used. And I was also a fan of Dean Taylor, the art director for The Nightmare Before Christmas. My friend Mike Cachuela was working downtown in San Francisco on that movie and invited my wife Amy and me to tour the studio. I was mightily impressed and influenced by the art direction and the stop motion process used for Skellington.
Jonathan loved NC Wyeth, and Larry liked Nightmare, so it was perfect. I just kind of combined the two of them together, and added in a bit of Peter Deseve. He is a famous character designer and New Yorker cover artist.
That is how we came up with the look for CMI. The programmers and writers had the game already working within the first month or two of production, which was fantastic because we could play and test the game very early with temp art. It gave us time to think of ways to improve the puzzles, story elements and jokes.
Ingmar: What comes to mind when you remember your work on Full Throttle 2?
Bill: I was a huge fan of the first game – the art, the story, the music, the Gone Jackals rock tunes – all of it. At first when I heard we were doing a biker game, I wasn't that excited. But when I saw that they were going for a more science fiction look inspired by avant-garde architect Lebbeus Woods, I was on board 100%! Peter Chan and Larry did a great job developing that look.
I was done with Indiana Jones and the Infernal Machine and Larry was done with the Vanishing Act game proposal, so we were both looking for a new project to work on. Simon Jeffery said "get to work on a 'lite' RPG version of Full Throttle for the PS2."
So for about five months we did, just Larry and I, and then Charlie Ramos as well, later. Tim couldn't work on it because he was at Double Fine and focused on Psychonauts. Not sure if he ever wanted to do a sequel.
I worked on the environment concept art and Larry on the story and game design. We both kind of brainstormed the game play. It was a good mix of puzzles and action. I'd just finished an action and puzzle game with Hal Barwood (Infernal Machine) – which we liked, but we wanted to have graphic adventure puzzles in the game too.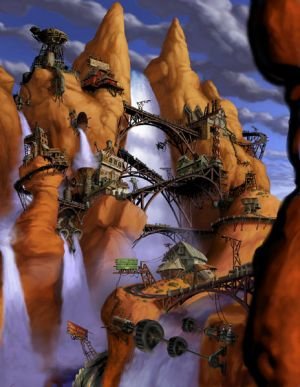 Full Throttle: Payback

But the PS2 was not a good platform for point-and-click puzzles, and a biker combat game was perfect for the PS2 format so we did our best to combine them. We also came up with the idea of the sandbox game – before it was called a sandbox – an open world where you the player could have Ben do anything you wanted: drive, stop, get off your bike, talk to NPCs, fight rivals, climb, leap, sneak, fix his bike, improve his bike, do bike stunts, get into road rage battles and more.
Tim would have preferred no one do the sequel but him, but one day I showed him some concept art and he really liked it and admitted that if he couldn't do the FT sequel he would have preferred if Larry and I had. That meant a lot to me because I respected the hell out of the first game.
We stopped working on the game because there was some weird politics going on with a new member of LEC management at the time. LucasArts was in the process of switching in some new leaders and we didn't see eye-to-eye with some of them. And Lucas was not going to do any new IP – all Star Wars, Indy or sequels.
So after nine years it was time to go. I went to Guild Wars and Larry to Microsoft Games, both in Seattle ironically.
Ingmar: How do you remember your last days at the company – especially in comparison to the old days?
Bill: My last game was as an art director on Full Throttle: Payback. That was fun. But tough working with one of the managers, so ultimately I left a bit annoyed at some of the decisions that were made regarding the project. I could have stayed but I didn't think Sean and I would see eye-to-eye concerning the art for the game. I had compromised with him maybe too much on The Dig, and I didn't want to do that again of Full Throttle 2. To avoid conflict, I jumped over to Bounty Hunter as a concept artist. Then I got a call from Bill Stoneham at Arena.Net and they hired me to work on Guild Wars.
A few things had changed obviously. Adventure game budgets were going up but sales were not keeping pace. So LEC couldn't afford to do too many, and was very leery of doing any new ideas.
Grim Fandango was an exception but it too didn't sell as well as adventure games had in the past. So we were left with doing Star Wars prequels and Indy games. And Star Wars was not cool anymore. The Star Wars prequels were very childish and silly, so I wasn't thrilled with them. I loved the art direction and FX but hated the scripts, direction and much of the acting.
Bill in Sam & Max comic by Steve Purcell
I would have loved to have done the SW RPG but that wisely went to BioWare. Or worked on a Boba Fett, Han Solo or Darth Vader/ Maul/ Sidious game. It seemed to me like all the cool original games were getting cancelled. It was like LEC was afraid do anything that wasn't a Lucasfilm movie. I know why. We got HUGE and had a very expensive overhead to pay for.
I kind of wish we'd outsourced all the prequel games and just had internal development do all original games. So the biggest difference was in the old days Star Wars was only a smaller part of the games we did – less than half. But in the early days we were about 80 people, and when I left we were up to well over 300. That is a lot of paychecks to cover.
Ingmar: Until you came back with Autumn Moon Entertainment to do adventure games again, you worked on many big projects that many of our readers might not associate you with. Tell us some of the games you worked on between your departure from LucasArts and development of A Vampyre Story. How happy were you during these years and what led to the decision to found Autumn Moon?
Bill: I did a six-month stint at Arena.Net in Seattle working on Guild Wars, but it was too rainy and dark for me. Turns out, much like Superman, I need the sun! Plus they did things way too radically different there than I was used to: no game designers early on, no concept art, and no story. I was told there would be no atmospheric perspective (haze or fog), the plants all should be yellow, and the characters were only going to be the size of the figures in WarCraft III. All this I thought was a mistake in the era of EverQuest. So six months of a network programmer telling me how to do art, combined with the gloom of Seattle, did me in and I left. Obviously Arena.Net finally came around to what I was saying, but not until years after I left. The game looks great now, and I knew it would eventually be good. Their founder Mike Obrien was a genius, and Jeff Strain was a very good leader.
I am an emotional and sensitive guy, which can be good and bad. I have a very thin skin so stuff bothers me a lot more than normal people. So if I am in a bad situation I feel trapped and impatient and usually want to get the hell out ASAP. This is not always the wisest move, I'll admit – I have done a lot of moving from city to city.
About this time I started thinking I'd turn one of my character sketches into my own adventure game. But I needed to work because my wife and I just had a baby and I was our only source of income.
Gary Brubaker asked me to join Stormfront Studios to work on The Two Towers for EA third-party publishing. I worked on that for year and then got tired of the long hours and started to work on my own game for about four months. Didn't get very far on it, but I did make progress and got the ball rolling.
Then Yuan Wang and Craig Rundels, old LucasArts guys I knew, asked me to come work at Midway down in San Diego. It paid well and I got to travel around. I was an artistic advisor on all the third-party Midway games. Midway was great at coin op games but their home stuff, other than Mortal Kombat, was hit-or-miss. During this time I got a lot more work done on my game in between working on Spy Hunter, The Suffering, and Happy Feet. The job was fun and tough at the same time. I did get to travel to a lot of cool cities like London, Vancouver and Boston. I made quite a few friends for life at Midway. Even though multimedia billionaire Sumner Redstone (Viacom) bought 90% of the company, I thought his choice of CEO was not the best, a guy who used to run Playboy and ESPN. He tended to push games out before they were finished and that hurt Midway in a big way. Clearly you need an experienced game developer to make those calls. Nothing kills a game like releasing it too early.

Ingmar: What can you tell us about the origins of AVS? Where did the ideas for that project come from and what influenced the concept?
Bill: Well, as a kid I loved reading John Bellairs books, especially The House with a Clock in Its Walls. It was illustrated by famed pen and ink artist Edward Gorey. I liked his dark humor and the gothic feel of his art, so I started to buy and read a lot of his work. There were two I particularly liked, one called The Gilded Bat and the other The Disappearing Party. The Gilded Bat was about the rise and fall of a French ballerina during Edwardian times, and The Disappearing Party was a pop-up book about tourists exploring a haunted castle.
Back in October 1995, I was cruising the Bahamas on my honeymoon, and while sunning my oh-so-pale skin on deck I started sketching my version of an Edward Gorey vampire girl and a couple of her friends. I figured she lived in a castle and was once an opera singer. I worked up a whole back story about her and named her Mona De Lafitte (four years before the animated show Mona the Vampire, in case your Canadian readers were wondering). Lafitte's name and spelling came from the boat landing area in the Pirates of the Caribbean ride, which in turn was named after the pirate Jean Lafitte.
Over the next five years I would work on this idea occasionally. And about the time I left Arena.Net I had decided I'd try to make my own game. I was thinking about pitching it to Lucas, but then they would own it even if they decided never to develop it. They didn't seem all that excited to make new graphic adventures anyway.
I've always liked gothic horror ever since I was a kid. I used to watch this show called Creature Feature every Saturday afternoon while playing with my LEGO in my basement. I loved all the Universal Studios monster films of the 1940s and the Hammer films of the '50s and early '60s. I was also an avid fan of The Night Stalker and Night Gallery. I wanted to put a lot of the feel and atmosphere of those influences into the game too.
A Vampyre Story video

Ingmar: Production on AVS was apparently very rough. Please give us a summary of its development history.
Bill: Not being a businessman hindered AVS's development, because the hardest part is trying to get a publisher to fund you. I should have quit LucasArts back in 1998, right after the speech I gave at the Game Developers Conference – that speech went really well and was done in front of a packed, standing room only hall. I am pretty sure I would have gotten money for my game very easily back then. But like the overly cautious guy I am, I decided to wait – I'm always doing things too late.
While I was at Midway, an ex-Lucas programmer and I made a demo of AVS and had it showcased in The Inventory magazine. Then I got lots of interest, but getting anyone to pull the trigger was tough – lots of talk, but no checks! The only one who offered us money was this German guy with a PhD, but he turned out to be tough to work with and was not very PR savvy. It crushed me that the game wasn't going to get funded, so I broke it off with him and kept shopping around. Finally I got two offers and went with the one that gave me the most control over the IP and the project.
Then my programmer quit so he could be closer to his family in another state. So I was scrambling to find a new one. I hired a very good casual game programmer, nice hard working man, who was very good at casual games and very successful, but not good at PC adventure game engines. After about ten months the game programming wasn't progressing very far and so we had to hire a bunch of new programmers. Some of them worked out and some didn't. But it eventually got done thanks to Munky Fun. Problem was, the game came out during the Great Recession, and that hurt sales quite a bit. I am learning timing is everything!
Ingmar: Looking back, which elements of AVS do you think worked out very well and which things would you like to change about the game? After all, you encountered many firsts during the development of this game.
Bill: I think the story, the art and the characters worked well. The in-game dialog was too long and had too many puns, Mona's voice was too high-pitched for many people, and the programming was not perfect – not really as advanced as I would have liked. So this time around we'd like to improve the writing, keep the lines short, make sure Mona's voice isn't annoying to some people, and upgrade the tech.
Ingmar: AVS was originally planned as a trilogy. What are your story plans for the series to come?
Bill: It's bit of a long story. In A Vampyre Story 2: A Bat's Tale, Mona gets captured for the first half of the game, so the player controls Froderick as he tries to find a way to free her. The second half Mona does her best to secure all she needs for her boat ride back to France.
A Vampyre Story 2 promo trailer

In A Vampyre Story 3: City of Light, Mona has to deal with her blood lust while stuck on a freighter for three weeks. The results are not good. But once in Paris she finds that getting back to her old life is not as easy as she thought it would be. On top of that, old enemies she thought she had shaken reappear. On the positive side, she may find the love of her life.
In A Vampyre Story 4 (subtitle yet to be determined), Mona suffers from disillusionment and loses hope. She slowly gains hope again and finds a new direction for her life, one she never anticipated. The climax to the series will be in this game. It ends in such a way that an on-going episodic sequel could continue after that.
I also want to do two spin-offs of AVS, one that takes place right after AVS2 and the other a few years before it, IF people want and I get the funding. But Draxsylvania is a place I want to make a lot of games about.
Ingmar: How do you feel about using cliff-hangers in games after your experience with AVS1? Some people got annoyed because they wanted the journey of Mona and Froderick to continue and years later they still don't know what comes next. They're left feeling like they only experienced part of a game that was meant to be much longer.
Bill: I think cliff-hangers are fine. They used to bother me, but now that I am older I am very patient with them. Shows like Dexter, Lost and True Blood often end their seasons with cliff-hangers and I'm happy to wait for the next season, as long as it is a good season. I want my show runners to take their time and deliver to me the best stories they can.
As for people being mad at me I can understand it, but generally in my life I don't get mad at people unless I feel like they did it on purpose. Trust me, it bothers me way more than any fan that AVS2 isn't done yet. I worked so hard to get the game funded and finished. I am sure it took years off my life. I was meant to live till 77, now I'll be happy to get to 65, and probably miss the Technology Singularity. But the good thing out of all this is I have learned a lot from the whole process and don't intend to make the same mistakes twice.

Ingmar: After A Vampyre Story, the next project for Autumn Moon was Ghost Pirates of Vooju Island. What are some of your memories of developing the game?
Bill: I always wanted to work on Monkey Island 4, but I was already deep into Indiana Jones and the Infernal Machine when MI4 got greenlit. It wasn't a bad game, but I thought the environment art could have been way better, and it didn't feel as 'piratey' as I think it should have.
So when I left LucasArts, I always had a basic idea for a Monkey Island-type game that involved the ghosts of three pirates cursed to guard a treasure, and how they were able to come back to life. I liked the idea of playing three characters similar to Day of the Tentacle, and I liked the idea of the actually playing a ghost. But I didn't get farther than that.
Then dtp asked us to pitch some games, so we fleshed out a story for the game and did some rough art for it, along with three other game pitches. But due to the dearth of Monkey Island games, thanks to LEC's president at the time, I think dtp thought a pirate game in the Monkey Island style would have the best chance for financial success.
Now, I wanted to copy the feel of Curse of Monkey Island, but I didn't want to do a farce. I really like Brad Bird movies – they have a serious plot with major consequences but are also full of humor, movies like The Iron Giant and The Incredibles. So with Ghost Pirates I wanted to have a similar feel of a Brad Bird movie: serious plot, but humor through characters and character interaction.
I also didn't want to offend anyone who practiced the religion of Voodoo, so I came up with a fictional variation combining the words Voodoo and Juju together. This way I could make up my own gods, spirits and rules for spells and not have practitioners of Hoodoo, Voodoo and Houdon be offended. I might end up with painful pin pricks all over my body!
Ghost Pirates of Vooju Island trailer

Usually in heroic pirate films, it's the blonde and white Errol Flynn types swinging in to save the day. I wanted a variety of people to be the heroes: African, Hispanic, female, and overweight characters. I find those kinds of characters much more interesting. Pirates, though in real life were pretty brutal and evil, at least had a sense of fairness and even practiced a limited form of democracy. They had a wide variety of races and ethnicities enlisted in their ranks. I wanted to represent at least the good side of Caribbean pirate culture.
But characters in fiction need to have flaws, thus I wanted this team to rub each other the wrong way, challenge each other, and ultimately come to respect each other's experience and skills. The same trope I used for Ghost Pirates was used in the move The Avengers, and I think it works well because that kind of team dynamic really mimics everyday relationships, just like with our friends, family and co-workers.
The Caribbean also has a lot of cultures and interesting geography. So when I made my variation of it, which I dubbed the Azurebbean, I wanted to spread out and go to some of these new places such as a New Orleans-inspired port, swampy river bayous, and an Aztec city. I'll explore that more if we get to do the sequel, The Ghost Pirates and the Galley of Doom. I'd like to do that after AVS2. With my luck, Disney will do a Monkey Island game, movie, or both right at the same time.
Lastly, I wanted to put more fantasy in the game by adding in mermaids, giant sea monsters, a flying ship, the devil and a pantheon of gods from three different cultures. I guess that is the D&D side of me coming out.
So even though Monkey Island was the inspiration, I wasn't interested in copying it exactly. I just wanted to expand on many of its ideas and make my own variation. And I'm glad Disney liked Ghost Pirates so much they borrowed a lot of my ideas for the On Stranger Tides movie. But that is ok; I was inspired by their ride. They can borrow ideas from me.
Ingmar: Being from Germany, I was surprised – to say the least – that the game's publisher put Ghost Pirates on the market and did barely any PR for the game. I never quite understood why they made a contract with you and then treated the game like abandonware. What was your personal experience working with dtp on this project?
Bill: I would say that was part dtp's and part my fault. Like I said, our programming wasn't great until Munky Fun jumped in, and they weren't cheap so we went over budget. My guess is the money that would have gone to PR and marketing went into helping us get the engine working properly. Plus we were hoping to get Monkey Island fans to buy our game because Ghost Pirates was in the same genre and the game looked a lot like CMI. I think once Telltale did Tales of Monkey Island, dtp felt it was better not to compete with their PR. This is kind of ironic, because I pitched them three other games: a retro sci-fi game, an AVS spin-off, and a detective game. And they didn't want those. They wanted the pirate game.
I'm just guessing at what dtp was thinking though. They didn't communicate much with us; probably due to AME being in the US – time zones and distance do have an effect on communication for sure. I do agree they could have paid on time more often and communicated a lot better. But there were times when things were cool.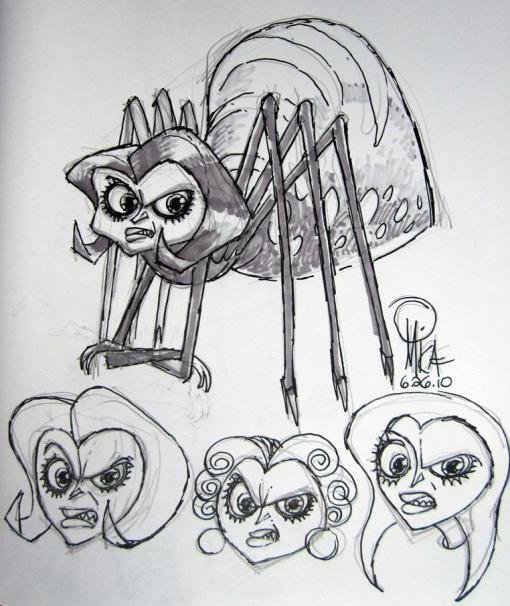 Early sketches and final artwork for Year One's Arachnea Rose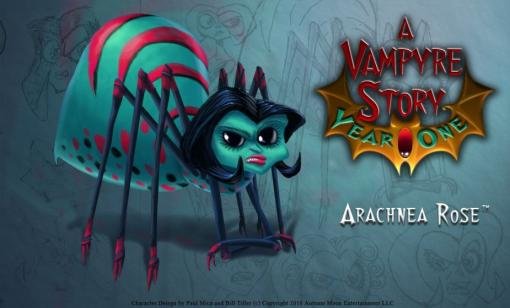 Ingmar: Talking with people who have had successful Kickstarters, one thing that excites them the most is that they are not depending on publishers and you get an enormous feeling of liberty. What's your take on this? Obviously, many developers were treated poorly by (adventure game) publishers. Has the time come to finally leave these soulless companies behind? What benefits and drawbacks come with going that route?
Bill: Well, business is hard and it takes a certain kind of person to be a successful businessman, and generally that kind of person is also not an artist or a creative type. So the developer, presumably a creative type, and the publisher have two different goals: the publisher just wants to make money, the creative type wants to create something cool. Not to say they might not want to do both, but for simplicity's sakes let assume this is true in most cases. So these cross purposes lead to tension, which in some cases is good because it can force the creative types to be more creative with problem solving – come up with more innovative ideas and solutions. But it more often than not leads to some unwise emotional decisions, mutual suspicion, and ill will. Neither side is evil nor bad; they are just from two different worlds and have different points of view about what the end goal is.
Now, Kickstarter and crowd sourcing are great because it's pure patronage. Before, if you didn't have your own money to fund a game, you would have to get a rich guy – an angel investor – or an organization to help you be creative. It is hard to find people that do not mind losing money for the sake of art. But with the Internet, you don't need that one rich patron, or the art endowments. You can go right to the people.
I believe in the wisdom of the crowds, and this is a great way to tell if your project will have mass appeal or not. Instead of the suits in marketing deciding what gets made, the game fans decide what gets made. They will tell you what your budget is and how popular the idea is. If you don't get funded you really can't argue with the people like you could with the marketing department or the bean counters.
So I am excited to try it.

Ingmar: After the recent success of The Walking Dead, Telltale seems to be a household name these days. Obviously you know several people who work there from your days at LucasArts. What comes to your mind when you think of Telltale and the evolution of the company?
Bill: I see two guys (at one point three guys) who want to keep making adventure games and are doing their best to stay funded, and to do that they really need to stay profitable so their investors stay happy. They are kind of blessed and cursed at the same time: blessed with investor money which allows them to hire a lot of talent and set up a great support system. It is also a curse because they better make a profit or their investors won't be happy. Investors don't want to double their money, or even triple it. They are looking for the homerun like Facebook, or a Google, where they earn ten times the amount they invest! That is a tall order and a lot of pressure. So I know some people get on their case for not doing strictly adventure games, or a lot of original IP, but you have to understand they are doing the best they can to do cool stuff we like and make enough money to keep their investors happy at the same time. It's very stressful. I envy and don't envy those guys at the same time. I really want them to succeed and so far they are kicking butt.
Ingmar: I repeatedly read in the adventure community that people would love to see the storytelling of Telltale combined with the visual qualities of your games. Is this something that might become an option one day? Seems like a perfect match.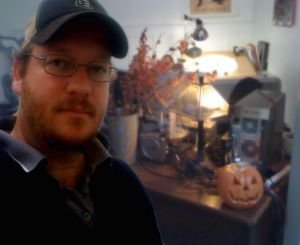 Bill at Autumn Moon offices
Bill: Oh, I have asked them if they wanted to publish my games many a time and they said my games don't fit in their product plans. No one from Telltale would go into much detail though, so any explanation I could give would be just conjecture. But plans change, so who knows? Right now they tend to favour comic books and movie franchises more than games with original stories like the ones I prefer to do. And it seems to be working for them.
That said, there are a few licences I would love to do games for, so I wouldn't necessarily rule out doing a game based on an existing IP.
Ingmar: Now that LucasArts has been shut down by Disney, what are your feelings about the closure? What do you think went wrong with the company in the last few years that probably lead to this point?
Bill: I am bummed and hopeful at the same time. I was a huge Star Wars buff, and I guess I still am, so I have hope the movies done by J.J. Abrams will be good. So far I have liked all his movies to varying degrees. George's prequels, like I said before, were not very good –seemed like they were made for his kids rather than for the kids from the '70s who are now grown up. J.J. Abrams is about my age (46) so I suspect he will try to recapture the feeling my generation had when we first saw Star Wars for the first time.
I am huge fan of Disney and they do a pretty good job promoting the licences and companies they have bought such as ABC, Pixar, the Muppets, Marvel, and Winnie the Pooh (Maybe now they can admit that the Pirates movies had a just a wee bit of influence from the Monkey Island games since now they own it). So I fully expect them to do a good job making new movies, TV shows, and attractions at their theme parks.
So that is the good. The bad seems to be that they are laying off all my friends! They may rehire them eventually to work on the next films, but I am worried they won't and all of the Star Wars work will get moved back down to LA, then ILM and Skywalker Sound will be closed just like LEC and Lucas Animation.
My guess is, and I have confirmed information on this, that Telltale and Double Fine might be talking to Disney about doing old LEC games. But maybe not. I hope so. In that case I guess those great IPs won't be forgotten.
But I am also bummed that the place got closed down at all! Why didn't George do what Steve Jobs did when he sold Pixar to Disney, which was insure that the company stayed open and untouched? So I am a little annoyed with him for that. If Disney closes all the Lucasfilm companies then a lot of people will get laid off and maybe have to move down to the urban sprawl that is Los Angeles to find work. I thought George wanted to move Hollywood up to Northern California? It seems like he sold out a bit, and that dream is going in reverse. George doesn't seem like a happy guy and I think he got fed up when Red Tails failed and he couldn't move forward with his new ranch due to the locals suing him. It feels like he was too stressed out and just wants to kick back and enjoy the rest of his life.
So I am of two minds on this – it is good and bad.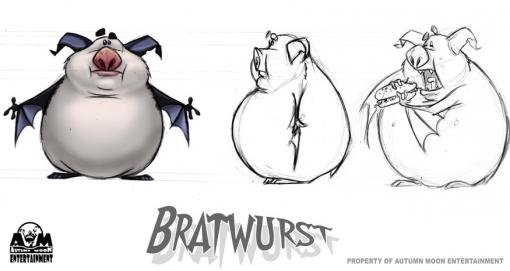 Sketch designs for Year One's Belfry Boyz Bratwurst and Rocco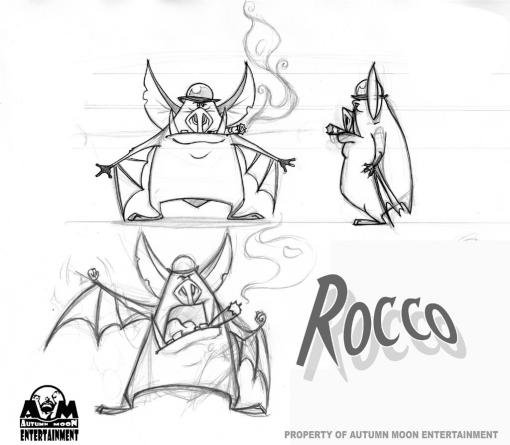 Ingmar: Again, thanks a lot for your time, Bill. We wish you all the best with the Kickstarter campaign and hope to see the saga of Mona and Froderick continued in the near future. Any last words for the many potential backers reading?
Bill: Sure, I guess I'd like to say that your support for the game will not only help me make the best game possible, it will also send a message – hopefully – to publishers that they should rethink how they traditionally decide what games to make and not make. And successful Kickstarter campaigns could inspire more artists and creative types to try crowd sourcing instead of compromising on their ideas just so that they can get published. Too many times an original idea gets mothballed because the business types in charge think it hasn't a chance of making money. Crowd sourcing can change all that.
I think this is an important new paradigm for creating imaginative projects and will help start an era of more new and unique ideas in entertainment and art. And I hope the fans of A Vampyre Story forgive me for how slow I am. I wish I was better at business and producing, and hopefully we will get funded enough so I can hire people who are better at it than I, then things will get done faster and better.
I appreciate all the goodwill and even some of the fair criticism I have gotten over the years. It helps me keep going and striving to get better, and I am glad so many people like what I do creatively. And to those who don't, I hope to win you over by learning from past mistakes. Thank you all, and thanks for letting me do this interview.
Referenced Adventure Games
interview
Other articles you might enjoy