Anders Gustafsson and Erik Zaring from Cockroach Games met in 1998 at an animation school, and Erik managed a stop-motion animation studio for a while, so when they came up with the idea of making an adventure game about a couple trying to start a new life in a new city, he suggested they make everything themselves from cardboard and clay. The whole project started out as something fun they would like to try – just two guys, everything hand-built. On paper it doesn't seem a smart plan, the two having no business knowledge, with a game belonging to a niche market.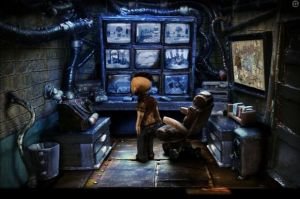 At first, because they weren't working for a publisher or using traditional distribution channels, and were only working with Flash, they felt they weren't considered 'real' developers by their peers. They applied for an initial start-up grant from a Scandinavian Funding program, who said the game was really bad but did make them feel something, so they offered enough money to improve the next application. Instead, the developers used it to create a demo of The Dream Machine, and the rest is history. Today there is much more appreciation of unusual games like theirs, and Anders and Erik live by the strategy that if you hang in there long enough, enduring, you will eventually gain acceptance.
Although they are both long-time fans of adventures who learned English by playing Infocom games and typing in commands, the content and theme of The Dream Machine are not really inspired by other games. Gustafsson and Zaring looked more at filmmakers like Jan Svankmajer and Roman Polanski, and animators like the Bolex Brothers and Quay Brothers. Polish theater and film posters have been an influence too. They figure their fascination with stop-motion probably began with The Nightmare Before Christmas, and they love that it's so forgiving. It doesn't have to be perfect, because the hand-made quality looks endearing to people and reminds them of when they were kids and tried to make something out of clay, so they are willing to overlook far more imperfections than with any kind of computer generated graphics.
Asked to name an inspiration for the script, they mention Tim Schafer, as well as roleplaying games like Baldur's Gate or Planescape Torment, where you can really engage in a conversation. There isn't nearly as much dialogue in their own series, however, and they have chosen not to use any voice actors, because they feel in many cases voiceovers only manage to pull them out of the game, and they'd rather have no voice acting than bad voice acting.
The two men are both over 30 now and don't really want to play empowerment fantasies, nor feel a need to save princesses or the universe anymore. That's why they chose to write about a normal couple, talking about normal things, even though it soon becomes apparent that something is very wrong in the world of The Dream Machine. They believe the easiest way to immerse people in a game is to offer them something they can relate to, then add some elements of tension and slowly start distorting the reality. You have to start with a whisper and slowly build up through talking and shouting to an ultimate explosion, not the other way around; you can't top an explosion with an explosion. This is a mistake that's often made in movies as well as games, and they feel the medium has (or should have) progressed a lot since the early days of space marines and soldiers.
During these past few years, making The Dream Machine has taken over and changed their lives. Creating the game has made it possible for them to travel and meet many people, and to visit conferences like this one, the gamescom in Cologne. They have been making new chapters together for four years now, and when they look back they notice they have not become faster and more efficient over time, but rather slower and better with regards to producing an episode. Both claim it has been very rewarding on a personal level, although for a while it looked like they wouldn't have enough money to complete the series, which would have forced them to take up paying jobs for a year or so to save some money. Fortunately, getting an Independent Games Festival nomination and releasing the first chapters on Steam took care of that concern. They're now working full time on the next episode, which they weren't ready to show just yet. The recognition also helped a lot with motivation, which does become an issue when you're working on the same project with such a small team for such a long time.
The developers love to read feedback from players and often change puzzles or add clues if too many players indicate it's too difficult. Since the early episodes were originally playable only through their own website, Gustafsson and Zaring were able to keep track of unsuccessful attempts to combine things, and every now and again they would add new interactive possibilities or responses. They're also fond of 'messing' with people who depend on walkthroughs by changing the solution to a puzzle. Sometimes people in their forums complain they 'found a bug', because when they followed a walkthrough and did exactly what it said, the puzzle still didn't work. Anders loves when that happens.
The pair also adapt their art construction along the way, like when they were originally forced to leave certain assets unfinished because they didn't have time, or simply because they're more ambitious now and want every little detail to look just right. As time goes by, they revisit the locations and change small individual parts of it or even the whole set. They felt the basement floor in chapter one didn't look good enough, for example, so they changed it for later chapters. One thing they will not change is character models, with the possible exception of the bizarre-looking girlfriend. Although there is a very good reason she looks the way she does, and Anders and Erik think she belongs in the world of The Dream Machine, she is currently alienating too many people. She will not be any prettier, but she may change a little when the logic behind the character model adapts over time. 
We'll have to wait a little while longer for the fourth of five planned episodes, but that gives players time to catch up with the three completed installments to date. The series can be played either online at the official website, or downloaded through Steam.  The first episode is completely free, and it's well worth checking out if you haven't already.